When to Hire a Virginia Speeding Ticket Lawyer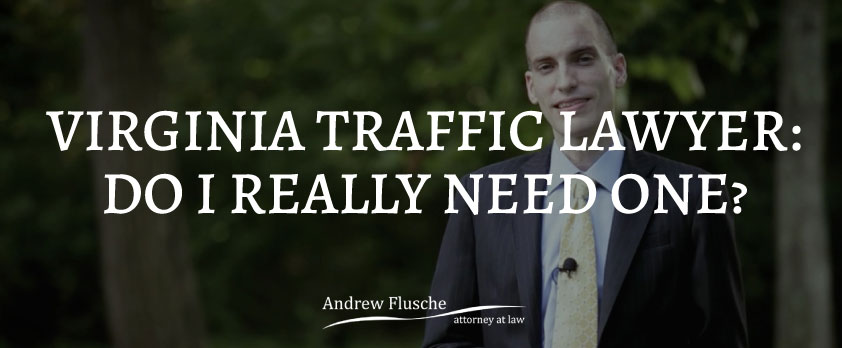 One of the most common questions I get when people contact me about a regular speeding ticket is whether it makes sense to hire a traffic lawyer.
I practice in a handful of courts around Fredericksburg, Spotsylvania, Stafford, King George, and Caroline, but these tips should apply to any situation where you have a Virginia speeding ticket.
If you have questions about your Virginia speeding ticket or are interested in hiring a traffic attorney, contact the Virginia speeding ticket attorneys at Andrew Flusche, Attorney at Law today to learn how we can help you.
Can I Afford a Virginia Speeding Ticket Lawyer?
First, you should at the very least talk with a local, experienced, knowledgeable, traffic attorney who regularly handles cases like yours in the county where your ticket is pending.
Typically, it's free to call an experienced traffic attorney and talk with them briefly about your case.
You can always give them a call or send an online message to see how they can help you.
Virginia Speeding Ticket? Contact My Office Now for a Free Consultation
You can find out a bit about what they can do for you, what you're really facing in court, and what it would cost to hire a lawyer to help you.
Without having that basic information in hand, you really can't even begin to decide whether you should hire a traffic ticket lawyer.
If you don't make that first call, you're never going to know what a Virginia speeding ticket attorney can hopefully do and what it's going to cost.
You may be surprised to learn that an attorney may be able to get a case completely dismissed based on you attending driving schooland that it might only cost a small amount of money.
Deciding whether to actually hire an attorney for your speeding ticket comes down to a cost-benefit analysis, in my opinion.
Do the Benefits of Hiring a Virginia Traffic Lawyer Outweigh the Costs?
One thing that can help tip that balance is if the attorney can handle the case without you appearing in court.
Depending on where you're located, it could make a lot of sense to hire an attorney to appear without you to save the time and expense of traveling to court yourself.
Possible Virginia Speeding Ticket Outcomes
The next question is whether you think you can appear in front of the judge and ask for what you want.
Some people simply go in and plead guilty to a speeding ticket, hoping the judge will see their driving record and give them a break.
Unfortunately, that doesn't always happen. Many judges will probably just find you guilty of the speeding ticket.
If you think that you'd want to handle the case without a lawyer, you really need to be confident and ask the judge for the right thing.
A local, experienced, traffic lawyer in Virginia will know what kind of things the normal judge is willing to do and what they're not willing to do.
For example, around the Fredericksburg area, most of the judges will not reduce charges to defective equipment as they might do in North Carolina.
Going in and asking for defective equipment might simply get a "no" from the judge.
The better thing to do in some courts is to ask the judge to send you to driving school. However, some judges won't send you to a driving school based on the type of driver's license you have and the history of your driving record.
That's another reason for having a lawyer can really help you.
Contact a Virginia Speeding Ticket Lawyer For Help
Contact Virginia speeding ticket attorneys at Andrew Flusche, Attorney at Law today and find out what possible options you have, then you can decide if you should hire a lawyer for your Virginia speeding ticket.
You shouldn't blindly prepay a speeding ticket in Virginia, since that is pleading guilty. The best rule is: Don't plead guilty without knowing all your options.
To get in touch with us, contact us online or call 540.356.3020.
Helpful articles:
What is the Severity of Speeding Ticket Offenses in Virginia?
What You Need to Know About Speeding in Virginia as an Out-of-State Resident
How Much Will my Virginia Speeding Ticket Cost Me?
Real Reviews from My Virginia Traffic Defense Clients