Virginia Driver's License Suspension Lawyer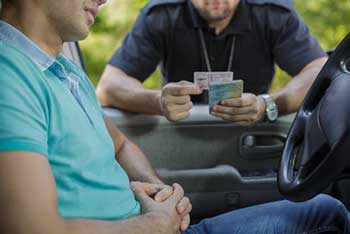 Virginia punishes driving on a suspended license as a class 1 misdemeanor.
But what punishment are you really facing? Are there defenses that can get you out of this mess?
Let's talk about it.

Driving on a suspended or revoked license
Driving on a revoked or suspended license appears in 46.2-301(B) of the Virginia Code:
B. Except as provided in §§ 46.2-304 and 46.2-357, no resident or nonresident (i) whose driver's license, learner's permit, or privilege to drive a motor vehicle has been suspended or revoked or (ii) who has been directed not to drive by any court or by the Commissioner, or (iii) who has been forbidden, as prescribed by operation of any statute of the Commonwealth or a substantially similar ordinance of any county, city or town, to operate a motor vehicle in the Commonwealth shall thereafter drive any motor vehicle or any self-propelled machinery or equipment on any highway in the Commonwealth until the period of such suspension or revocation has terminated or the privilege has been reinstated or a restricted license is issued pursuant to subsection E. A clerk's notice of suspension of license for failure to pay fines or costs given in accordance with § 46.2-395 shall be sufficient notice for the purpose of maintaining a conviction under this section. For the purposes of this section, the phrase "motor vehicle or any self-propelled machinery or equipment" shall not include mopeds.
Defending Against VA Driving on a Suspended License Charges
There are a three elements the Commonwealth must prove to convict you of a driving on a suspended license charge. That means there are primarily three places we can look for possible defenses. Those elements are:
You must be driving a motor vehicle.
Your license must be suspended or revoked.
You must know that your license is suspended or revoked.
Now let's look at each one individually.
Were You Driving?
The Commonwealth has to prove that you were actually driving a motor vehicle on a public road at the time of the alleged offense.
In many cases, this element is fairly simple for the Commonwealth. Driving on a suspended license is typically charged when an officer makes a traffic stop, asks for the driver's license, and sees that it's suspended or revoked.
However, even if the Commonwealth can prove you were driving, they still have two other hurdles to jump.
Was your License suspended or revoked?
Was your license legally suspended or revoked? To prove this charge, the Commonwealth has to prove that your license was suspended properly.
This is typically a routine element for the Commonwealth's Attorney. They bring a certified copy of your DMV transcript that shows the suspension or revocation of your license.
Did you know of license suspension or revocation?
The final element of driving on a revoked or suspended license can be the hardest for the Commonwealth to prove. They have to prove that you knew your license was suspended or revoked when you were driving.
Sadly, most people shoot themselves in the foot at this point. The officer will almost always ask during the traffic stop if you knew your license was suspended or revoked. If you indicate that you knew, the Commonwealth has this element in the bag.
If you don't admit to knowledge of the suspension or revocation, the Commonwealth will try to prove this element through your DMV transcript. They use the transcript to try to show that you received notice of the suspension.
The primary reason for a license suspension in Virginia is due to failure to pay court fines and costs. The Virginia Code tries to provide notice of suspension when the clerk's office tells you about the amount of fines and costs you owe. But the courts typically insist that you receive notice when your license is actually suspended.
Punishments for Driving on a suspended License in Virginia
Driving on a suspended or revoked license is a class 1 misdemeanor. This means that you are facing up to 1 year in jail and/or a fine up to $2,500.
If you get convicted of this statute three times within 10 years, you could be looking at a mandatory minimum jail sentence of 10 days.
A conviction under this statute also results in your license being suspended again for the period it was originally suspended.
What are you facing?
The specific facts of your case will determine the possible outcomes you are facing. There are lots of defenses we need to examine together to see if they apply in your case.
The best way to find out what you are facing on your charge is to call me for a free consultation. I offer free consultations in all traffic and criminal cases in the counties of Stafford, Spotsylvania, Orange, and King George, as well as the city of Fredericksburg.
If you have a case in another jurisdiction in Virginia, I still may be able to help you. Give me a call, and we'll talk.
---
Peer Testimonial
Please note:
While we've only included one here, I have over 150 reviews around the web. Check them out on Google, Avvo, and Yelp.
The testimonial below was originally posted on Yelp.
I am another attorney practicing in the local area and I send my traffic clients to Andrew. He is efficient, does not take them to the cleaners with fees and reflects well on me when I send my clients to him. I highly recommend Andrew to anyone.
Reviewing:
Andrew Flusche's Legal Services
Date published: 2013-10-30
Rating:
★★★★★
5
/
5
stars
---
Further reading
There are my latest articles on driving on suspended defense:
You can read more articles in my driving on a suspended license archives. You can also read other traffic defense articles on my blog.