Virginia Reckless Driving Lawyer

This article was written by experienced Virginia reckless driving attorney Andrew Flusche and was last updated on September 11, 2018.
Were you given a traffic ticket for Virginia reckless driving? You should talk with a local, experienced traffic lawyer before your court date. This article will give you an overview of reckless driving charges in VA, what defenses might be available, and how I can help. You can also grab a copy of my FREE book about reckless driving in Virginia below.
Reckless Driving in Virginia
Reckless driving in Virginia is a class 1 misdemeanor. That's a criminal offense, and it carries six DMV points, a potential fine of $2,500, a potential jail sentence of 12 months, and a potential license suspension of up to six months. Further, a reckless driving conviction stays on your Virginia DMV record for 11 years.
CLICK TO WATCH: Attorney Andrew Flusche Explains Virginia Reckless Driving
Virginia reckless driving speeding
Most Virginia reckless driving tickets are based on speed alone. If you drive more than 20 miles per hour over the speed limit or over 80 miles per hour, you can be charged with reckless driving by speed.

Virginia Code 46.2-862:
A person shall be guilty of reckless driving who drives a motor vehicle on the highways in the Commonwealth (i) at a speed of twenty miles per hour or more in excess of the applicable maximum speed limit or (ii) in excess of eighty miles per hour regardless of the applicable maximum speed limit.
Catch-all VA reckless driving
If all else fails, a police officer could cite you for reckless driving, simply based on the fact that he thinks you are driving in a way that endangers life or property.
Irrespective of the maximum speeds permitted by law, any person who drives a vehicle on any highway recklessly or at a speed or in a manner so as to endanger the life, limb, or property of any person shall be guilty of reckless driving.
Mitigating factors
There are lots of factors that we can argue to the judge to reduce or even dismiss a reckless driving charge. You'll want to talk with an attorney about the ones that apply to your unique case, but a few general guidelines are:
Good driving record
Speedometer reading incorrectly
Radar calibration issues
Legitimate emergency
There are many other factors that can play into some specific types of reckless driving charges. And your attorney might be able to further lessen your potential punishment. You might need to take several steps in advance to help properly prepare your case for court:
Judicial discretion
The traffic court judges in Spotsylvania County, Stafford County, Fredericksburg, and King George County exercise considerable discretion in determining your reckless driving punishment. This means that an attorney can argue for you and possibly reduce your charge or punishment.
Improper Driving in Virginia
Importantly, judges can use their discretion to reduce a reckless driving charge to "improper driving." Improper driving is a mere traffic infraction with a fine of no more than $500. Improper driving only carries three DMV points, and it is removed from your record after three years.
Notwithstanding the foregoing provisions of this article, upon the trial of any person charged with reckless driving where the degree of culpability is slight, the court in its discretion may find the accused not guilty of reckless driving but guilty of improper driving. However, an attorney for the Commonwealth may reduce a charge of reckless driving to improper driving at any time prior to the court's decision and shall notify the court of such change. Improper driving shall be punishable as a traffic infraction punishable by a fine of not more than $500.
Also, some judges send drivers to a driver improvement clinic to have the charge completely dismissed!
Reduce Virginia reckless driving ticket
In most Virginia reckless driving cases, your goal is to reduce the charge to something more acceptable. As mentioned above, Virginia judges have discretion to reduce your charge to "improper driving."
In some jurisdictions, like Spotsylvania County and Stafford County, you might even be eligible to dismiss your ticket by attending driving school.
As your Virginia traffic lawyer, I can help you assess your options and determine what outcomes are likely. We can then create a plan of action to fight your Virginia reckless driving ticket.
The goal is a complete dismissal of the charge or a finding of "not guilty." But at the very least, I will fight hard to get your charge reduced.
Non-local defendants
If you received a reckless driving ticket in Spotsylvania, Stafford, or Fredericksburg, you can hire an attorney to appear in traffic court on your behalf. For non-local defendants, this is an incredibly convenient option. Instead of driving possibly hundreds of miles to contest your ticket, you can have your lawyer take care of it for you.
I have worked with clients from places as far away as New York, Florida, Washington state, and Australia! People regularly get charged with reckless driving in Stafford County and Spotsylvania County along Interstate 95, simply passing through Virginia. I can help you resolve this ticket without having to return to Virginia.
Flat fee reckless driving Virginia attorney
You need an attorney's help with your reckless driving defense. I am an experienced traffic attorney in the Spotsylvania, Stafford, Fredericksburg, King George, and Caroline traffic courts. I offer a flat rate for your traffic defense, so you know exactly what your legal expenses will cost. We can even handle everything over the phone and/or email. I will handle your reckless driving case with care and work to ensure a satisfactory resolution. Call me today for a free consultation.
I can help minimize the damage
If you've been charged with reckless driving in Virgnia, contact me today to discuss your case and begin your defense.
Featured Client Reviews
Please note:
While we've only included five here, I have over 400 reviews around the web. Check them out on Google, Avvo, and Yelp.
The reviews below were originally posted on Yelp.
---
Andrew made the whole process of reducing a reckless driving ticket as easy as it could be! Highly recommend as his price was very reasonable and the he got the results I needed!
Reviewing:
Reckless Driving Defense Services
Date published: 2014-05-02
Rating:
★★★★★
5
/
5
stars
---
I cannot say enough good things about Andrew Flusche! I went online looking for info. This is how I found Andrew. I wrote a "get in contact" message from his website — and in about 10 minutes he called me. That was impressive! He answered all my questions and really put my mind at ease. He stayed in contact throughout the weeks leading to court and also represented us in court with wonderful results. Andrew is thorough, knowledgeable, kind, calm and just the kind of person you want in your corner. Reasonable rates – worth every penny.
Review by: Alice P.
Reviewing: Andrew Flusche's Virginia Reckless Driving Defense Services
Date published: 05/01/2014
Rating: ★★★★★ 5 / 5 stars
---
For the first time since I was teenager I found the need for a traffic attorney. I meet literally thousands of people each year and was very impressed with Andrew Flusche. From the beginning to the end he explained the processes, made recommendations, and made sure I was doing what was necessary to ensure the best outcome possible. He was professional, polite, intelligent, and punctual. I would have happily paid twice what he charged if my outcome remained the same. He really is an expert in his field and I don't regret a penny spent. He's a good guy who will do everything in his power to help you-I only hope next time I will meet him in the grocery store instead of court…
Review by: Benjamin B.
Reviewing: Andrew Flusche's Virginia Reckless Driving Defense Services
Date published: 03/07/2014
Rating: ★★★★★ 5 / 5 stars
---
Andrew provided a thoroughly professional and convenient service . We were able to prepare for my case through email and phone conversations. He provided very competent advice and delivered a fantastic outcome. I didn't have to appear in court and had the charges dismissed! If you ever have traffic issues in the Fredericksburg, VA area, Andrew Flusche is worth the call.
Review by: T M.
Reviewing: Andrew Flusche's Virginia Reckless Driving Defense Services
Date published: 03/06/2013
Rating: ★★★★★ 5 / 5 stars
---
I was nervous about hiring an attorney online for my reckless driving ticket, but not being from the area I received the citation in limited my options. However, Andrew couldn't have been more professional and from the first phone call all of my fears were allayed. He was thorough, listened to my concerns, and made sure I knew exactly what to expect and what was expected of me. He was also always prompt at returning phone calls and e-mails. My reckless driving ticket ended up being reduced, which was the best possible outcome. Andrew's service, however, didn't stop when we left court. He followed up with me and made sure I knew where/how to take my driving course and what else was needed. I highly recommend his services, and firmly believe that without his counsel I would have had the ticket on my record for VA's 11 year time period.
Review by: Ericka M.
Reviewing: Andrew Flusche's Virginia Reckless Driving Defense Services
Date published: 02/19/2013
Rating: ★★★★★ 5 / 5 stars
---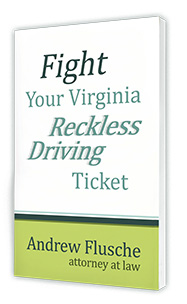 Free book for you
If you want more answers about your reckless driving ticket, grab a free copy of my book. We'll send it right to you at no cost.
I've taken the time to lay out an overview of Virginia reckless driving defense and put it down on paper. My book covers everything from the law to defenses to how to appeal if things go South. And I wrote it all myself, unlike some people who just slap their name on someone else's book.
What are you waiting for? It's free.
Further reading
These are my latest articles on reckless driving defense:
You can read more articles and watch videos in my reckless driving archives. You can also read other traffic defense articles on my blog.
For even more information on how you can fight your reckless driving charges visit FightVirginiaRecklessDriving.com.
Virginia reckless driving is serious. Call for help:
540.318.5824
Photo by robotography