Virginia Reckless Driving Lawyer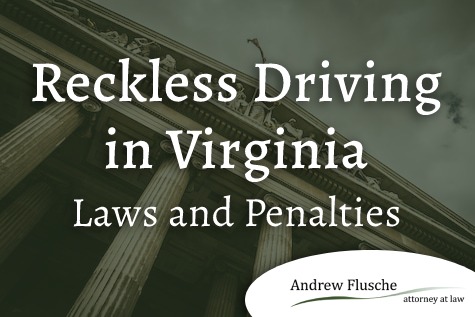 Charged with reckless driving in Virginia? In this article, we go over what reckless driving is defined as in Virginia and what penalties you are facing.
If you have questions about a reckless driving charge, contact a VA reckless driving lawyer at Andrew Flusche, Attorney at Law today.
What Is Reckless Driving in Virginia and What Are the Penalties?
In Virginia, reckless driving occurs when you (i) exceed the posted speed limit by 20 miles per hour or more, or (ii) you exceed 80 miles per hour, regardless of the posted speed limit.
Virginia Code 46.2-862 makes reckless driving a class 1 misdemeanor. It's a serious criminal offense.
Potential penalties include six DMV points, a fine of $2,500, a jail sentence of 12 months, and a license suspension of up to six months.
Watch me explain reckless driving in Virginia
Your best option to avoid both these harsh penalties and wasting your time and energy is to hire an experienced
reckless driving lawyer
like me to handle your case for you.
Start Your Defense Now
If you were given a traffic ticket for reckless driving in Virginia you should talk with a local, experienced Virginia reckless driving lawyer before your court date.
This article will give you an overview of reckless driving charges in VA, what defenses might be available, and how I can help.
You can also grab a copy of my FREE book about reckless driving in Virginia below.
---
Get to Know Andrew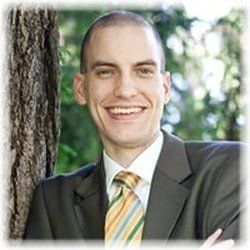 I've defended over 4,225 reckless driving cases. That means I've averaged one reckless driving case per day since I started my practice.
I wrote the book on Virginia reckless driving defense. You can get it on Amazon here, or you can download it for free here.
I can usually go to court so you don't have to.
I have relationships with the judges, officers, and prosecutors, and I use that knowledge to help achieve the best outcome possible.
I know how to spot deficiencies in the evidence (such as tuning fork calibrations) and argue for a dismissal.
I routinely receive calls from people who did NOT hire a lawyer, were found guilty of reckless driving in VA, and are now having problems due to the conviction. Usually it's too late to help at that point. Hire a reckless driving lawyer in the first place because there's no way to expunge convictions in Virginia.
I see people come to court alone (or hire a cheap lawyer) and end up not getting as good of an outcome as they should have gotten.
About half of the people I've represented are from out of the state. I've represented people from other countries too, e.g. Germany, Australia, Canada, etc.
My firm is not a "mill" that just grinds through clients. When you hire me, I personally go to court for you. Other firms routinely have outside lawyers "cover" their cases. I never do that. And when you have questions or concerns, my Rock Star Staff and I are here to help.
Start Your Defense Now
---
What is Virginia Reckless Driving by Speed?
Most Virginia reckless driving tickets are based on speed alone. If you drive more than 20 miles per hour over the speed limit or over 80 miles per hour, you can be charged with reckless driving by speed.
A person shall be guilty of reckless driving who drives a motor vehicle on the highways in the Commonwealth (i) at a speed of twenty miles per hour or more in excess of the applicable maximum speed limit or (ii) in excess of eighty miles per hour regardless of the applicable maximum speed limit.
---
What is Virginia Reckless Driving by Endangering Life or Property?
If all else fails, a police officer could cite you for reckless driving, simply based on the fact that he thinks you are driving in a way that endangers life or property.
Virginia Code 46.2-852
Irrespective of the maximum speeds permitted by law, any person who drives a vehicle on any highway recklessly or at a speed or in a manner so as to endanger the life, limb, or property of any person shall be guilty of reckless driving.
---
What are Potential Mitigating Factors in Virginia Reckless Driving Cases?
There are lots of factors that we can argue to the judge to reduce or even dismiss a reckless driving charge.
You'll want to talk with an attorney about the ones that apply to your unique case, but a few general guidelines are:
Good driving record
Speedometer reading incorrectly
Radar calibration issues
Legitimate emergency
Recent Case Result: Reckless Driving by Speed Dismissed Without Officer Calibrations
(Cases depend upon unique facts. Past cases do not guarantee future outcomes.)
THE STORY: I routinely handle reckless driving by speed cases for clients. I make a point of inspecting the officer's calibration certificates for these cases since it's an important part of the Commonwealth's proof against my client.
In one case, I arrived early for court to speak with the officer. I asked him for his tuning fork calibration certificates for his radar. He provided certificates that were done AFTER he had stopped my client.
The officer claimed that the statute allows certificates to be valid for six months before OR after the alleged offense date.
I plead not guilty for the client, and I argued to the judge that the statute (46.2-882) requires tuning fork calibrations to be dated within the six-month window preceding the alleged offense.
Without a valid calibration, I argued that the judge should not hear any evidence about the speed my client was allegedly going.
The judge agreed with my interpretation of the statute and did NOT allow the officer to testify about my client's speed.
CASE OUTCOME: NOT Guilty. The judge dismissed the reckless driving charge against my client, saving him from a class 1 misdemeanor, fines, and possible loss of his driver's license.
---
What Are the Steps to Take to Help Prepare a Reckless Driving Defense?
There are many other factors that can play into some specific types of reckless driving charges. And your attorney might be able to further lessen your potential punishment.
You might need to take several steps in advance to help properly prepare your case for court, for example:
---
Judicial Discretion in Reckless Driving Cases
The traffic court judges in Spotsylvania County, Stafford County, Fredericksburg, King George County, and Caroline County exercise considerable discretion in determining your reckless driving punishment.
This means that an attorney can argue to have your case dismissed, reduced, or at least have the punishments minimized.
Dismissal with driving school
Depending upon the facts of your case, your prior driving record, and the local court, we might be able to have your case dismissed completely with you attending driving school.
Improper Driving in Virginia
Importantly, judges can use their discretion to reduce a reckless driving charge to "improper driving."
Improper driving is a mere traffic infraction with a fine of no more than $500. Improper driving only carries three DMV points, and it is removed from your record after three years.
Virginia Code 46.2-869
Notwithstanding the foregoing provisions of this article, upon the trial of any person charged with reckless driving where the degree of culpability is slight, the court in its discretion may find the accused not guilty of reckless driving but guilty of improper driving.

However, an attorney for the Commonwealth may reduce a charge of reckless driving to improper driving at any time prior to the court's decision and shall notify the court of such change.

Improper driving shall be punishable as a traffic infraction punishable by a fine of not more than $500.
---
Reducing your Virginia Reckless Driving Ticket
In most Virginia reckless driving cases, your goal is to dismiss or reduce the charge to something more acceptable.
As mentioned above, Virginia judges have the discretion to reduce your charge to "improper driving."
In some jurisdictions, like Spotsylvania County and Stafford County, you might even be eligible to dismiss your ticket by attending driving school.
As your Virginia reckless driving lawyer, I can help you assess your options and determine what outcomes are likely.
We can then create a plan of action to fight your Virginia reckless driving ticket.
The goal is a complete dismissal of the charge or a finding of "not guilty." But at the very least, I will fight hard to get your charge reduced to avoid the misdemeanor conviction.
---
What Should Out-Of-State and Non-Local Reckless Driving Defendants Know?
If you received a reckless driving ticket in Spotsylvania, Stafford, Fredericksburg, King George, or Caroline, you can hire an attorney to appear in traffic court on your behalf (assuming the speed is relatively low).
For non-local defendants, this is an incredibly convenient option. Instead of driving possibly hundreds of miles to contest your ticket, you can have your VA reckless driving lawyer take care of it for you.
I have worked with clients from places as far away as New York, Florida, Washington state, and Australia!
People regularly get charged with reckless driving in Stafford County and Spotsylvania County along Interstate 95, simply passing through Virginia. I can help you resolve this ticket without having to return to Virginia.
---
My Flat Fee Virginia Reckless Driving Defense Policy
You need an attorney's help with your reckless driving defense. I am an experienced traffic attorney in the Spotsylvania, Stafford, Fredericksburg, King George, and Caroline traffic courts. I regularly handle cases in front of these judges.
I offer a flat rate for your traffic defense, so you know exactly what your legal expenses will cost. We can even handle everything over the phone and/or email.
I will handle your reckless driving case with care and work to ensure a satisfactory resolution. Call me today for a free consultation.
I can help minimize the damage
If you've been charged with reckless driving in Virginia, contact me today to discuss your case and begin your defense.
Read Reviews from My Clients
Please note:
While we've only included five here, I have over 400 reviews around the web. Check them out on Google, Avvo, and Yelp.
The reviews below were originally posted on Yelp.
---
Ryan did a great job with my case. He gave me an honest assessment of my situation, provided the right advice (which I followed), kept me informed on the status of the hearing, and worked hard to get me a positive outcome. I came to court facing reckless driving because I have a lead foot and walked out with a speeding ticket and a fine. Thanks to Ryan I still have my license and the opportunity to not screw up again.
Reviewing:
Reckless Driving Defense Services
Date published: April 2023
Rating:
★★★★★
5
/
5
stars
---
I was charged with a reckless driving , going 100 in a 70. Andrew represented me and the judge dismissed my case. Andrew made me feel very welcomed and assured me of all the outcomes that could happen. He argued my case well to the judge and I followed all the instructions he gave me. Overall, 10/10 experience if you need a lawyer!!
Review by: Journee' H.
Reviewing: Reckless Driving Defense Services
Date published: February 2023
Rating: ★★★★★ 5 / 5 stars
---
Ryan "Fitz" Fitzgerald and his team made my process a dream! I was pinged with reckless driving and it was brought down to a non-moving violation thanks to Ryan's help. The team did pretty much everything and all it took was one short phone call and a couple of emails.
I'm so happy with the results and would absolutely recommend Ryan and his team to anyone out there going through a difficult legal situation. He is a very kind and genuine person and I know he does his best to help everyone.
Review by: Karina N.
Reviewing: Reckless Driving Defense Services
Date published: January 2023
Rating: ★★★★★ 5 / 5 stars
---
Andrew was the best! He was definitely a professional. He made me feel confident and relaxed about my ticket in court. He got me the best outcome I could've asked for.
Review by: Rebecca C.
Reviewing: Reckless Driving Defense Services
Date published: February 2023
Rating: ★★★★★ 5 / 5 stars
---
Super great experience! Mr. Fitzgerald got my reckless charge dropped to just a traffic infraction! On top of that he was a very welcoming and nice guy! Highly recommend!
Review by: Timothy F.
Reviewing: Reckless Driving Defense Services
Date published: February 2023
Rating: ★★★★★ 5 / 5 stars
---
Further reading
These are my latest articles on reckless driving defense:
You can read more articles and watch videos in my reckless driving archives. You can also read other traffic defense articles on my blog.
For even more information on how you can fight your reckless driving charges visit FightVirginiaRecklessDriving.com.
Virginia reckless driving is serious. Call for help: 540.318.5824