How Much Does a Virginia Reckless Driving Lawyer Cost?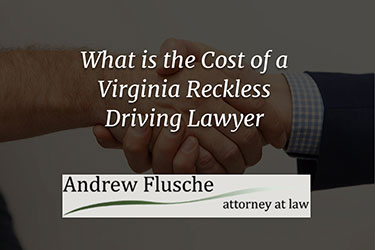 The cost of hiring a Virginia reckless driving lawyer is less than the potential cost of not hiring one.
If you received a reckless driving ticket, you are probably wondering what to do about it and how much does it even cost to hire a VA reckless driving lawyer?
Many of my clients have never needed a lawyer before, so it's not unusual to be concerned about the costs involved.
But as I've written about before, you can afford to hire a lawyer!
Average Cost of a Traffic Lawyer in Virginia
Jump-to the information you need:
What's the cost for a VA reckless driving lawyer?
When you interview lawyers about your case, you'll hear a variety of legal fees quoted to you. Each lawyer sets his / her own fee depending upon their availability, experience, the local market, and other factors.
Depending upon all those factors, legal fees could vary from around $500 to $1,500 and even up to $2,500 in some areas. I definitely don't charge anywhere near the high end of that. 🙂
I set my flat rate for each individual client when we have our confidential case strategy session together. I work hard to provide top-notch reckless driving defense at an affordable rate.
While exact fees will vary based on the unique case, you should expect:
To know the exact fee during your first meeting with a potential lawyer
To be able to pay the fee with any major credit card (or cash or checks, of course)
To pay the legal fee before the case comes to trial
Charged with reckless driving in VA? Contact my office now for free answers
The Most Important Question
There's a more important question than "what does a lawyer cost" that you need to be asking:
What's at stake for you?
Some reckless tickets are more serious than others. And some clients have more at stake depending upon the outcome. What's on the line for you?
These are the types of questions you need to be asking lawyers when you interview us:
What punishments are you looking at?
What outcomes may be possible when working with an experienced reckless driving lawyer like myself?
Is jail time a serious risk or not?
This gives you a framework to understand what's on the line for you if the case goes well and if it goes South.
You can also better understand the long-term consequences of a reckless driving conviction and how much value you personally get from hiring a defense lawyer.
Keep in mind that you probably don't want the cheapest lawyer you can find.
That's on my list of 8 types of lawyers you should NOT hire.
While the most expensive lawyer may be overpriced, the cheap lawyer may be charging a low rate for a reason.
You should definitely read online reviews for the lawyers that you're interviewing. You can check out my hundreds of five-star reviews from actual clients.
Contact a Virginia Reckless Driving Lawyer Today
If you are looking for a VA reckless driving lawyer, please contact me today for a free case strategy session.
We'll review the facts of your case, discuss potential outcomes, and I'll quote the precise fee for your case.