How Much Does a Virginia Reckless Driving Lawyer Cost?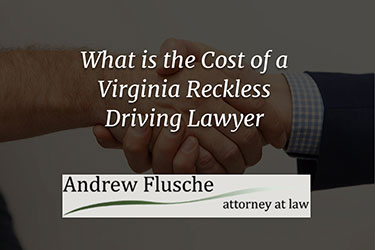 The cost of hiring a Virginia reckless driving lawyer is less than the potential cost of not hiring one.
If you received a reckless driving ticket, you are probably wondering what to do about it and how much does it even cost to hire a VA reckless driving lawyer?
Many of my clients have never needed a lawyer before, so it's not unusual to be concerned about the costs involved.
But as I've written about before, you can afford to hire a lawyer!
Do I Need a Criminal Defense Lawyer for a Reckless Driving Charge in Virginia?
Reckless driving charges can arise in several different ways. Many people think reckless driving charges only happen if you were speeding.
But you can also face charges for passing in a no-passing zone, having an obstructed view, and other violations.
Virginia's broad definition of reckless driving gives law enforcement lots of discretion to choose what qualifies as a violation.
And unfortunately, a conviction can negatively affect your driving record and result in costly fines.
A reckless driving criminal defense lawyer can help fight the charges filed against you. Contact the team at Andrew Flusche, Attorney at Law, PLC to discuss your case.
Charged with Reckless Driving in VA? Contact My Office Now for Free Answers
Penalties for a Reckless Driving Charge
Unlike some states, a reckless driving charge in Virginia represents more than a traffic ticket. Virginia considers reckless driving a Class 1 misdemeanor.
A Class 1 misdemeanor in Virginia carries the possibility of up to 12 months in jail and a fine of up to $2,500.
Additionally, a reckless driving conviction carries six demerit points. Demerit points remain on your Virginia driving record for a period of two years.
If you receive 12 or more demerit points within the two-year period, the Virginia Department of Motor Vehicles (DMV) can mandate participation in a driver improvement class.
If you get 18 points in one year, your license gets suspended. Therefore, three reckless driving convictions can mean the loss of your driver's license.
Recent Case Result: Misdemeanor Reckless Driving Ticket Dismissed Due to Improper Calibration!
(Cases depend upon unique facts. Past cases do not guarantee future outcomes.)
THE STORY: A client hired me for her reckless driving ticket. This is a class one misdemeanor that carries the possibility of jail and license suspension, not to mention the long-term ramifications of the criminal conviction.
On the morning of court, I arrived early to speak with the ticketing officer and investigate his calibration paperwork. I never ask for the calibrations in advance, since that provides the officer an opportunity to correct defects.
In this case, the officer's radar tuning fork calibration was done AFTER my client was ticket.
I explained to him that the law requires the calibration to be performed BEFORE the ticket was written, but no more than six months before that.
The officer was confident that the calibration could be done either six months before OR after the ticket date.
I plead not guilty for the client and argued this point to the judge. The judge read the statute (46.2-882) and agreed with my interpretation, rendering the tuning fork calibration inadmissible. Without the calibration, the officer could not prove his case!
CASE OUTCOME: Ticket dismissed! The client avoided the misdemeanor conviction and any punishments since the officer's evidence wasn't valid.
What's the Cost For a VA Reckless Driving Lawyer?
When you interview lawyers about your case, you'll hear a variety of legal fees quoted to you.
Each lawyer sets his / her own fee depending upon their availability, experience, the local market, and other factors.
Depending upon all those factors, legal fees could vary from around $500 to $1,500 and even up to $2,500 in some areas. I definitely don't charge anywhere near the high end of that. 🙂
I set my flat rate for each individual client when we have our confidential case strategy session together. I work hard to provide top-notch reckless driving defense at an affordable rate.
While exact fees will vary based on the unique case, you should expect:
To know the exact fee during your first meeting with a potential lawyer
To be able to pay the fee with any major credit card (or cash or checks, of course)
To pay the legal fee before the case comes to trial
The Most Important Question
There's a more important question than "what does a reckless driving lawyer cost" that you need to be asking:
What's at stake for you?
Some reckless tickets are more serious than others. And some clients have more at stake depending upon the outcome. What's on the line for you?
These are the types of questions you need to be asking lawyers when you interview us:
What punishments are you looking at?
What outcomes may be possible when working with an experienced reckless driving lawyer like myself?
Is jail time a serious risk or not?
This gives you a framework to understand what's on the line for you if the case goes well and if it goes South.
You can also better understand the long-term consequences of a reckless driving conviction and how much value you personally get from hiring a defense lawyer.
Keep in mind that you probably don't want the cheapest lawyer you can find.
While the most expensive lawyer may be overpriced, the cheap lawyer may be charging a low rate for a reason.
You should definitely read online reviews for the lawyers that you're interviewing. You can check out my hundreds of five-star reviews from actual clients.
What Sets Attorney Andrew Flusche Apart From Any Other Reckless Driving Criminal Defense Lawyer?
Many people do not know what type of lawyer to get for reckless driving charges.
I, Andrew Flusche, have defended thousands of reckless driving cases, giving me extensive experience handling all sorts of different cases. But you do not have to take my word for it.
Check out some of Andrew's reviews from previous clients:
"Andrew made the whole process of reducing a reckless driving ticket as easy as it could be! I highly recommend him as his price was very reasonable, and he got the results I needed!"—Charlie S.
"I highly recommend Andrew and his staff, for anyone, if traffic violations require a court appearance. Andrew was able to have a reckless driving charge against me dismissed without my having to appear in court. We were able to conduct all business by phone or mail, which is a valuable time saver. In a situation that is very nerve-racking, Andrew and his staff are totally professional, helpful in every way, and made the process, for me, very easy."— Lawrence
"Andrew was exceptionally prepared and answered every question I had. I was charged with reckless driving, and since the police officer had no evidence, Andrew took swift action to get it dismissed. I highly recommend hiring him for the future."— Ryan
"Truly a great attorney. I was charged with reckless driving, and Andrew was able to mediate between . . . the officer and myself to get my charge successfully dismissed with driving school. He was quick to return my calls and emails and reassure my concerns. Don't go to court alone regardless [of] your situation. Have Andrew represent you, and you won't regret it."— Chris
I have forged solid relationships with judges, officers, and prosecutors in the area.
These relationships give me the knowledge needed to help secure the best possible outcome for my clients.
Contact a Virginia Reckless Driving Lawyer Today
If you are looking for a VA reckless driving lawyer, please contact me today for a free case strategy session.
We'll review the facts of your case, discuss potential outcomes, and I'll quote the precise fee for your case.