How to Get Out of a Reckless Driving Charge | Three Tactics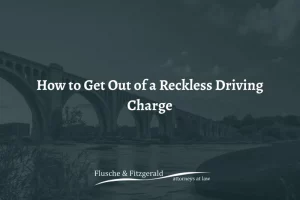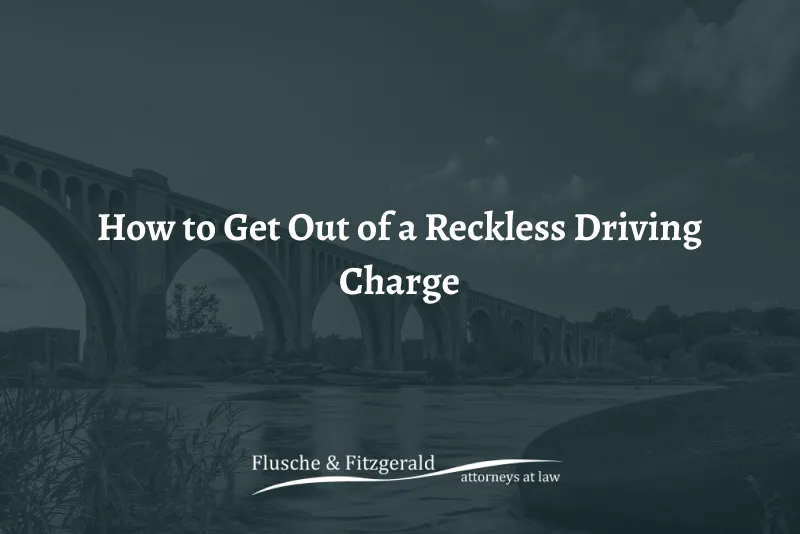 A reckless driving charge can result in a costly fine and increased insurance payments. Additionally, a reckless driving charge carries six demerit points.
If you receive too many demerit points within a designated period, the Virginia Department of Motor Vehicles (DMV) may suspend your driver's license.
Some people believe a reckless driving charge is too minor to warrant hiring a reckless driving attorney.
However, a reckless driving lawyer can help you navigate the complexities of your case and present evidence of a legal defense if one applies. If you are facing reckless driving charges in Virginia, contact our team at Flusche & Fitzgerald.
How Bad Is a Reckless Driving Charge?
Virginia considers reckless driving a Class 1 misdemeanor. A Class 1 misdemeanor carries a maximum penalty of one year in jail and a fine of up to $2,500. Additionally, the judge may suspend your driver's license for up to six months.
A reckless driving conviction will result in six demerit points on your Virginia driving record. The DMV may suspend your driver's license if you receive 18 demerit points on your driving record within one year.
If you receive 12 demerit points on your driving record within one year, the DMV can order you to attend a driver improvement class.
This means that the DMV can require you to attend a driver improvement class if you receive just two reckless driving convictions within twelve months. And keep in mind that you can get demerits for other driving offenses that might add to your point total.
Traffic convictions can add up quickly. In addition to fines, they can cause other problems, like making you lose your driver's license or pay more for car insurance.
You do not have to accept your fate if you were charged with reckless driving in Virginia. Depending on the facts of your case, a criminal defense attorney may be able to negotiate with the prosecutor to get your charges reduced or dismissed.
How to Get Out of a Reckless Driving Charge
Under Virginia law, anyone who drives over 85 miles per hour or 20 miles per hour over the speed limit commits reckless driving.
Other actions that can constitute reckless driving in Virginia include:
Failure to signal,

Passing a school bus,

Drag racing,

Passing in a no-passing zone,

Passing at a railroad crossing,

Lack of adequate brakes,

Passing an emergency vehicle,

Speeding in a construction zone, and

Having a view that is obstructed in a way that interferes with the driver's ability to control the vehicle.
Virginia's reckless driving definition gives law enforcement officers broad discretion to define what reckless driving means. Contact a Virginia reckless driving attorney to defend your rights.
Tactic #1 – LiDAR Issues
If law enforcement charges you with reckless driving based on your speed, they need an exact reading of your speed to convict you. Many Virginia police officers use advanced technology called "LiDAR" to detect individuals driving over the speed limit.
LiDAR is an acronym for "light detection and ranging." It measures speed more accurately than traditional radar guns. LiDAR sends laser pulses through the device and measures the time it takes the laser to return to the device.
The device calculates the distance the object is from its position to determine the speed. LiDAR devices require regular maintenance and calibration.
The prosecution must prove the LiDAR device was properly maintained and working correctly at the time of your traffic stop. If the LiDAR device was not functioning properly, the judge should not allow the officer to testify to the speed reading.
Tactic #2 – Plead Guilty to Improper Driving
In Virginia, improper driving is a lower traffic charge than reckless driving. The improper driving statute in Virginia states that where the degree of culpability is slight, the court may find the accused not guilty of reckless driving but guilty of improper driving.
Improper driving carries the potential of a fine of up to $500. Obtaining a reduction to improper driving often requires negotiation between your defense attorney and the prosecutor.
Tactic #3 – Present Proof of Another Legal Defense
Our vast experience defending reckless driving charges makes us familiar with legal defenses that may apply to your case.
If an officer accuses you of reckless driving based on the fact that you endangered the life or property of another person, we can question the officer and request a more definitive description of your actions.
Law enforcement cannot rely on the broad, catch-all language of the reckless driving statute to convict every driver of the violation.
How to Get Reckless Driving Off Your Record
Demerit points fall off your driving record two years after your conviction. However, a misdemeanor reckless driving charge stays on your criminal record in Virginia for eleven years.
You cannot remove a reckless driving conviction from your Virginia DMV record before the eleven years expires.
How Can a Virginia Reckless Driving Lawyer Help My Case?
A reckless driving attorney can give you a crucial advantage when navigating your reckless driving charges. An experienced criminal defense lawyer can assist you by:
Collecting statements from witnesses,

Questioning involved officers about LiDAR/radar technology,

Negotiating with the prosecuting attorney on your behalf, and

Refuting allegations of reckless driving behaviors if your case proceeds to trial.
We know the tactics prosecutors use to secure reckless driving convictions. We can put our experience and knowledge to work to ensure these tactics do not work on you.
Contact our office today to discuss your case with one of our seasoned reckless driving lawyers.
Contact a Virginia Reckless Driving Lawyer at Flusche & Fitzgerald
Andrew and Fitz have represented thousands of clients throughout Virginia with reckless driving charges. We dedicate our practice to representing clients dealing with traffic violations, including reckless driving.
A member of our team will meet with you one-on-one to learn the facts of your case and determine if any legal defenses apply.
We tackle all of our cases with a result-oriented approach, always looking for ways to get charges dismissed or reduced for our clients.
Contact Flusche & Fitzgerald today to discuss your reckless driving case with a member of our team. We look forward to hearing from you.