Are You Facing Jail for Virginia Reckless Driving?
If you have a Virginia
reckless driving ticket
, you're probably concerned about the possibility of jail time. Whether or not you're actually going to jail depends upon the unique facts of your case, as well as the local judge and prosecutor.Here are my thoughts on jail for cases in the Fredericksburg, Spotsylvania, and Stafford area.
Virginia reckless driving? Contact my office now for free answers
Video Transcription: Will I Go to Jail for Reckless Driving in VA?
I've transcribed the video for visitors who prefer to read the content.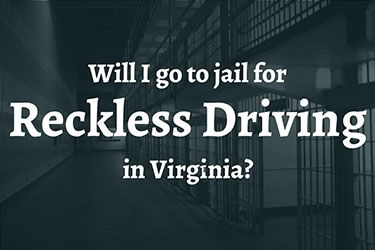 Hello, I'm Andrew Flusche. Let's talk about jail time as far as a Virginia reckless driving is concerned.
Are you going to go to jail, if you just received a reckless driving ticket?
It's a hard question to answer, generally speaking.
But I can give you some pointers and some advice on how you might be able to get a better answer to that question.
Jail time differs greatly depending upon the local court that your case is pending in. So what we have to look at is the court, the judge, and the prosecutors who are involved in your case.
I've seen websites and heard from clients who've read websites that say they might be going to jail if they're charging with going over 90 mph. While that may be true in some counties and cities in Virginia, it's simply not the normal rule for the Fredericksburg, Stafford, and Spotsylvania area, where I primarily practice. This is why it's super important to talk with a local attorney who regularly does traffic in the court where your case is pending.
Here in the Fredericksburg area, the normal rule of thumb for jail time is not until you reach 100 mph.
As you can see, that's a big difference. And a lot fewer people are charged with going that fast. Whereas I get a lot of calls from people who are charged with going in the 90s, I get very few calls in the 100 mph range and higher. And the big reason is that it's a lot faster speed. Less people are going that fast, and that's when the judges are really cracking down around here with jail time.
Reckless driving is a misdemeanor offense in Virginia. That means that instead of being just a traffic ticket like speeding, it is actually a crime. So you do have the possibility of jail time.
The maximum punishment for reckless driving is up to 12 months in jail, up to a $2500 fine, and up to 6 months loss of your privilege to drive. The judge can do any combination of those three things. And those are just the maximums.
So does anybody ever get 12 months? I'm sure some people have. I've never seen anyone get that much time in jail, but I'm sure that punishment has been imposed many times.
Frankly, most reckless driving tickets are not going to end up with jail time. Unless you have one of those more higher speed cases or really egregious facts. Or perhaps a really bad driving record. Those are all the things that judges look for and prosecutors look for in analyzing whether jail time would be appropriate.
Like I said, in this area, the jail line is typically 100 mph. Now that's a rule of thumb. It's not always 100% accurate. We have to look at the facts of your case, your driving, and to see what all may be involved to determine if you may be facing jail. And finally, we have to know what judge we're going to have. Sometimes we may have a substitute judge who does things a little differently. Where our rule may be 100 mph, that substitute judge doesn't have to follow it. And even our regular judges here in this area don't have to follow it. It's not a written rule. It's just a kind of practice.
That's why it's important to have a local attorney who knows the normal customs and kind-of how things are handled. And is also experienced and able to adapt and know if the judge we may have one day is going to be worse. We might need to do a continuance or change things up a little bit to help you get the best result possible.
So are you going to jail for a reckless driving ticket? I can't say on a video like this.
What I can say is to talk with a local attorney who can better answer that question. Don't just read things on the internet and watch videos. Actually talk with an attorney who can get the facts of your case and who knows the local court and can better answer your question.
I can say that a lot of people get very scared about jail time for no reason. It's good to be concerned about a reckless driving ticket, but don't let it make you lose sleep. Talk with an attorney and see what we can do to help you at least avoid jail. And in a lot of cases maybe get the charge reduced to a lesser offense.
Contact a Reckless Driving Lawyer Today
If you think you're facing jaim time for reckless driving in Virginia, please give me a call at 540.300.2837, or contact me online today. Getting the chance to hear the details of your case will give me an accurate idea of what you can expect. Don't hesitate, you're one phone call away from possibly reduced, or dropped charges.