Do I Need a Criminal Defense Lawyer for a Reckless Driving Charge in Virginia?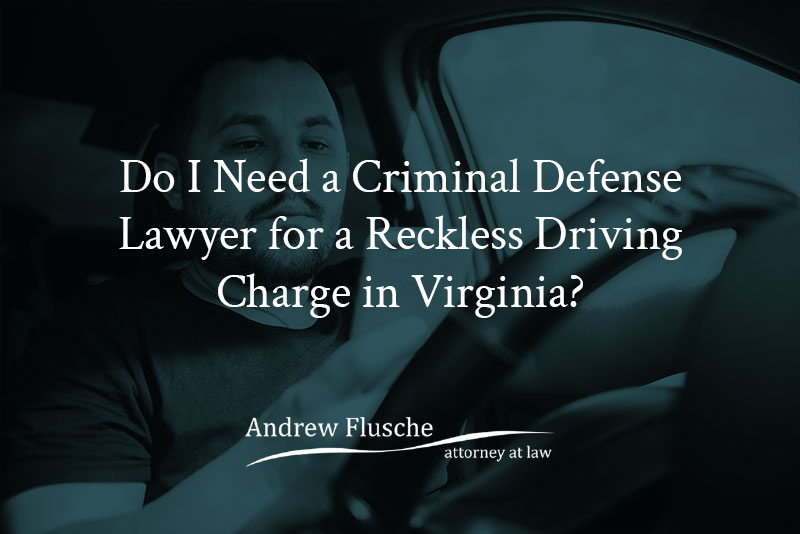 Reckless driving charges can arise in several different ways.
Many people think reckless driving charges only happen if you were speeding.
But you can also face charges for passing in a no-passing zone, having an obstructed view, and other violations.
Virginia's broad definition of reckless driving gives law enforcement lots of discretion to choose what qualifies as a violation.
And unfortunately, a conviction can negatively affect your driving record and result in costly fines.
A reckless driving criminal defense lawyer can help fight the charges filed against you. Contact the team at Andrew Flusche, Attorney at Law, PLC to discuss your case.
Facing a Reckless Driving Charge in Virginia
Virginia defines reckless driving very broadly to address a wide array of different conduct.
The statute prohibits operating a vehicle on a highway in a reckless manner or at a speed that endangers the life, limb, or property of another.
Virginia Code § 46.2-862 authorizes reckless driving charges for:
Driving 20 MPH or more over the speed limit; or

Driving at the speed of 85 MPH or more.
You can also face reckless driving for a variety of other reasons, such as:
Racing;

Passing in a no-passing zone;

Driving too fast for conditions;

Failing to use a signal;

Passing an emergency vehicle;

Passing a school bus;

Not having the vehicle under proper control or having inadequate brakes; and

Having a view that is obstructed in a way that interferes with the driver's ability to control the vehicle.
If you are facing a reckless driving charge, contact my office today.
Penalties for a Reckless Driving Charge
Unlike some states, a reckless driving charge in Virginia represents more than a traffic ticket. Virginia considers reckless driving a Class 1 misdemeanor.
A Class 1 misdemeanor in Virginia carries the possibility of up to 12 months in jail and a fine of up to $2,500.
Additionally, a reckless driving conviction carries six demerit points. Demerit points remain on your Virginia driving record for a period of two years.
If you receive 12 or more demerit points within the two-year period, the Virginia Department of Motor Vehicles (DMV) can mandate participation in a driver improvement class.
If you get 18 points in one year, your license gets suspended. Therefore, three reckless driving convictions can mean the loss of your driver's license.
What Sets Attorney Andrew Flusche Apart From Any Other Reckless Driving Criminal Defense Lawyer?
Many people do not know what type of lawyer to get for reckless driving charges.
I, Andrew Flusche, have defended thousands of reckless driving cases, giving me extensive experience handling all sorts of different cases. But you do not have to take my word for it.
Check out some of Andrew's reviews from previous clients:
"Andrew made the whole process of reducing a reckless driving ticket as easy as it could be! I highly recommend him as his price was very reasonable, and he got the results I needed!"—Charlie S.
"I highly recommend Andrew and his staff, for anyone, if traffic violations require a court appearance. Andrew was able to have a reckless driving charge against me dismissed without my having to appear in court. We were able to conduct all business by phone or mail, which is a valuable time saver. In a situation that is very nerve-racking, Andrew and his staff are totally professional, helpful in every way, and made the process, for me, very easy."— Lawrence
"Andrew was exceptionally prepared and answered every question I had. I was charged with reckless driving, and since the police officer had no evidence, Andrew took swift action to get it dismissed. I highly recommend hiring him for the future."— Ryan
"Truly a great attorney. I was charged with reckless driving, and Andrew was able to mediate between . . . the officer and myself to get my charge successfully dismissed with driving school. He was quick to return my calls and emails and reassure my concerns. Don't go to court alone regardless [of] your situation. Have Andrew represent you, and you won't regret it."— Chris
I have forged solid relationships with judges, officers, and prosecutors in the area.
These relationships give me the knowledge needed to help secure the best possible outcome for my clients.
Need an Attorney for a Reckless Driving Charge in Virginia? Contact Andrew Flusche, Attorney at Law, Today
My name is Andrew Flusche, and I am a reckless driving criminal defense lawyer in Virginia. I limit my practice to exclusively representing individuals facing traffic and misdemeanor charges.
I have years of experience representing clients in similar situations. I have an in-depth knowledge of reckless driving charges—so much so that I have written a book on the subject.
I approach all of my cases with your desires at the forefront of my mind, and I do everything I can to ensure you stay informed about developments in your case.
When your freedom and driving privileges are in jeopardy, you want a reckless driving criminal defense attorney who has defended similar cases before and secured favorable outcomes for his clients.
I can help you advocate to get your charges reduced or dismissed altogether, depending on the facts of the situation. Contact my office today, so I can review your case.