How to Get a Concealed Handgun Permit in Virginia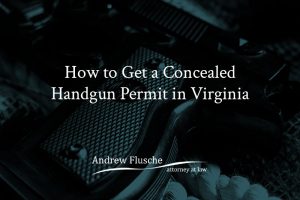 The number of applications for a concealed handgun permit in Virginia has increased significantly in the last few years.
The vast majority of applicants—nearly 90%—receive their permit within 45 days.
The 10% or so who receive a denial notice have the right to appeal.
If you are in the process of applying for your concealed carry permit for the first time, renewing it, or if the court denied your application—you need a strong advocate fighting to protect your right to defend yourself and your family.
At Andrew Flusche, Attorney at Law, PLC, we have years of experience successfully protecting our clients' rights and privileges.
As renowned lawyers in our community, our reputation for honesty and integrity can give you the edge you need to appeal the denial of your concealed handgun permit application successfully.
How to Apply for a Concealed Handgun Permit in Virginia
You can find the Virginia concealed carry application online.
According to the procedure for applying for a concealed permit, first-time applicants must file their application in person with the circuit court clerk having jurisdiction over the person's residence.
Applicants must be 21 years of age or older, have no disqualifying factors in their history, provide proof that they completed a concealed carry permit in VA class, and demonstrate competency with a firearm.
You must pay the statutory fees as well. The statutory fees include the following:
A $10 fee to the court to process and issue a concealed handgun permit;

A $35 maximum fee to local law enforcement to conduct a background check; and

A $5 fee to the State Police to process your application.
The total fee cannot exceed $50. You can pay by any method of payment accepted by the court. Virginia law exempts certain retirees, like police officers, from paying the statutory fees when reapplying.
The court has 45 days to review, process, and issue your permit unless the court rules you are disqualified by law. However, the court will issue a 45-day de facto permit if the court does not issue a full permit.
The de facto permit is valid for 90 days unless the court denies your application. You must surrender the permit if the court denies your application after issuing a de facto certification.
You can call the court to check the status of your concealed carry weapons permit in Virginia.
Concealed Carry Permit Renewal
Concealed carry permits are valid for five years from the issuance date unless an event requires the court to revoke your permit.
Virginia law allows you to apply to renew your concealed handgun permit up to 180 days before your permit expires. You cannot renew a concealed carry permit in VA online.
Unlike first-time applicants, you can send your application to the court and do not have to appear personally to file your VA concealed carry permit renewal application.
The payment for fees must accompany your application. The court clerk must warn you if there is a problem with your application or fee payment.
What Can You Do if the Court Denies Your Application?
Virginia's concealed carry permit law contains a number of reasons that could disqualify an applicant.
However, you have the right to appeal an adverse decision within 21 days. You might wonder if you can handle the appeals process without hiring an attorney.
You have the right to represent yourself; however, appealing the denial of a concealed carry permit is a technical legal matter. You have to present information according to the rules of evidence.
You have a high likelihood of losing your appeal if you do not understand the procedure for admitting evidence in court.
It is wise to make the most out of your one chance to appeal by securing competent legal representation to represent you.
Need Help Applying for a Concealed Handgun Permit in Virginia?
Hiring a law firm that does not practice in your area can hamper your efforts to win your appeal.
Local lawyers know the local legal landscape, and that gives you a strong advantage when pursuing your appeal.
In Fredericksburg and beyond, my law partner and I have cultivated reputations as knowledgeable and forceful advocates for our clients.
Call Andrew Flusche, Attorney at Law, PLC, today at 540-318-5824 for round-the-clock assistance.