8 Types of Lawyers You Should NOT Hire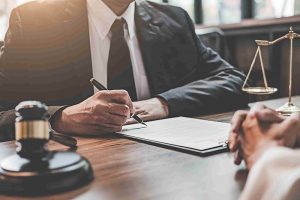 It is important to hire the right lawyer for your case. Here are 8 types of lawyers you should NOT hire and the kind of lawyers to look out for.
If you still have questions, contact our attorneys at Andrew Flusche, Attorney at Law today.
1. The Too-Busy-For-You Lawyer
Some attorneys distance themselves from clients. You consult with a paralegal.
You get answers to your questions from a secretary. You are represented in court by an associate. Where's that big name lawyer you paid big bucks for?
I've even heard colleagues BRAGGING how they train clients to deal solely with their staff starting with the initial call. Ridiculous!
If a lawyer is too busy to work directly with his clients, he doesn't deserve your business. And frankly, it's illegal for staff to answer legal questions. I'm astounded that some of my colleagues would break the law like that!
A similar problem you'll see from the Too-Busy-For-You Lawyer is not returning calls. Did you know that the top complaint about attorneys is not responding to calls and emails in a timely manner?
This can happen when a lawyer tries to handle too many cases at once. They juggle everything and try to jump from court to court without forgetting a client.
I carefully limit the cases that I take on to make sure I can give personal attention to every client. I decline to accept over half of the clients that come to me; that means I can focus 100% on the clients that I do work with.
We strive every single day for stellar client service.
2. The "No Contract" Lawyer
Another lawyer that I recommend being cautious about is the lawyer who doesn't have a written agreement with you.
You call and talk to her about your case, and she says, "Great! Give me your credit card number so we can get started." Or she says, "Send me a check to my P.O. box."
What's wrong with this picture? In my opinion, lawyers should always have a written fee agreement with their clients.
This protects both parties. And did you know that most malpractice insurance companies want lawyers to have written agreements? It's just good business.
Written agreements make it clear to the client what we're representing you on. But more importantly, they make it abundantly clear what you're hiring a lawyer to do.
If you're giving someone hundreds of dollars of your hard-earned money don't you want something in writing that says what that money is for?
Think about it this way: would you buy a car without a written agreement to say what your money is going for and what you're getting in return? I hope not.
I'd like to think that most of my colleagues are trustworthy. And I know some solid attorneys who don't have written fee agreements. But I still question the wisdom of doing that.
I think that it's important for you as a client to have in writing what you're hiring the attorney to do.
One client came to me after he thought he had hired a competitor to handle his case. The competitor didn't show up in court, and the judge found the client guilty in his absence.
Can you believe that?! Thankfully, we still had time to file a motion to reopen the case.
When you hire me, we will always have a written fee agreement. Most of ours are done through our custom-designed electronic signature system.
You can view the agreement on your computer or smart, and you can digitally sign it by clicking a button. You deserve to know exactly what you're hiring me to do.
3. The Courthouse Hallway Lawyer
I'm amazed when I see lawyers loitering around the courthouse, trying to pick up clients. They look like vultures!
A while back a lawyer that I know was doing this tactic in one of the courthouses where I practice. Word got around that people were talking negatively about it, so I privately let him know he might want to be careful.
His response: "I don't care." A little later when it all hit the fan with the judge, he probably cared a ton!
Personally, I think this tactic is despicable. They're preying on scared and vulnerable people who simply don't know what they should do. A kind face and gentle voice are a welcome sight to frightened defendants in the courthouse.
But you don't have any chance to have a meaningful conversation with the Hallway Lawyer, and you certainly can't look them up online as I've recommended.
They may suit up nicely, but they could have awful client reviews online or a littered trail of state disciplinary actions. You simply don't know.
Then there's the practical issue about busy professionals: People who do top-notch work with outstanding client service are usually busy working for clients.
They don't have time to be waiting in the courthouse hallway to pick up new clients. You might conclude that the lawyers who are waiting around for clients aren't busy due to a problem with their work or client service abilities.
Hiring an attorney is simply too important to leave to a chance meeting in a hallway.
4. The Un-Reviewed Lawyer
If you're anything like me, online shopping is a miracle! I don't buy much of anything without looking it up online and perusing reviews from actual people who own and use the product or service.
Why should hiring an attorney be any different? It shouldn't be! You should demand to see reviews and testimonials from real past clients.
If an attorney can't provide testimonials and reviews, run! Seriously. That means something, and it isn't that the attorney is a hidden gem. You shouldn't rely solely on testimonials posted on the attorney's website.
After all, anybody can find a few people to talk nicely about them.
Look for reviews on third-party websites like Google+ Local (Google Maps) and Yelp. I encourage everyone to Google me. Do it right now.
Type my name into Google and check out the numerous reviews from prior clients like you that I've worked with.
Now Google the other guy you're thinking about hiring. Where are his reviews?
5. Mrs. Uninsured Lawyer
The Virginia State Bar also keeps track of attorneys who don't have malpractice insurance. While that might seem like an odd thing to check, malpractice insurance helps protect you.
If your attorney botches your case, you might have a claim against them for malpractice. If they aren't insured, good luck actually getting any monetary recovery.
Just like you don't want to be in an auto accident with an uninsured driver, I personally wouldn't want to hire an uninsured attorney. I am insured.
6. Mr. Disciplined Lawyer
As attorneys, we have strict rules about how we have to operate our law firms and handle cases for clients. If an attorney violates a rule, they get disciplined by the Virginia State Bar.
Before investing your money in an attorney, you should always check to see if they have any disciplinary issues on file.
To check, just type their name into the Virginia State Bar's website.
Not all rule violations are the same, so an attorney who made an honest mistake might still be a great choice for your case. However, you certainly should know what is in their past. Look me up, and you'll see that I'm squeaky clean.
7. The Cheap Lawyer
You get what you pay for. Sadly, many people don't understand that principle. It holds true for cars, for houses, and even for defense lawyers.
One time in court, a gentleman came up to me and asked "How do I find my lawyer?" I asked his lawyer's name, and he showed me a letter from the cheap traffic firm he had hired.
Of course, neither of the named attorneys were in the courtroom that day for him. I pointed out to him the associate who he'd be dealing with.
I still can't believe it! This driver had paid money to be represented in court, and he had no clue who was representing him. It's the "pass the client" shuffle that I see all too often with cut-rate law firms.
You definitely don't need to hire the most expensive lawyer you can find, but hiring solely based on cheap rates is a major mistake.
8. The Far Away Lawyer
Some lawyers advertise that they can help with any court in Virginia. Others advertise in a broad swath of counties that are hours apart. Do you really want the out-of-towner on your case?
For example, you've paid hard-earned money for a lawyer who bills himself as the expert for your case. You think you've hired the best, and you show up to court with him.
Little do you know, but that "expert" out-of-town lawyer asks ME for the name of the judge. Or he asks ME where to find the prosecutor. Even worse, he asks ME what might happen in your case.
And then after the case is over, the restricted license form he had you fill out is the wrong one; you have to do it all over. And he asks ME where you need to go for your court-ordered alcohol classes.
I've been asked all those things by non-local lawyers. Many times. Virginia traffic cases can vary dramatically from court to court (and even between courtrooms in the same building!).
It's physically impossible for any one lawyer to know all the subtleties of practicing in dozens of courts. They might know the name of the judge, and they may have handled A case there before, it doesn't mean they know all the ropes.
Along these same lines, you shouldn't hire a lawyer who is close to your house simply because it's convenient. That's thinking about your problem backwards.
The action will be happening in court, not at the lawyer's office. Hiring the lawyer who's near you but far away from the court can hurt your case.
If you're going to hire a lawyer, make sure they're local to the court in question. Ask the lawyer this: Do you handle cases in this court at least once a month? If they can't answer yes, you should move on.
Personally, I appear in my main courts (Spotsylvania and Stafford) several times per WEEK on average. Some courts simply have less cases, so I appear there a couple times per month (King George and Fredericksburg, for example).
Contact My Office To Discuss Your Case Today
Andrew Flusche, Attorney at Law, PLC, consists of aggressive and knowledgeable advocates with decades of experience helping good people resolve serious traffic and DUI charges with as little negative impact on their life as possible.
To schedule a free consultation today, call540-642-1603. You can also reach us through ouronline contact form.