What Is the Difference Between a DUI and DWI in Virginia?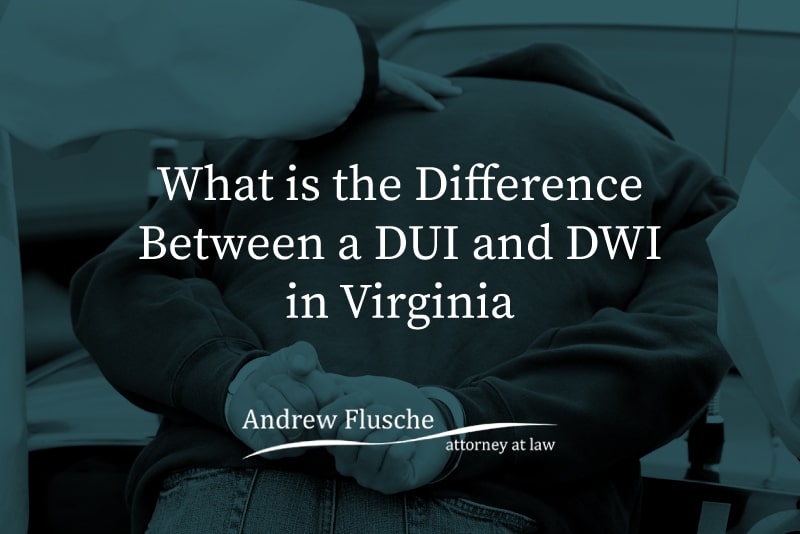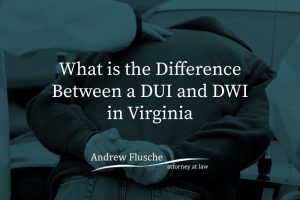 Driving under the influence (DUI) and driving while intoxicated (DWI) are legal concepts people sometimes use interchangeably.
While the difference between DWI and DUI might be significant in some states, there is very little difference between the two in Virginia.
No matter which abbreviation you use to refer to the charges, DUI vs. DWI in VA, the charge is quite serious.
Without skilled representation, you could suffer consequences that disrupt your life for over a year, and you could face even tougher consequences if you ever get another DUI in the future.
I am Virginia DWI defense attorney Andrew Flusche, and I exclusively handle DUI and traffic offenses.
My client-centered approach gives people charged with DWI in Virginia the best chance to get a positive outcome for their case.
To learn how I can help you, contact me today.
What Is the Difference Between a DUI and DWI?
The abbreviations DWI and DUI come from the Virginia DWI statute. Section 18.2-266 of the Code of Virginia is entitled: "Driving motor vehicle, engine, etc., while intoxicated, etc."
Thus, the abbreviation DWI comes right from the title of the law. The abbreviation DUI comes right from the statute as well.
Section 18.2-266 states that driving under the influence of alcohol, drugs, or a combination of alcohol and drugs is a crime. Driving with a blood alcohol content (BAC) level of 0.08% and above also violates the statute.
But the bottom line is that, while some states have a material difference between these two abbreviations, Virginia does not. In our state, these terms are used interchangeably.
That being said, it is possible that the legislature intended DWI to refer to the per se limit of 0.08% BAC and DUI to refer to driving a vehicle under the influence without regard to the results of a chemical test.
What Is the Legal Difference Between DWI and DUI in VA?
The prosecution has the burden to prove you guilty beyond a reasonable doubt of each and every element of any criminal offense.
If the Commonwealth pursues a DWI charge, then the prosecution may argue that you drove with a blood alcohol level of 0.08% or greater.
The prosecution will use evidence of a breathalyzer test or a blood test to prove you drove at or above the legal limit. The prosecutor will offer evidence from the arresting officer about your driving behavior and performance on field sobriety tests in addition to the chemical test result.
On the other hand, if the Commonwealth pursues a DUI charge, they are alleging that you could not safely operate a vehicle due to alcohol consumption.
The prosecutor will call the arresting police officer to testify, along with any other witnesses who can give testimony that helps the prosecution.
In that sense, the proof is the same, except that there is no chemical test or your chemical test result was under 0.08% BAC. Therefore, the prosecution has to rely on evidence such as:
How you drove;

The way you performed on field sobriety tests;

Having glossy, bloodshot eyes;

Smelling of alcohol;

Appearing disheveled; and

Having difficulty speaking or comprehending directions.
According to the Code of Virginia Section 18.2-268.10, the prosecution can offer this evidence against you if you took the breathalyzer as well.
Does it Matter if the Prosecution Alleges I Was DWI vs. DUI?
It does not matter if the Commonwealth charges you with DWI vs. DUI in Virginia because Section 18.2-266 has only one set of penalties.
According to the Code of Virginia Section 18.2-270, a DWI or DUI conviction is a Class 1 misdemeanor for a first offense.
A Class 1 misdemeanor carries a possible jail sentence of no more than one year. Additionally, the law provides for a minimum fine of $250, but it could be as much as $2,500. The DMV will suspend your driver's license for one year as well.
However, Section 18.2-270 calls for a five-day minimum jail sentence if you have a BAC between 0.15% and 0.20% and a 10-day minimum jail sentence for driving with a BAC of 0.20% or greater.
You should also be aware that refusing a chemical test is a civil infraction if it is your first offense. According to 18.2-268.3, the penalty for the civil infraction of refusing the chemical test is a one-year suspension of your driver's license.
Additionally, the DMV will administratively suspend your driver's license for seven days immediately after your arrest.
Is There a Difference Between DWI and DUI Defenses?
No, your defenses do not change in relation to how you're charged.
Each case is unique, and any defense you might have depends largely on the specific facts surrounding your arrest. The defenses you might have will also depend on whether you took a chemical test.
Despite the uniqueness of each case, an experienced DUI defense lawyer often uses defenses such as:
Exaggeration of the evidence by the police;

Faulty conclusions drawn from field sobriety tests;

Improper instructions given for field sobriety tests;

Malfunctions or improper maintenance of the Breathalyzer machine;

Improper procedures used to draw blood or administer the breathalyzer test; and

Violation of your rights by police.
As a seasoned defense attorney, I routinely use defenses like these and any other defense necessary to get you the best possible result.
Recent Case Result: DWI-Related Obstruction of Justice Charge Thrown Out
(Cases depend upon unique facts. Past cases do not guarantee future outcomes.)
THE STORY: James was facing an obstruction of justice charge for allegedly refusing to allow his blood to be drawn pursuant to a search warrant. He was accused of DWI, and the deputies obtained a warrant to draw his blood. James allegedly refused to comply with the search warrant, so the deputies charged him with the crime of obstruction of justice.
I reviewed the dash camera footage to see what exactly the deputies said to James and how he responded. On the audio recording, you could hear the deputies telling James that he had the "right" to refuse the blood draw. I knew that we had a strong defense at that point.
I challenged the obstruction of justice charge at trial and argued that James was told by the officers that he did not have to comply with the process. It doesn't make any sense to convict people of a crime for doing officers tell them that they can do.
CASE OUTCOME: NOT GUILTY of obstruction! The judge dismissed the obstruction charge, since the deputies told James that the hospital would not draw blood without his consent.
Let An Virginia DWI Defense Attorney Help You
I am Virginia DWI defense attorney, Andrew Flusche, and I have helped thousands of people just like you who made a mistake.
My client-centered approach aims to reduce your stress while I get to work developing a defense strategy that gets you the best results possible.
I enjoy a fruitful working relationship with area prosecutors, and I have earned the respect of numerous judges throughout Virginia. My professional relationships can give you the edge you need to avoid a conviction
Use our online contact form, or call me today for help at 540-318-5824. I look forward to learning how I can serve you!