What Are the Penalties for a Third DUI Offense in Virginia?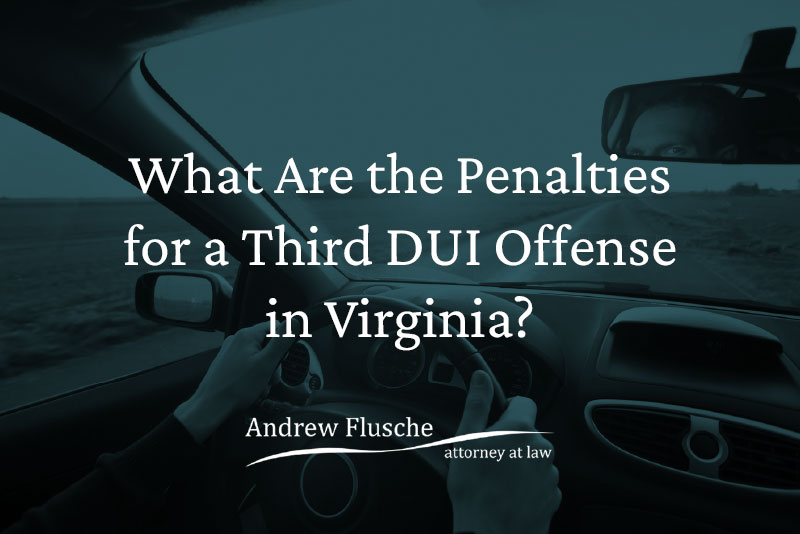 Facing a third DUI conviction can be incredibly stressful. The fear of the unknown can be overwhelming.
You are probably wondering what your third DUI consequences might be.
You might be wondering, Will I go to prison? How long will the judge give me? Or, can I beat the case?
There is hope for anyone charged with a third-offense DUI in Virginia.
Although the Virginia laws for a third DUI offense are strict, a highly-skilled Virginia defense attorney can put you in a favorable position to minimize the impact the case has on your life.
As a Virginia DUI defense lawyer, I dedicate my practice to defending DUI cases and other traffic infractions.
I will draw on my experience and work with you to craft the best defense for your specific situation.
For a Third Conviction of DUI, What Is the Penalty?
The penalty you might face for a third DUI conviction depends on the amount of time between your second and third offenses.
Under Virginia law, three DUI convictions within 10 years is a Class 6 felony. That means you face up to five years in state prison if convicted.
Additionally, you may have to serve a minimum-mandatory jail sentence of six months if all three convictions happened within five years.
You will receive a 90-day minimum sentence if all three convictions are within 10 years. The court must also impose a fine of $1,000, and you will lose your driver's license indefinitely.
Think about the impact such a sentence would have on you and your family.
Would you be able to support your family? Will your boss let you keep your job if you go to jail for six months or even 90 days? Can you even keep your job if you have a felony conviction?
As you can see, there are severe consequences for a third DUI conviction.
Defenses for Third Offense DUI Charges
You are probably wondering, Can you avoid jail time after the third DUI? A skilled and dedicated DUI defense lawyer who practices DUI defense every day, as I do, just might give you the edge you need to stay out of jail.
Your first line of defense begins with trying to beat your charges.
I will examine your case thoroughly and look to exploit mistakes the police made to help you achieve the best possible outcome. There are many opportunities to exploit police mistakes.
DUI cases are extremely technical cases with many pitfalls that the officer could mess up. Even experienced officers make mistakes when trying to investigate a DUI.
For example, if you were involved in an accident, the officer likely did not witness you behind the wheel of the vehicle.
In order to use the breath test against you, the Commonwealth will need to prove that you did in fact operate the vehicle within three hours of being arrested.
If the Commonwealth cannot prove the time of driving, there may be no breath certificate for your case which gives you a fighting chance to win the DUI itself.
The officer making a tiny mistake by NOT asking you about the time of the accident could mean the difference between a conviction and a dismissal.
Other DUI Defenses
There are also ways to attack breath tests. Machines are fallible—as are the people who program them. DUI breath test machines might not work correctly. Or, they might work correctly and still give a false reading.
If you can cast doubt on the test results, you may be able to get them thrown out. If you can't get the results thrown out, your lawyer may be able to convince a jury that they were inaccurate.
Either of these can be a big step toward winning your case.
There is another way to challenge the evidence before trial. You could ask a judge to throw out evidence if the police violated your Fourth Amendment rights.
The police need a reason to pull you over. If they don't have a valid reason, the judge will likely deem all of the evidence they gather from the illegal stop inadmissible.
If the current case against you is solid, you might want to try to knock out some of your prior convictions. There might be an error that could require a judge to remove one or more of your previous convictions.
If you are successful, you will not face a third DUI conviction.
Contact My Office for a Free Consultation
I handle every aspect of my clients' defenses. My connection with my clients allows them to trust me and gives them confidence that they are in good hands.
My AVVO, Google, and Yelp reviews illustrate the client-centered approach I bring to every case.
Contact me today, Andrew Flusche, Attorney at Law, at 540-318-5824. I am ready to help you as your Virginia DUI lawyer.