Virginia Speeding Ticket When Out of State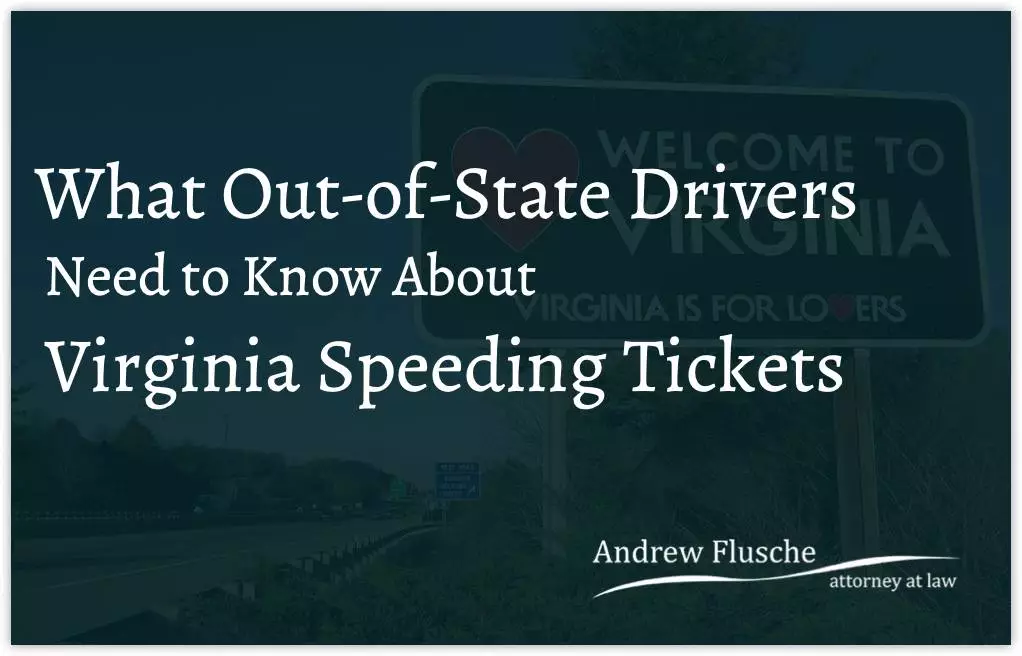 Did You Receive a Virginia Speeding Ticket as an Out of State Driver?
If you've received a Virginia speeding ticket when you're out of state, you're in the right place to learn how to handle it. The video below will give you a quick overview of the situation.
I'm a local attorney who focuses on defending Virginia speeding tickets and misdemeanor charges, and I can probably handle your ticket without you even coming back for court.
---
WATCH:
Andrew Flusche Explains What Out-of-State Drivers Need to Know About Virginia Speeding Tickets
---
VIDEO TRANSCRPTION:
Out-of-State Virginia Speeding Tickets
Hello. My name is Andrew Flusche and I'm your Virginia traffic lawyer. If you received a Virginia speeding ticket when you're from out of state, you need to know several things about Virginia law. First of all, look at your ticket closely. It may not be just a speeding ticket.
Your Virginia Speeding Ticket Might Actually be a Reckless Driving Citation
A lot of people, when they get a Virginia speeding ticket out of state, they think, "Oh, this is just a ticket I can and be done." But that may not be the case. Read your ticket closely and see what law or code section you're actually charged with.
Out of state speeding ticket in Virginia? Contact my office now for free answers
You may be charged with what we call in Virginia reckless driving. That's actually a misdemeanor.
I've got a whole book about Virginia reckless driving that you can request free here on the website, if you're in fact charged with reckless driving.
Typically, reckless driving is anything for 20 or more miles an hour over the limit or any speed over 80. So it gets a lot of travelers, especially, uh, during the holiday breaks as they'll be coming through Virginia on a vacation on the interstate and get a ticket for 85 in a 65 and many times, that is written actually for reckless driving under 46.2-862.
So you need to really read your ticket closely and see what you're facing and if you are indeed facing a charge on Virginia reckless driving, not just speeding.
You may not need to return to Virginia to go to court for your out of state ticket
The other thing to know if you have a Virginia speeding ticket from out of state is that an attorney, like myself, can handle the case usually without you even coming to court. This applies if it's a reckless driving ticket and if it's just a simple speeding ticket.
Now, not always.
In some reckless driving cases, you're faced with possible jail and the judge is going to want to see you here. But that's definitely something that we can talk about when you contact me for your free case strategy session.
Depending on your record and your prior driving offenses, we may be able to have your Virginia out-of-state speeding ticket completely dismissed with you going to a driver improvement class.
So, even if you're just charged with simple speeding, don't just pre-pay that ticket. Don't just send a fine in. Go ahead and call me or contact me through the website so we can see if there might be something better that we can do together to try to have this case perhaps dismissed or at least reduced to a lesser offense.
Begin your defense
If you've been charged with a Virginia speeding ticket when out of state, contact Virginia defense attorney Andrew Flusche today to discuss your options.