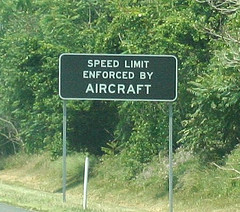 If you've driven through Virginia, you've probably seen signs that say "Speed Limit Enforced by Aircraft." But have you ever known anyone who got a ticket due to an airplane? I haven't.
Apparently there's a reason for that. Due to stretched budgets, speed enforcement aviation units around the country are going by the wayside. According to the Associated Press, the New York State Police haven't written a single speeding ticket due to aircraft since 2005. New York is even removing the signs from the roadways, even though the program isn't officially canceled and the aircraft are still available for use.
But how does Virginia fit into that? According to the same article, Virginia State Police have virtually abandoned air-enforcement as well. Here are the number of air speed-enforcement flights per year:
2011 – 1 (resulted in 20 drivers getting tickets)
2010 – 4
2009 – 0
2008 – 1
The Virginia State Police does have an Aviation Unit, which they've had since 1984. They operate six helicopters, three airplanes, and a glider from three air bases across the Commonwealth. However, in their Annual Report (PDF – 2010 is the latest year available online), there is no mention of the Aviation Unit performing traffic enforcement. It's probably lumped in with the other categories of flights they performed, but to me that shows that traffic enforcement isn't a primary concern.
No wonder air enforcement is dwindling. As the Associated Press article points out, air enforcement costs quite a bit of money. It involves a lot of equipment, fuel, and personnel.
This certainly doesn't mean to disregard the speed limit in Virginia. The Troopers are out there, just not typically in the air.
Photo by AllWork
Free consultation. Call me: 540.318.5824.
I provide free consultations for traffic tickets and misdemeanors in my area. If I can't help, I'll do my best to connect you with someone who can.
Free book for you
If you want more answers about your reckless driving ticket, grab a free copy of my book. We'll send it right over for free.
My book covers everything from the law to defenses to how to appeal if things go South. And I wrote it all myself, unlike some people who just slap their name on someone else's book.
More about reckless driving...