Watch Out for I-95 Speed Limits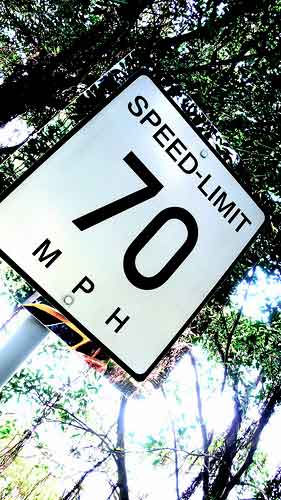 As I wrote earlier this year, the speed limits in Virginia are changing. As of July 1, 2010, the maximum possible speed limit is 70 mph.
But don't go 70 unless the signs are posted.
That's the key. You have to watch the signs on the interstates in Virginia. The speed limit can vary anywhere from 55 mph to 70 mph.
The Free Lance-Star published a recent article that explains the new 70 mph signs have been posted in part of Spotsylvania County. I've seen them, and it's certainly a joy to go just a bit faster on the interstate.
According to the Virginia State Troopers I've spoken with, the 70 mph zone goes from the 90 mile marker up to the 124 mile marker (I think they might have said 124.5, but I'm erring on the side of caution here). Regardless, after that point, the limit goes back down to 65 mph.
The moral of the story: watch for the speed limit signs. And remember that any speed over 85 mph is still reckless driving, even in a 70 zone. If you set your cruise on 73 or 75 and tap the pedal to pass someone, you could easily top 85 and be facing a Spotsylvania reckless driving charge. Be careful!
Photo by bredgur.