How to Avoid Reckless Driving Immigration Consequences in Virginia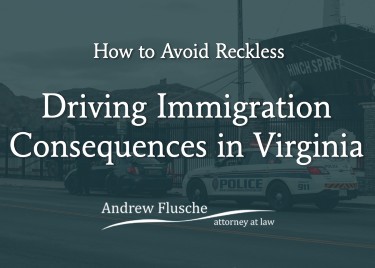 A resident alien, meaning a person living in the United States legally on a green card, must be very careful not to commit any criminal offenses. A conviction for any criminal offense could have severe consequences on your immigration status.
Traffic offenses are typically considered minor crimes. However, if you receive a citation for reckless driving, having a green card or other immigration status might complicate things. The best way to avoid any possibility of reckless driving immigration consequences is to win an acquittal or dismissal.
As a traffic defense attorney in Virginia, I represent numerous individuals charged with reckless driving. A citation for reckless driving is more than a traffic citation; it is a criminal offense. Therefore, I pursue every avenue of defense to reduce the charge to a minor traffic violation or beat the charges outright.
Penalties for Reckless Driving
Reckless driving in Virginia is a Class I misdemeanor. Class I misdemeanor charges in Virginia carry stiff penalties. The potential punishments for a conviction of a Class I misdemeanor in Virginia include incarceration in a county jail or house of correction for 12 months and a fine not to exceed $2,500.
The penalties for a conviction of reckless driving are severe because of the danger a reckless driver presents to others on the road. Reckless driving leads to unnecessary loss of life, injuries, and property damage if a crash occurs. Consequently, prosecutors take reckless driving charges very seriously.
Prosecutors in the Commonwealth of Virginia always have the burden of proof in a criminal case, including reckless driving. They must prove beyond a reasonable doubt that the accused operated a motor vehicle on a public highway and drove in any way to endanger life, limb, or property. Specific acts of reckless driving include:
Driving a vehicle out of control, including without adequate or properly adjusted breaks;

Passing on or near the crest of a hill or passing on a curve;

Driving with an obstructed view that affects the driver's ability to control the vehicle;

Passing two vehicles riding side-by-side;

Driving alongside another vehicle in one lane;

Passing cars stopped at a railroad crossing;

Passing a stopped school bus;

Failing to signal correctly;

Failing to yield or driving too close to emergency vehicles on the side of the road;

Exceeding the posted speed limit;

Driving at a speed greater than permitted by road conditions;

Failing to yield;

Racing; or

Injuring or killing another in a drag race.
Reckless driving is more than making a mistake, like going 70 in a 65-mile-per-hour zone. For example, driving 70 miles per hour while weaving through rush hour traffic might rise to the level of reckless driving.
How Can a Lawyer Help Fight Your Reckless Driving Charge?
If you face reckless driving charges and have a green card, you need to defend the charges aggressively. An experienced traffic criminal defense lawyer in Virginia will analyze the case and look for weaknesses in the evidence. Eyewitnesses are often mistaken when they give investigators information. Also, police investigators commonly jump to conclusions to close an investigation quickly.
An attorney can also recommend mitigation steps for you to take before court, such as doing a driving school, community service, or a speedometer calibration. Even if the evidence lines up against you, the judge may still exercise considerable mercy in a reckless driving case.
A Virginia Traffic Defense Attorney Can Help You Avoid a Reckless Driving Conviction
Call me, Andrew Flusche, an experienced and successful traffic defense attorney in Virginia. I can use my vast experience and resources to help you fight your reckless driving charges, to try to avoid potential immigration consequences if you're living in the U.S. with a green card. Call my team today at (540) 318-5824 to get the help you need and the results you desire.