What Is the Punishment for Drunk Driving and Killing Someone?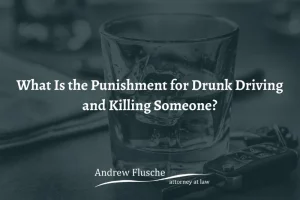 If you have experienced accusations of drinking and driving, our lawyers realize how precarious this situation can be.
If someone died in such an incident, it is extremely challenging to navigate your charges without a knowledgeable defense attorney.
At Andrew Flusche, Attorney at Law, PLC, we can assist you if you are facing criminal charges. Contact us today, and our attorneys will fight to defend your legal rights.
We are here to help you achieve results in an efficient, timely manner.
What Is the Penalty for Killing Someone While Driving Drunk?
You might be wondering, What is the punishment for drunk driving and killing someone? There are multiple potential consequences if someone passes away due to the conduct of a drunk driver.
DUI-Related Involuntary Manslaughter
Many of our clients ask us, Is drunk driving voluntary manslaughter? The answer is that in Virginia, driving under the influence that causes death is generally going to be charged as involuntary manslaughter.
In Virginia, a person may face a charge of DUI-related involuntary manslaughter if their DUI results in someone's death. This is a class 5 felony under Virginia law.
There is more than one possible penalty for killing someone in a DUI context. If you are convicted, penalties may include the following:
A maximum fine of $2,500,

A minimum prison sentence of one year,

A maximum prison sentence of 10 years,

Revocation of your driver's license, and

Forfeiture and seizure of your vehicle.
If you are searching for a defense attorney, our lawyers can aid you in reducing or dismissing your charges. Do not hesitate to contact us with any questions or concerns you have. We are here to fight for you aggressively.
Aggravated Involuntary Manslaughter
A charge of DUI-related involuntary manslaughter can turn into a charge of aggravated involuntary manslaughter.
Under the Virginia statute, the charge can change when the driver shows a "reckless disregard for human life" through "gross, wanton, and culpable" conduct.
Penalties if a person is convicted of aggravated involuntary manslaughter in Virginia consist of the following:
A minimum of one year in prison,

A maximum of 20 years in prison, and

Revocation of the convicted individual's driver's license.
These are only some potential consequences of an aggravated involuntary manslaughter conviction. If you are facing these charges, it is crucial to seek the advice of an experienced attorney. Feel free to give our attorneys a call today to get started.
How Is DUI-Related Involuntary Manslaughter Proven?
The Commonwealth will have to prove several factors to show that an offender is guilty of DUI-related involuntary manslaughter. These factors include the individual:
Drove under the influence of drugs, alcohol, or a combination of the two, and

Unintentionally caused a person's death as a result.
If you need a high-quality defense attorney, consider reaching out to us as soon as possible. A skillful attorney at Andrew Flusche, Attorney at Law, can fight to get you the results you desire.
What Factors Help Prove or Disprove Aggravated Involuntary Manslaughter?
As noted above, the defendant's conduct must be so "gross, wanton, and culpable" as to show a "reckless disregard for human life." This is essentially the same as criminal negligence.
Criminal negligence means that the defendant knew or should have known what would happen due to their conduct.
If there is criminal negligence, then under Virginia law, the defendant will have a conviction of aggravated involuntary manslaughter.
There are various ways a lawyer can help you if you face aggravated involuntary manslaughter charges.
For example, you can show that you were not, in fact, intoxicated, or that your drug or alcohol tests were unreliable. We can sometimes do this by having an expert review your lab results and the procedures used.
How Else Is Driving Under the Influence Established?
There are several ways the prosecution may try to establish that you were driving under the influence of alcohol, drugs, or a combination of the two.
First, a prosecutor could show through a test that your blood alcohol content (BAC) was over the legal limit. The legal limit for a person's BAC in Virginia is 0.08 percent if the driver is over age 21.
Other ways that a prosecutor might attempt to prove intoxication consists of showing observable impairment, such as:
Erratic driving behavior,

Failure to perform sobriety tests,

The driver's admission of use of alcohol,

Weaving on the road, or

Bloodshot or glassy eyes.
There may be other behaviors or signs, of course, that may suggest that a person is under the influence.
You should reach out to our accomplished attorneys for assistance disputing such a charge. We are here to help you reduce your charges or even have them dismissed.
Breathalyzer Test You CAN'T Refuse
What Are Some Penalties for Driving Under the Influence?
Even if you do not have a charge of DUI-related involuntary manslaughter or aggravated involuntary manslaughter, you could be charged with simple driving under the influence.
The consequences of a DUI conviction vary depending on whether it is your first offense.
First Offense
If it is your first DUI offense, then your conviction will be a class 1 misdemeanor in Virginia. In addition to a mandatory minimum $250 fine, this carries a potential jail sentence of up to a year and possibly a fine of up to $2,500.
Second Offense
A second DUI offense in Virginia can also have serious consequences. There is mandatory jail time and a minimum $500 fine for a second DUI.
Over Two Offenses
More than two DUI offenses can have even harsher penalties. For example, three violations in 10 years is a class 6 felony in Virginia.
You should contact our attorneys if you have questions about facing DUI convictions. We are here to advocate for you and guide you through the entire defense process.
How Our Attorneys Can Help You
If you face charges of involuntary manslaughter and DUI, our talented lawyers can help you. The experienced team at Andrew Flusche, Attorney at Law, is ready to assist you in building a solid defense.
We are located in Spotsylvania, VA, focusing on traffic and misdemeanor cases.
Our law firm has a flexible approach and does not require clients to come into our office. You may work with us via phone and email if you prefer.
If you are looking for a results-oriented team, contact us online or call us today for assistance at 540-318-5824. We are available 24/7 for your convenience.