Virginia Misdemeanor Classes and Penalties Overview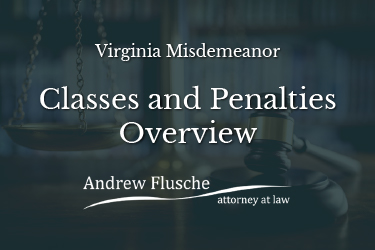 Virginia divides criminal violations into two broad categories: misdemeanors and felonies.
Misdemeanors typically involve less serious offenses, while felony violations concern more serious crimes.
In most cases, misdemeanor convictions carry a shorter sentence for the defendant than felony convictions.
Additionally, defendants typically serve misdemeanor sentences at a county jail facility instead of a state prison, where felony sentences are served.
But even though misdemeanor charges are in the less serious category, they are most definitely not something you can ignore.
If you've been charged with a misdemeanor in Virginia, there's no time to waste. Contact a Virginia criminal defense attorney with experience representing defendants accused of committing Virginia misdemeanors.
How Many Misdemeanor Classes Does Virginia Have?
Virginia has four classes of misdemeanors, labeled Class 1 through Class 4. Class 1 misdemeanors carry the potential for the most severe penalties, while Class 4 misdemeanor convictions authorize the least severe penalties.
Some criminal violations fit into more than one of the misdemeanor classes in Virginia.
Class 1 Misdemeanors
Class 1 Virginia misdemeanor penalties carry the potential of up to twelve months in jail and a fine of up to $2,500. Crimes Virginia considers Class 1 misdemeanors include:
Reckless driving,

Driving under the influence (DUI),

Petit larceny,

Indecent exposure,

Disorderly conduct, and

Assault and battery.
Virginia labels more serious criminal violations as felonies.
Class 2 Misdemeanors
While less severe than Class 1 penalties, the penalties for a Class 2 misdemeanor conviction can still have a significant and lasting impact on your life.
Examples of Class 2 misdemeanors in Virginia include:
Possession of Schedule IV drugs,

Driving without a valid license, and

Aggressive driving.
Virginia considers Class 2 misdemeanors less serious than Class 1 misdemeanors. As such, Class 2 misdemeanors carry the potential of up to six months in jail and a fine of up to $1,000.
Class 3 Misdemeanors
Class 3 misdemeanors do not include the possibility of spending time in jail as do the above misdemeanor classes. Virginia Class 3 misdemeanors include:
Violation of a custody/visitation order,

Driving without car insurance,

Possession of a Schedule V drug, and

Unintentional damage to property or monuments.
Class 3 misdemeanors in Virginia carry the maximum potential penalty of a $500 fine. Even without the possibility of jail time, a misdemeanor conviction will appear on your criminal record.
Class 4 Misdemeanors
Class 4 misdemeanors make up the least serious class of criminal violations in Virginia. Examples of Class 4 misdemeanors in Virginia include:
Public intoxication,

Possession of a Schedule VI drug, and

Leaving the scene of an accident with damage of less than $250 to unattended property.
A Virginia Class 4 misdemeanor conviction warrants a fine of up to $250.
Again, just because you aren't facing jail time doesn't mean you should take Class 4 misdemeanors less seriously. Any conviction on your criminal record may appear when someone checks your background.
Added Penalties Associated with a Misdemeanor Conviction
In addition to criminal violations, having a misdemeanor conviction on your record can negatively affect your life in other ways. Underlying consequences of a criminal conviction may include:
Difficulty securing employment,

Inability to receive approval for a loan,

Mandatory attendance at substance abuse classes or counseling, and

Affecting your immigration status.
We understand that facing a criminal conviction is a serious matter—no matter what class of misdemeanor you're facing.
How Can an Attorney Help Me with a Virginia Misdemeanor Charge?
In some cases, a legal defense applies that can help justify your actions when you committed the alleged violation. For example, if you're facing an assault and battery charge, proof that you acted in self-defense could help defeat the charges against you.
Alternatively, police or prosecutor misconduct can lead to the exclusion of evidence from the trial, leaving the prosecution unable to present sufficient evidence to prove the charges beyond a reasonable doubt.
The court may exclude all evidence obtained through an illegal search conducted by police officers.
A qualified criminal defense attorney can negotiate with the prosecutor to have your misdemeanor charge dismissed so you can avoid a conviction altogether.
Alternatively, you could get your misdemeanor charges reduced to eliminate the possibility of spending time in jail.
Contact Andrew Flusche Today for Help Fighting Your Misdemeanor Charges
I am a Virginia misdemeanor defense attorney, and I limit my practice exclusively to traffic tickets and defending misdemeanor charges, giving me extensive experience representing clients in a similar position as you.
In fact, I have written books on reckless driving and DUI charges in Virginia. I approach cases with the goals of the client at the forefront of his mind and work to ensure you receive timely communication about your case.
While you might think your Virginia misdemeanor charges aren't serious, any criminal conviction on your criminal record can derail the plans you have for your life.
Keep things on track by contacting an effective and experienced attorney today.