License Suspension Vs. Revocation in Virginia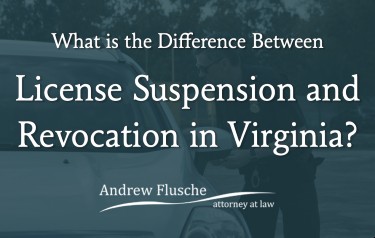 License suspension and revocation refer to the Commonwealth of Virginia taking away a person's driving privileges.
The legal significance of having a suspended license vs. a revoked license is significant, and you need to be aware of the difference.
If you have a revoked or a suspended driver's license in Virginia, you need expert legal help. You need to get your license reinstated as quickly as possible so you can return to living your everyday life.
Seek legal representation from a Virginia lawyer who focuses on helping people get their license reinstated and defends them if they face criminal charges for driving with a suspended or revoked license.
Suspended License vs. Revoked License
According to the Virginia Department of Motor Vehicles (DMV), having a suspended license means that the Commonwealth temporarily terminated your driving privileges.
The DMV will reinstate your license if you comply with the requirements for reinstatement and satisfy all suspension requirements. Failing to meet both obligations means that you cannot get your license back.
The DMV suspends driving privileges for a variety of reasons. Some of those reasons include:
Driving a car without proper insurance;

Failing to pay fees, such as jail fees, or a judgment from a motor vehicle accident;

Failing to pay child support;

Having too many demerit points on your license because of traffic offenses;

Not completing the driver's improvement course;

Giving alcohol to a minor or an intoxicated individual;

Having a mental or physical condition that prevents safe driving; and

Receiving a court-ordered suspension for crimes such as reckless driving.
A knowledgeable Virginia driver's license suspension lawyer could help you navigate the complex and confusing DMV requirements.
License Revoked vs. Suspended
The DMV interprets revocation of a driver's license as a permanent termination of driving privileges. However, a person with a license revoked vs. suspended can have their privileges reinstated.
Reinstatement requirements often involve paying the required fee, serving the revocation period, and taking a test.
Revocation of a driver's license often occurs because the person received a conviction for a serious criminal offense stemming from operating a vehicle. Convictions that often result in revocation are:
DUI;

Driving with a suspended or revoked license after a DUI conviction;

Voluntary or involuntary manslaughter involving the operation of a vehicle;

Drug violations;

Felony charges involving a vehicle;

Leaving the scene of an accident; and

Using fraudulent means to obtain a driver's license.
Many people do not consider the ramifications of their driver's license when pleading guilty to a crime. Plea bargaining for a deferred finding or reduction to a less serious charge or winning an acquittal at trial are ways to keep your license.
Penalty for Driving on a Suspended vs. Revoked License
Under Virginia law, driving with either a suspended or revoked driver's license is typically a Class I misdemeanor that carries a potential 12-month jail sentence and a fine up to $2,500.
However, Virginia law imposes other punishments that could harm your life and ability to earn a living. The court can order additional license revocation and impound your vehicle.
License Suspension vs. Revocation: Get the Help You Need
Most of us need a driver's license to function in today's society. Driving on a suspended or revoked driver's license often leads to a downward spiral for people. They become trapped in a cycle of criminal charges, reinstatement fees, and obligations that no one could meet.
Suppose you face criminal charges for driving with a revoked vs. suspended driver's license. In that case, you need a knowledgeable and dedicated Virginia defense lawyer who understands how to help his clients avoid becoming trapped in a vicious cycle with the courts and the Virginia DMV.
Call me, Andrew Flusche, today at (540) 318-5824 to discuss how I can use my experience, knowledge, and trial skills to help you.