How to Find the Best DUI Lawyer Near Me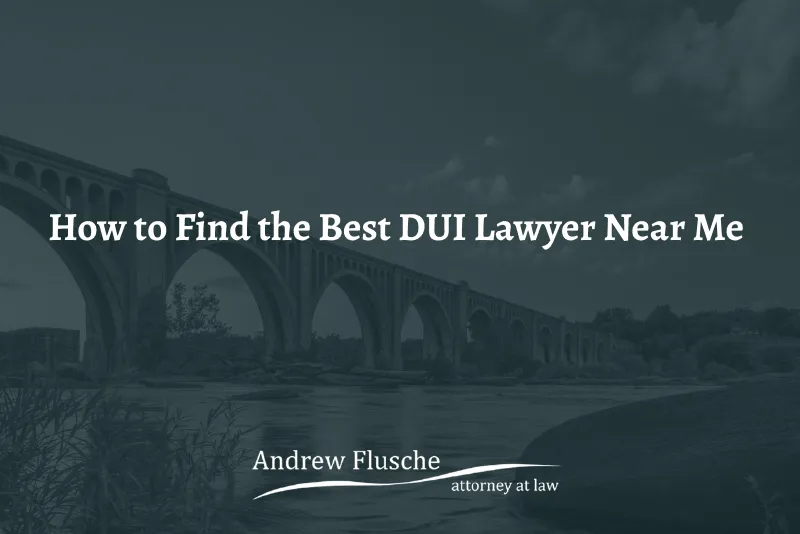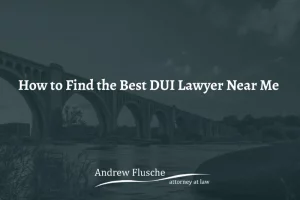 You will need a lawyer if the police arrest you for driving under the influence (DUI).
DUI charges are serious criminal offenses that have the potential to negatively impact your life for a long time, even if this is your first DUI arrest.
An experienced DUI lawyer can try to help you minimize the impact of a DUI arrest. Therefore, finding the right attorney for you must be your top priority.
With so many attorneys, how do you know which attorney is best?
You should consider working with a local attorney with a reputation for excellence and fairness among judges, prosecutors, and law enforcement, like the attorneys at Andrew Flusche, Attorney at Law, PLC.
Our attorneys have extensive experience representing those accused of DUI offenses in Spotsylvania, Fredericksburg, Stafford, and King George.
We may be able to help you avoid the overly harsh consequences of a DUI conviction. Contact us today!
Our Experienced DUI Attorney Explains Virginia Law
Virginia has a tough DUI law. Under Virginia law, police can charge you with a DUI under one of three theories. These theories are:
Driving while having a blood alcohol concentration (BAC) of 0.08% or greater;

Operating a vehicle while under the influence of alcohol; or

Operating a vehicle under the influence of drugs or a combination of drugs and alcohol.
Virginia has a "per se" law for DUIs. The prosecutor does not have to prove that the alcohol you consumed affected your driving under the per se theory.
Instead, the prosecutor must only prove that you drove a motor vehicle with a BAC of 0.08% or greater.
Plus, if you refused a chemical test or did not provide a sufficient sample for a chemical test, the prosecutor will argue that you drove under the influence.
The prosecutor may also use evidence of your driving behavior, field sobriety test performance, physical appearance, and communication ability as evidence you drove while intoxicated.
Virginia also has a per se limit for driving with certain drugs in your system. Therefore, driving with a certain amount of drugs in you is a crime regardless of whether the drugs negatively impact your driving.
DUI Conviction Penalties in Virginia
A DUI conviction in Virginia has serious consequences. A DUI is a Class 1 misdemeanor. A DUI conviction could result in up to one year in jail and a fine between $250 and $2,500.
Plus, having a BAC between 0.15% and 0.20% carries a mandatory minimum jail sentence of five days. If you have a BAC over 0.20%, you may face a 10-day mandatory minimum jail sentence.
Additionally, if you're convicted of a DUI, your driver's license will be automatically suspended for one year. This is in addition to any suspension you may have for refusing or failing a chemical test.
The Virginia DMV will add six demerit points to your license, and the conviction will stay on your driving record for 11 years.
You must also be aware that multiple DUI offenses subject you to higher criminal penalties, longer license suspension, and stricter requirements to reinstate your license.
The Best DUI Lawyer Near Me
You may be searching, "how to find the best dui lawyer near me?" As you can tell, you will need an experienced and knowledgeable attorney to help you.
Understandably, you want the best DUI attorney. Virginia does not rank lawyers according to their ability or success rate, so there is no objective way to state which DUI lawyer is the best definitively.
So, with no ranking system, how do you know which DUI lawyer is right for you?
Some objective criteria can help you make this important decision. First, you can confirm that the lawyer you're considering has an active law license and no disciplinary issues.
That information, however, only establishes that the attorney is in good standing to practice law. While it's a solid place to start, many lawyers you encounter meet these basic requirements.
Client satisfaction and a documented track record of success in DUI cases are useful data to measure the quality of an attorney.
For example, if you look at our website, you will see numerous endorsements from happy clients. We also have over almost 1,000 five-star reviews on independent websites like Google, Yelp, and Avvo.
You should look for a lawyer with a superior knowledge of DUI defenses. For instance, our legal team has developed comprehensive materials devoted to DUI defense based on our experience as DUI defense lawyers in Virginia.
Our firm focuses on defending people against traffic-related offenses instead of having a general practice. Our focus helps us understand the nuances of every DUI case.
How Much Does DUI Lawyer Cost?
How much does dui lawyer cost? Cost may be one of your primary concerns when looking for a DUI attorney. In a DUI defense case, attorneys may charge an hourly rate or a flat fee.
Every attorney can set their own rate. Some attorneys may charge a low rate for a DUI case, but they may have little to no expertise in fighting DUIs. This could cost you more in the long run.
A DUI conviction can be expensive. The costs can reach well into the thousands between court fines, license reinstatement fees, increased insurance rates, and driving school.
Do not settle for an attorney just because they seem inexpensive. Instead, consider hiring a DUI expert who would be better equipped to fight your case.
Affordable DUI Lawyers Near Me
Although you may be searching for "affordable dui lawyers near me", sometimes you get what you pay for, but not always. Hiring the least expensive attorney could work out for you.
However, there are better criteria for deciding the best DUI lawyer for you than their fees. In addition to cost, you should consider the many factors above before deciding on a lawyer.
You may consider representing yourself to save money. Although you have the right to represent yourself, doing so is very risky. DUI convictions have significant lifetime implications.
Hiring a skilled DUI lawyer will save you time, money, and many headaches down the road.
Call Us Today
The attorneys at Andrew Flusche, Attorney at Law, PLC, understand that you're likely under much stress due to a DUI charge. Let our DUI defense attorneys help you relieve some of your life's stress. Call us today.