Can You Move Out of State After a DUI?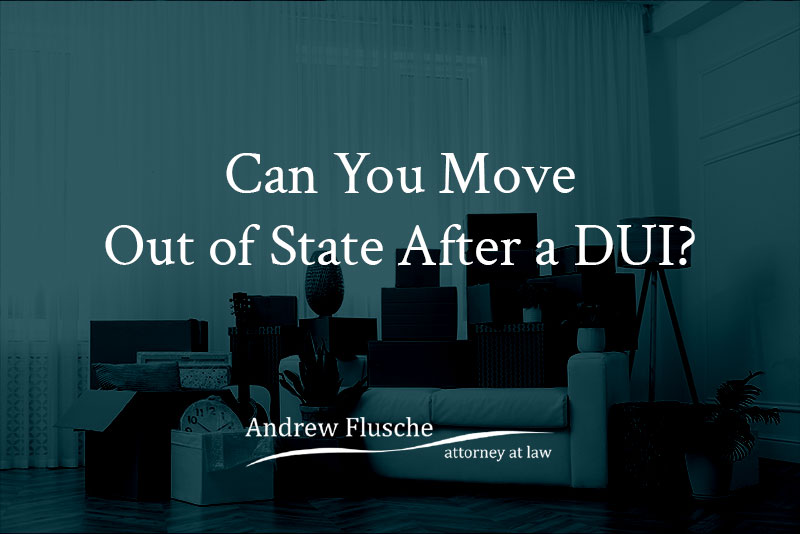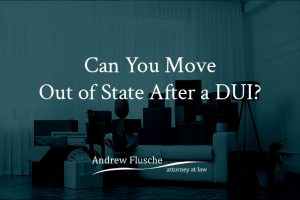 Picking up a criminal charge for driving under the influence (DUI) can be embarrassing and stressful.
Perhaps you are like many people whose only contact with the criminal justice system occurred after a Virginia DUI arrest.
If you have to go to court to answer a DUI charge, you are probably wondering what your next action should be.
You might think that the best way to handle it is to move to another state to get a fresh start, even though you still have an open DUI case.
A DUI in Virginia is a big deal, but it is not the end of the world. Your life will go on. Call me, Virginia DUI attorney Andrew Flusche.
I'll show you how we can minimize your DUI charge's impact on you and your family.
Since I only handle traffic misdemeanors and DUI charges, my vast experience handling DUI cases helped me develop strategies that will give you the best chance of defending your case successfully.
What to Do When You Get a DUI
The worst thing you can do is try to ignore your charges or disregard the court's orders while you are fighting your case. The best thing you can do if you get a DUI charge is to call a DUI defense lawyer right away.
You should resist the temptation to try to defend yourself against these allegations. Even if you are a practicing attorney, you should not take this route because it is fraught with pitfalls.
Aligning yourself with a trustworthy, experienced, and dedicated DUI defense attorney lets you have an unbiased third-party opinion about your case.
Getting an opinion from a lawyer who centers his law practice around defending DUI cases allows you to weigh the strengths and weaknesses of the charges against you in an objective manner.
There might be loopholes or defenses to your case that only an experienced DUI lawyer would recognize and know how to exploit to your advantage.
I will give you the best advice that I can provide. Together, we will identify solutions to your problem and get you back on the road as soon as possible.
The best defense for your case might be entirely different from someone else's—even when the circumstances might seem quite similar to an inexperienced observer.
That's why we need to talk with me about the specifics of your case. We will leave no stone unturned.
Nothing will surprise you when you work with me. I keep my clients informed about every development and instruct them on what to expect when they go to court.
Running from Your Problems Is Not a Solution
Posting a bond, whether secured or unsecured, is the judicial mechanism officers use to ensure you will go to court. The judicial officer setting the terms of release has many factors to consider when determining if you will show up to court and behave lawfully while your case is pending.
The bond terms initially set might remain in place but could change at your first court appearance.
You could face additional criminal charges if you skip bail. Skipping bail could be a felony or a Class 1 misdemeanor, depending on your initial charges.
Additionally, failing to appear for your court date means the judge will issue a warrant for your arrest. The police could then go to your home, work, place of worship, or other location to arrest you and bring you to court.
Law enforcement officers cannot cut you a break if they find you have a warrant. They must arrest you and take you to jail.
Moving to Another State Before Your Case Ends Could Be Problematic
If you think moving to another state absolves you of your obligation to appear in a Virginia court, you are mistaken. The judge can hold you in jail without bail if the court has probable cause to believe you will not return to court to face your charges.
Specifically, the law allows the judge to consider whether you have defaulted on your appearance obligations in the past or have done something to flee from prosecution.
The prosecution can ask the judge to impose conditions on your release if they have doubts about whether you will return to court.
One of the bail conditions a judge could order is that you must remain within the Commonwealth of Virginia while your case is pending. Or, the judge could place other travel restrictions upon you.
Perhaps the final and most drastic step—short of remaining in jail during your case's pendency—would be the court ordering you to wear a GPS device or remain confined to your home (i.e., house arrest) unless you have permission from the court to leave.
You should keep in mind that any DUI license revocation will follow you if you move into another state. Virginia is a member state of the Driver's License Compact.
As a result, any adverse action Virginia took against your license while you lived here will show up in your new state. The DMV in your new state must honor Virginia's sanctions imposed on you if your new state is also a member of the Driver's License Compact.
Call Me Right Away for Help with All of Your DUI Questions
After a DUI, you may wonder, Can I move out of state after getting a DUI? If you want to discuss this or any other questions concerning your Virginia DUI charge, contact me online or call me at 540-318-5824. I'm available to help when you need it most, 24/7.
I help protect your future, driver's license, and insurance rates. Let's discuss how I can help you through this tough time in your life.