What is a capias warrant?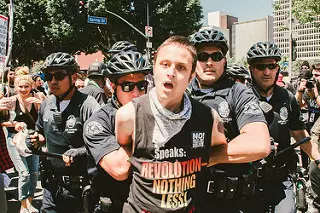 In Virginia there are certain options the judge has if you miss court when you're summons to be there as a witness or as a defendant. One of those options is to issue what's called a capias.
A capias is a bench warrant for your arrest. It orders the sheriff to find you and arrest you and bring you before the judge to answer for whatever the judge is claiming you did wrong. The main use of it is for what's called failure to appear in court as a defendant in a criminal case.
If you are originally charged with a misdemeanor offense, then a capias for failure to appear in court is a misdemeanor. If you were charged with a felony offense, then a capias warrant for failure to appear is a felony. In either case there is a possibility of jail if you are found guilty of failing to appear.
If a capias gets issued against you, the best thing for you to do normally is to contact the court and potentially a lawyer, especially if you already have a lawyer for the case and to turn yourself in on the capias, especially in a lot of misdemeanor cases if you turn yourself in quickly and can explain to the court that it was simply a misunderstanding or you misread the date on your paperwork. In a lot of cases if you don't have record of failure to appear in the past you would not normally get jail time for your first offense for failure to appear in court.
However, if you have prior failures to appear and this is not your first one, then there is a chance that the judge could give you jail time for failing to appear when you were ordered to do so.
You may also have a legitimate defense to a failure to appear charge. It could be that you didn't have proper notice of the court date, perhaps the paperwork had the wrong court date on it or perhaps you were arrested on erroneous paperwork that was recalled or something along those lines. This is why it's important if you are charged with failure to appear that you do need to talk with an attorney to find out what defenses you might have and what outcomes might be possible for your case.
Keep in mind that if you're accused of failing to appear in court, that means you had an underlying charge you also have to answer for. So not only do you have to take care of the failure to appear, but you also have the original charge that had you in court in the first place.
People underestimate the importance of being to court on time and as scheduled. However, judges take it very seriously if you're not where you're supposed to be when the court or the officer has ordered you to be there. You may not be guilty of the charges that are bringing you to court but if you have been given valid notice and required to come to court at an appropriate time and you're not there you may be guilty of misdemeanor simply for not showing up when you were told to be there.
photo credit: Pastrami Vicar aka Salamander "Noodle" Turgidson May Day March, Los Angeles