Failure to maintain proper control – 46.2-853 – Reckless driving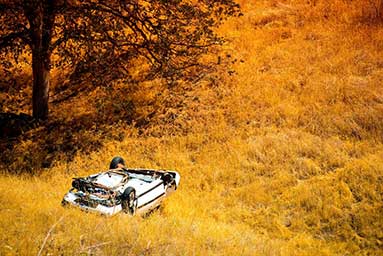 Video – click to watch instead of reading.
In many Virginia accident cases, the Commonwealth charges at least one driver with reckless driving. The main statute used for this charge is VA Code 46.2-853.
That statute – 46.2-853 – is fairly brief:
A person shall be guilty of reckless driving who drives a vehicle which is not under proper control or which has inadequate or improperly adjusted brakes on any highway in the Commonwealth.
Failure to Maintain Proper Control Tickets in Virginia
My clients are sometimes confused by the language on their ticket, the court's database, and what the officer tells them. It's definitely a confusing situation.
Officers sometimes write "improper brakes" or "fail to maintain control" on the actual ticket you receive, without any mention of "reckless driving." But as long as the summons has the proper code section listed (46.2-853), the charge is a valid reckless driving ticket.
The court database also can refer to the charge in different ways, such as "op improper brakes", which refers to operating a vehicle with improperly adjusted brakes.
The key thing to remember is that all these charges are reckless driving. They all refer to the same code section, which is a class 1 misdemeanor. The maximum punishments are:
$2500 fine
12 months in jail
6 months loss of your license
Many minor accident cases can be reduced to a lesser offense (like improper driving) or even dismissed completely. Frankly, the officers don't have many choices of things to charge for some accidents. That's why you might end up with a ticket that seems extreme for the situation.
Even if your case seems minor, you should consult with an attorney due to the nature of the charge you're facing. It's always best to get the opinion of an expert, even if you end up going to court alone.
Don't you want to see if your case can be beaten completely? Give me a call, and we'll chat about it.
Photo by boxchain
Video
Video Transcription
Do you have a ticket for failure to maintain proper control? Let's talk about that.

Hi, I'm Andrew Flusche, I'm your Virginia traffic attorney. What you may not understand is that if you're facing a charge in Virginia for failure to maintain proper control, it is likely a reckless driving misdemeanor ticket. What you need to do is definitely check the ticket carefully to see what's written on there, to see what exactly you're charged with. A lot of people think when they get this kind of a charge, that it's just a traffic offense that they can just pay a fine and be done. However, in a most cases this type of charge is actually reckless driving.

What you want to do is look on the ticket where it has the law, or code section. It's right under the court date in the left hand area. It has a blank for the law or code section you're charged under. If that says 46.2-853, then that is a charge of Virginia reckless driving, for failure to maintain proper control of your vehicle. Where a lot of these tickets come from is accident cases, and quite often single vehicle accidents, where there may not really even be any damage to anything but your own vehicle. The officer stops to investigate the accident still charges you with a crime.

This is why you definitely need to look at your ticket carefully in any scenario, but especially if you were involved in an accident. You need to look at your ticket carefully and analyze it to see if you're charged with reckless driving or not.

If you are facing a charge for reckless driving, failure to maintain proper control under 853 in Virginia, you definitely need to contact me so I can help you with the case. If I can't personally help you, I can at least try to connect you with a local attorney in your area who can help. Reckless driving is serious, but there are definitely ways that an experienced attorney like myself can help you deal with it, and maybe have case dismissed, Just because you had an accident does not mean you were recklessly driving.