What Is a No-Refusal Weekend in Virginia?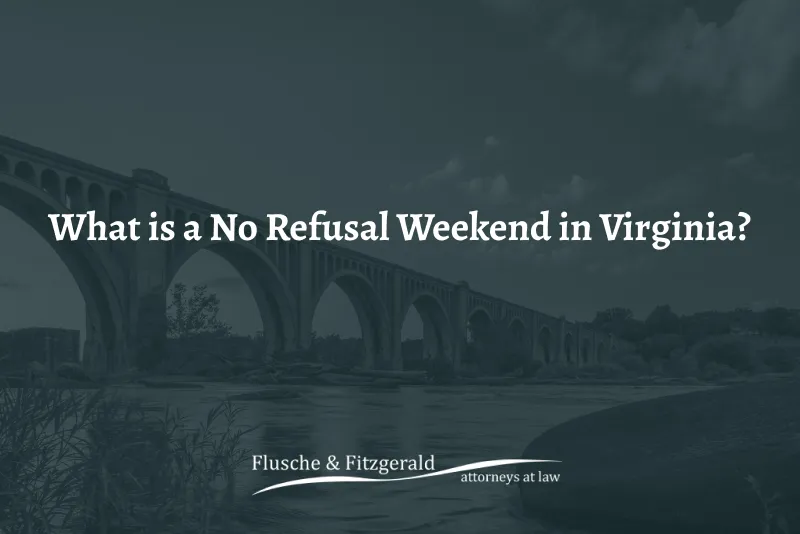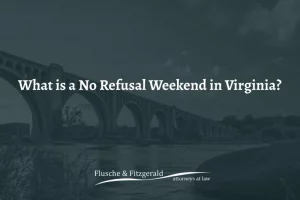 You may have heard about "no-refusal weekends" down in Texas. They have received a lot of attention.
On a no-refusal weekend, police in Texas are able to obtain a search warrant for breath and blood samples much more quickly than they usually can when a person refuses to voluntarily consent to a blood draw or breath test.
No-refusal initiatives typically take place over holidays when people are more likely to drink and drive.
Does Virginia Have No-Refusal Weekends?
What is a no-refusal weekend in Virginia? The short answer is that there is no such thing as a no-refusal weekend in Virginia.
In Virginia, you can always refuse to perform voluntary field sobriety tests. However, you will face additional charges if you refuse to provide a blood or breath sample if you're arrested for suspected drunk driving.
Law enforcement agencies occasionally bolster their patrols or host DUI checkpoints on weekends, especially holiday weekends like Memorial Day and Labor Day. Patrol officers must always follow specific rules during these checkpoints to ensure a driver's rights are not violated.
If law enforcement gathers evidence of a crime after violating your rights, the court may exclude the evidence against you.
If you heard about no-refusal weekends and want to know if they affect your rights, contact a criminal defense attorney at Flusche & Fitzgerald, Attorneys at Law.
Can I Refuse a Field Sobriety Test?
In the early 1980s, the National Highway Traffic Safety Administration (NHTSA) and the International Associations of Chiefs of Police (IACP) developed standardized field sobriety tests (SFSTs) designed to indicate a person's level of impairment.
Even in ideal conditions, these tests do not show guaranteed signs of impairment. Simply put, they are not accurate because they yield many false-positive results.
Field sobriety tests involve tasks designed to alert police officers to signs of intoxication. The sobriety tests used most often include:
One-leg stand,

Walk and turn,

Horizontal gaze nystagmus (HGN), and

Vertical gaze nystagmus (VGN).
Despite the frequency with which authorities use field sobriety tests, the NHTSA admits the tests are not entirely accurate.
The NHTSA reported that the HGN test is about 77% reliable, the walk-and-turn test is about 68% reliable, and the one-leg-stand test is about 65% reliable.
Environmental factors and officer discretion can affect the reliability of field test results. Because an officer's bias can impact their judgment, you should politely decline to perform voluntary roadside tests.
The roadside maneuvers are entirely voluntary, so you will not face a penalty for refusing to participate in Virginia.
Can I Refuse to Stop at a DUI Checkpoint?
When someone talks about a no-refusal weekend, they may be referring to a scheduled DUI checkpoint. In some cases, law enforcement agents host DUI checkpoints during holiday weekends to deter intoxicated driving.
Authorities can host checkpoints as long as they follow certain requirements, including:
Stopping vehicles based on a non-discretionary formula,

Keeping the length of detention to a minimum, and

Showing that the checkpoint will in fact address the illegal activity in question.
If you come across a DUI checkpoint, you can make a lawful maneuver to avoid the checkpoint. However, you may still be stopped by an officer and have to argue about the legality of the stop later in court.
If an officer at a DUI checkpoint asks you to perform field sobriety tests, politely refuse to do so.
Can I Refuse a Blood or Breath Test?
This is where it gets tricky because of something called "implied consent." Implied consent means that by driving on Virginia roads, you automatically consent to a blood draw or breath test if you are arrested on suspicion of driving under the influence of drugs or alcohol.
A first-time conviction for refusal in Virginia is considered a civil offense. The court will suspend your driver's license for one year.
A second violation within ten years is considered a Class 1 misdemeanor. A second conviction within ten years will result in the loss of your driving privileges for three years.
The implied consent law does not apply to the portable breath test (PBT) that officers may utilize at the scene of your traffic stop. In Virginia, you can refuse to complete a PBT without penalty.
The refusal penalty only applies to the blood or breath test officers try to collect after your arrest. It will typically take place at the police station or in the hospital.
How Can An Attorney Help Me After a Refusal Charge?
A criminal defense attorney can help navigate your case by:
Requesting access to the police report,

Reviewing the arresting officers' body-worn or dash camera footage,

Interviewing witnesses to your traffic stop or arrest,

Obtaining surveillance footage of your stop, and

Preparing your case to go to trial.
A criminal defense attorney gives you a better opportunity to get your charges reduced or dismissed. We can meet with the Commonwealth Attorney (i.e. prosecutor) assigned to your case and present evidence of a valid legal defense, if one applies.
Our attorneys know what information prosecutors use to convict individuals of refusal charges. We can present evidence to defeat the elements of the criminal charge.
Video: How "No Refusal Weekends" Are a Joke
What Does No-Refusal Weekend Mean in Virginia? Contact a Lawyer at Flusche & Fitzgerald Today
If you were charged with a refusal to consent to a test in Virginia, Andrew Flusche and Ryan "Fitz" Fitzgerald can help you navigate your criminal case.
Andrew and Fitz have represented hundreds of clients facing refusal and DUI charges in Virginia. Our team has worked and maintained relationships with officers and prosecutors in our local courtrooms for years.
These relationships help us successfully navigate the criminal justice system and secure positive outcomes for our clients. We always work to negotiate with the prosecutor to secure a favorable plea agreement or take the case to a vigorous trial.
When so much is at stake, you cannot afford to hire an attorney who lacks the skills to effectively and aggressively defend your rights.
Contact Flusche & Fitzgerald to schedule a free consultation with a member of our team. We offer free initial consultations so you can discuss the details of your case and decide if you want to move forward.