What You Need to Know About SB 1182's Increased Motor Vehicle Liability Insurance Coverage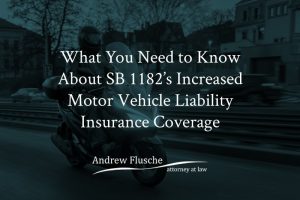 According to a report published by the Virginia Department of Motor Vehicles, approximately 105,600 car crashes occurred in Virginia in 2020.
These crashes resulted in approximately 52,668 injuries and 847 fatalities.
Additionally, car accidents typically cause thousands of dollars in damage between repair costs and medical bills. But how are these expenses paid after a car accident?
In Virginia, the law requires drivers to carry car liability insurance to pay damages if they cause an accident.
Not only does Virginia mandate motor vehicle liability insurance, the state recently raised the minimum required insurance coverage amounts.
We will discuss the changes to Virginia liability insurance minimums in the article below. If you have other questions about your liability insurance coverage, contact our Virginia reckless driving lawyers today.
What Is Liability Insurance Coverage?
When someone causes an injury or damages property in a car accident, their motor vehicle liability insurance pays for the damages suffered by the injured party.
Virginia recently passed S.B. 1182, increasing the required motor vehicle liability insurance coverage minimums beginning on January 1, 2022.
S.B. 1182 increases minimum liability coverage:
From $25,000 to $30,000 in cases of bodily injury to or death of one person; and

From $50,000 to $60,000 in cases of bodily injury to or death of more than one person in a single accident.
Furthermore, in 2025, the bill increases minimum liability coverage:
To $50,000 in cases of bodily injury to or death of one person; and

To $100,000 in cases of bodily injury to or death of more than one person in a single accident.
Additionally, the bill increases the policy minimum for property damage from $20,000 to $25,000 beginning in 2025.
What Does Vehicle Liability Insurance Cover?
Liability insurance covers two types of damage: bodily injury and property damage. Bodily injury coverage pays for injuries suffered by another person because of an accident.
That can include:
Medical bills;

Rehabilitation costs;

Prescription costs; and

Lost wages.
Property damage pays for the damage to someone's property because of an accident. That can include:
Vehicle repair costs;

Rental vehicle costs; or

The diminished value of the vehicle.
If you get caught driving without liability insurance, you could face the possibility of losing your driver's license.
Contact Us for Questions About Motor Vehicle Liability Insurance Requirements
The minimum liability coverage requirements for vehicles in Virginia changed on January 1, 2022.
Drivers without knowledge of the recent change might find themselves facing criminal liability if they are caught driving without the minimum insurance coverage.
My professional relationships with prosecutors and local law enforcement help me steer my clients' cases toward their desired results.
I have represented thousands of clients for their Virginia traffic charges. I tackle all of my cases with a result-oriented approach, and I focus on securing the outcome you deserve.
Contact my office today to set up your initial consultation.