Red Light Traffic Camera Locations in Virginia [Interactive Map]
This page was published in 2017. Be sure to watch your surroundings for red light cameras that may be new since then.
The map below displays the precise location of every red light camera in Virginia. Hover over any of the red indicators to see the city and cross streets for each red light camera location.
Andrew Flusche answers common questions about red light camera tickets in Virginia
Begin your defense
If you received a red light ticket in Virginia, contact Virginia defense attorney Andrew Flusche today to discuss your options.
---
Failure to Appear in Court for a Suspended License Ticket Article Contents
Jump-to the information you need:
---
List of Red Light Camera Locations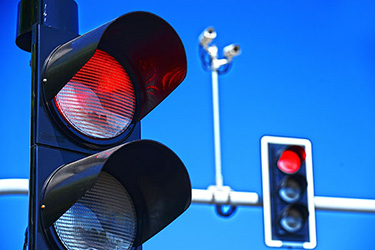 According to the Insurance Institute for Highway Safety 11 communities in Virginia currently use red light cameras:
Albemarle County
Alexandria
Arlington County
Chesapeake
Fairfax City
Falls Church
Newport News
Norfolk
Petersburg
Richmond
Virginia Beach
Here is a breakdown of the locations of red light enforcement cameras in each of the participating communities:
Albemarle County
Route 29 North and Rio Road
Source: Albemarle County
Alexandria
Duke Street and West Taylor Run Parkway
South Patrick Street and Gibbon Street (both directions of travel)
Duke Street and South Walker Street (both directions of travel)
South Patrick Street and Franklin Street
Source: City of Alexandria
Arlington County
Fort Myer Drive at Lee Highway
N. Glebe Road at Fairfax Drive
N. Lynn Street at Lee Highway
Washington Boulevard at Lee Highway
EB Columbia Pike at S George Mason Dr
EB Columbia Pike at S Glebe Rd
WB Columbia Pike at S Glebe Rd
NB N Glebe Rd at Washington Blvd
WB Lee Hwy at George Mason Dr
NB Jefferson Davis Highway at S 23rd Street
SB Jefferson Davis Highway at S 23rd Street
Source: Arlington County Police Department
Chesapeake
Battlefield Boulevard (Rt 168) & Great Bridge Boulevard (Rt 190)/Kempsville Road
Indian River Road/Sparrow Road
Portsmouth Boulevard (Rt 337) & Gum Road/Peek Trail
Greenbrier Parkway/Butts Station Road & Kempsville Road
Military Highway (Rt 13) at Greenbrier Parkway/Dunbarton Drive
Military Highway (Rt 13) and George Washington Highway (Rt 17)
Battlefield Boulevard/Atlantic Avenue at Campostella Road
Source: City of Chesapeake
Fairfax
North St. @ University Dr.
Fairfax Circle
Main St. @ Pickett Rd.
Fairfax Blvd. @ Plantation Pkwy.
Future locations coming Spring/Summer 2017:
Main St. @ Woodland Dr.
Fairfax Blvd. @ Jermantown Rd.
Lee Hwy. @ Jermantown Rd.
Source: City of Fairfax
Falls Church
E. Broad St. at Cherry St.
W. Broad St. at W. Annandale Rd.
Source: City of Falls Church
Newport News
Mercury Blvd. at Jefferson Ave.
Denbigh Blvd. at Jefferson Ave.
Oyster Point Rd. at Jefferson Ave.
Source: City of Newport News
Norfolk
St. Pauls Boulevard and Brambleton Avenue
Little Creek Road and Chesapeake Boulevard
Source: City of Norfolk
Petersburg
Crater and Wagner Roads
Washington and Adams Streets
Source: NBC 12
Richmond
Elkhardt and Hull Streets
Source: Richmond Times Dispatch
Virginia Beach
Virginia Beach Blvd at Independence Blvd
Indian River Road at Kempsville Road
Indian River Road at Military Highway
Holland Road at Rosemont Road
General Booth Blvd at Dam Neck Road
Virginia Beach Blvd at Great Neck Road
Princess Anne Road at Lynnhaven Parkway
Princess Anne Road at Dam Neck Road
Independence Blvd at Bonney Road
Lynnhaven Parkway at International Parkway
London Bridge Road at Dam Neck Road
North Hampton Blvd at Diamond Springs Rd
Baxter Road at Independence Blvd
Source: City of Virginia Beach
An Overview of Red Light Camera Tickets in Virginia

Do you know the impact of a red light camera ticket? Will it go on your driving record? Can you contest the ticket? Let's look at how the law works and what options you have.
It's a civil case only
Virginia law authorizes red light cameras under Code of Virginia 15.2-968.1. This statute clearly specifies that a red light camera ticket is only a civil case. Think of it like a parking ticket.
The good news here is that the ticket does not go on your driving record, and it cannot be used as a factor in your insurance premiums. Both of those things are clearly ordered by law.
But it's still a ticket that you can be legally required to pay. Thankfully, the penalty is capped at $50 per violation.
What if you weren't the driver?
The law says that the government gets a "rebuttable presumption" that the registered owner of the vehicle was the driver who must pay the ticket.
To argue against that (i.e. rebut the presumption), you just have to file an affidavit with the General District Court that says you were not the operator of the vehicle at the time of the ticket. Or you can appear in court and testify to that under oath. Unless the government has some other way to prove that you were driving, you should win that case.
Signs must be posted
Another defense that you might be able to use is the signs that are required to be posted near the intersection.
The law requires that "conspicuous signs" must be posted within 500 feet of the approach to the intersection that has ticket cameras. If you can prove that the signs aren't posted properly, that could also be a defense to the ticket.
You can appeal
If you're unhappy with the outcome of your General District Court case, you have a civil right of appeal to the Circuit Court to have a new trial.
Do red light cameras actually prevent crashes?
Not really. A 2007 Virginia Department of Transportation study found that red light cameras increased crashes in some areas while only modestly decreasing crashes in other areas. The report recommended against the widespread use of ticket cameras because they're simply not effective across the board.
In addition, the same VDOT report conclusively found that red light cameras cost society more money in terms of crash damages: "the cameras are associated with a net increase in comprehensive crash costs." The cameras do sometimes help with side-strike red light running crashes, but they routinely cause more rear-end crashes.