Is the Court Closed Due to Weather?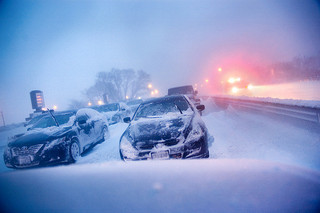 When I started my law firm years ago I never knew how many little non-legal questions I'd need to be able to answer. One that we're dealing with right now due to Hurricane Sandy is weather-related court closings.
If you have a court date, how do you find out if the court is closed due to weather?
Like many things in the law, it's a bit complicated. Here are my tips:
1. Which court are you supposed to appear in? This may seem like a simple question, but it's not. Each county / city in Virginia normally has three different courts. And they typically all decide on their own when they're going to have an emergency closing or other change of schedule. For example, the Fredericksburg General District Court may be open even though the Fredericksburg Circuit Court closes. Be sure to check your paperwork carefully for the exact court in question.
2. Check the usual closing lists. The local radio, TV, and newspapers usually maintain a list of weather closings. For the Fredericksburg, Stafford, and Spotsylvania area, keep an eye on the list here. If you're from outside the area, you might not know where to look at first. Thus, if severe weather is in the forecast around your court date, I recommend looking up that information ahead of time. But that's not enough.
3. Beware that courts are NOT the same as the local government. You may see a listing that says "Stafford County Government closed," but that does NOT mean the courts are closed. The county / city government in Virginia is a different entity than the court system. Thus, you should look for specific listings that mention the court you're supposed to appear in.
4. Check any court-specific sources. Courts may not post their closing information to the usual sources, so look other places as well. For example, the Spotsylvania courts have a hotline that they update whenever there is an emergency closing. Here's how it works:
Call 540.507.7498
When you hear "Express Messaging Mailbox," dial the code for the court you need:
For Spotsylvania Circuit Court: 3960 #
For Spotsylvania General District Court: 3961 #
For Spotsylvania Juvenile and Domestic Relations Court: 3962 #
5. If you have an attorney, call him. I know that I can be hard to reach in the morning, because I'm usually getting myself ready for court. But I try to get up a little early on severe weather days just in case. I don't always have more information than is available at the above sources, but sometimes I do. Thus, I welcome calls from my clients to confirm whether or not court is open.
6. Don't assume. Never assume that the courts must be closed simply because other entities closed. If in doubt, find a way to get safely to court.
Photo by Metal Cowboy