Client FAQS About Court
Clients have many questions about how the court process works, so we maintain some FAQs to give you an idea of what to expect.
Do You Have to Go to Court?
Like many things in the law, it depends.
If you get a ticket in Virginia, there is a box that says you can avoid coming to court if it's checked. Depending upon the alleged violation, that box may or may not be checked.
If that box IS checked, you should be able to prepay the ticket without coming to court. Or you can just wait for a bill in the mail after the trial date. Either choice is risky.
Prepaying a ticket is pleading guilty. You don't have any chance to question the officer or ask the judge to give you a break.
If you simply wait for a bill, you risk having your license suspended due to non-payment of the fine. If the bill gets lost in the mail and you don't pay it, you'll be suspended 15 days after trial. Then if you get pulled over later, you could be charged with driving on a suspended license.
For tickets like reckless driving in Virginia, the box won't be checked. That's the same way charges such as no license or driving on suspended are handled. You're supposed to appear in court.
But that doesn't mean you have to go.
In some cases, an attorney can appear on your behalf. I regularly do this for out-of-state clients who are charged with reckless driving in my normal courts (Spotsylvania, Fredericksburg, Stafford, King George, and Caroline). It saves them the time and expense of coming back to Virginia for their case. And judges usually understand that it's not always feasible to trek across the country for traffic court.
How will I Find you at Court?
I look like this: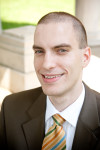 I'm about 6'3″, and I always keep my hair short. I stand out in the courtroom. I'll be in a suit.
I always advise clients to get to court early and have a seat in the hallway. There are benches in the lobby of the most of the Fredericksburg area courthouses.
I'll come call your name, and we'll find each other.
What Will Happen at Court?
When you hire me, you will know what to expect every step of the way with your case, even what the plan is for court.
What Will You Have to Say at Court?
In a few cases, the judges may ask you some questions, but in many cases, I can do all the talking for you.
How to Dress and Act in Virginia Traffic Court
When you're in traffic court as often as I am, you see a lot of things. Many people just don't understand that they're in court in front of a judge who has considerable power. For that reason alone, you should consider how you dress and behave while in Virginia traffic court.
Virginia is a very traditional, conservative state. Attorneys wear suits in court. We even had to wear suits while taking the grueling bar exam.
It certainly wouldn't hurt your case if you showed up in a suit (or the equivalent for women). But that's typically not a necessity.
I generally advise clients to wear nice business attire: at least dress pants and a dress shirt. This simple choice of attire shows the judge that you respect the court. It presents a great first impression and plants a positive seed in the judge's mind.
You don't want to ruin that impression by doing other inappropriate things in court. Here are a few things you should keep in mind while in court for your Virginia traffic ticket:
Don't chew gum. I've seen judges call people out from across the courtroom for smacking on gum while court is in session.
Turn off your cell . Some courts allow cell s in the courtroom, but be sure it's off. You don't want to be ticketed for interrupting someone else's speeding ticket trial with the William Tell Overture.
No talking. You would think this is a given, but some people think they can get away with whispering. Don't risk it.
Be courteous. Always remember to address the judge as "Your Honor" or "Sir / Man." And don't forget to be nice to the deputies and clerks as well. They play key roles in helping Virginia traffic court run smoothly.
Like hiring an experienced traffic attorney, dressing properly and behaving well are pieces of putting on a solid traffic defense.
Does Your Demeanor at Court Matter?
You can't imagine how many people I've seen talk themselves into the judge convicting them. This is one reason why it can really pay off to have an experienced traffic and misdemeanor attorney representing you in court.
How to Pay Your Fine and Court Costs

If you have a fine or court costs to pay in Virginia traffic court, this article will explain how to take care of that.
Payment Methods
The General District Courts in Virginia generally accept payment via cash, check, or credit card. You can pay via any of those methods if you pay in person.
If you need to pay by mail, you usually need to send a check or money order. Some courts can accept credit card payments over the , but many cannot. If you want to try to pay with a credit card over the , you can contact the clerk's office to see if that is an option.
Due Date
Unless you are told otherwise, all payments are due within 15 days of your trial date.
If you do not pay by the deadline, your driver's license will be suspended. If you drive with a suspended license, you can be convicted of a class 1 misdemeanor under Virginia Code 46.2-301.
If the judge gave you the opportunity to complete driving school or community service to reduce your charge, you will need to pay your court costs and any fine by the date that your other certificates are due.
If you have any doubt about your payment due date, contact your attorney or the court clerk's office.
Where to Pay
You can bring your payment in person to the General District Court where your case was heard. The address should be on the ticket you received.
To mail in your payment, mail it to the General District Court clerk's office. The address should be on your ticket, and you can verify the mailing address on the Supreme Court of Virginia's website.
What to Mail
If you pay by mail, I advise clients to take these steps:
1. Be sure your legal name is on the check or money order
2. Double-check the proper address for the clerk's office
3. Enclose a copy of your ticket with the check or money order
Be certain that your payment will arrive before the deadline. The clerk's office must receive it by the deadline.
Any Questions?
If you have any questions about paying, contact your attorney or the clerk's office. Don't wait until the last minute, or you might lose your license.
Save
What Payment Methods do the Courts Accept?
The General District Courts of Virginia accept check, cash, Visa and MasterCard. They do accept personal checks as long you're not charged with something related to bad checks or forgery. For a traffic ticket, checks are no problem.
Credit and debit cards get confusing. The clerk's office does accept credit cards for payment. They accept Visa and MasterCard only. However, if you pay with plastic, they charge you an extra 4% on top of your current balance. In many traffic-related cases, that's only a few dollars. However, if you have something like a DWI charge, where your court costs and fine are typically starting at about $500, 4% can add up. Thus, if you have the money in the bank, I recommend bringing a personal check to court.
Is the Court Closed Due to Weather?
When I started my law firm years ago I never knew how many little non-legal questions I'd need to be able to answer. One that we're dealing with right now due to Hurricane Sandy is weather-related court closings.
If you have a court date, how do you find out if the court is closed due to weather?
Like many things in the law, it's a bit complicated. Here are my tips:
1. Which court are you supposed to appear in? This may seem like a simple question, but it's not. Each county / city in Virginia normally has three different courts. And they typically all decide on their own when they're going to have an emergency closing or other change of schedule. For example, the Fredericksburg General District Court may be open even though the Fredericksburg Circuit Court closes. Be sure to check your paperwork carefully for the exact court in question.
2. Check the usual closing lists. The local radio, TV, and newspapers usually maintain a list of weather closings. For the Fredericksburg, Stafford, and Spotsylvania area, keep an eye on the list here. If you're from outside the area, you might not know where to look at first. Thus, if severe weather is in the forecast around your court date, I recommend looking up that information ahead of time. But that's not enough.
3. Beware that courts are NOT the same as the local government. You may see a listing that says "Stafford County Government closed," but that does NOT mean the courts are closed. The county / city government in Virginia is a different entity than the court system. Thus, you should look for specific listings that mention the court you're supposed to appear in.
4. Check any court-specific sources. Courts may not post their closing information to the usual sources, so look other places as well. For example, the Spotsylvania courts have a hotline that they update whenever there is an emergency closing. Here's how it works:
Call 540.507.7498
When you hear "Express Messaging Mailbox," dial the code for the court you need:
For Spotsylvania Circuit Court: 3960 #
For Spotsylvania General District Court: 3961 #
For Spotsylvania Juvenile and Domestic Relations Court: 3962 #
5. If you have an attorney, call him. I know that I can be hard to reach in the morning, because I'm usually getting myself ready for court. But I try to get up a little early on severe weather days just in case. I don't always have more information than is available at the above sources, but sometimes I do. Thus, I welcome calls from my clients to confirm whether or not court is open.
6. Don't assume. Never assume that the courts must be closed simply because other entities closed. If in doubt, find a way to get safely to court.
Photo by Metal Cowboy