How Long Does a DUI Stay on Your Record in Virginia?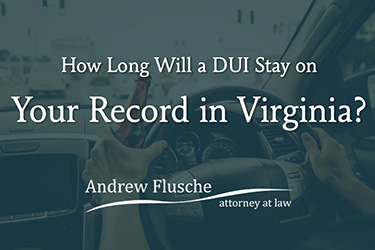 If you face DUI charges in Virginia or if you currently have a DUI conviction, you could wonder how long until the DUI is off your record.
Having a clean criminal record is essential because organizations use criminal histories when deciding to offer a job, enroll you in school, rent an apartment, or even volunteer to coach.
A DUI on your record might prevent you from doing what you want. As a DUI lawyer in Virginia, people ask me all the time, How long will a DUI stay on your record in Virginia?
I understand that having a DUI on your record can cause tremendous difficulties for you in the future. Avoiding a conviction is the best way to escape the challenges arising from a DUI in Virginia.
When Will a DUI Appear on Your Record?
A DUI arrest will appear on your record when the prosecution or the "Commonwealth" formally files charges. The ultimate disposition of the charges appears on your record as well.
What Is the Difference Between My Record and a Background Check?
If you are looking for a new job, you might be wondering how long does a DUI stay on your background check. Employers often perform background checks on their new employees. Businesses use background checks as a way to screen out job candidates based on their history.
Employers who perform background checks want to know a lot about a job candidate's public history. Background checks include information like:
Marriages,

Divorces,

Civil judgments,

Protection orders,

Bankruptcies, and

Foreclosures.
Background checks focus on the individual's financial situation rather than criminal history.
Criminal record checks focus only on criminal charges and convictions but could include protective orders.
Criminal background checks could include information about you like:
Arrests or charges,

Convictions,

Not-guilty verdicts,

Prison sentences,

Warrant information, and

Probation history, including probation violations.
Criminal background checks potentially include individual states or include all 50 states and Interpol information.
The easiest way to avoid worrying about how long will a DUI stay on your record in Virginia is to beat your DUI charges.
What's the Difference Between My Driving Record and My Criminal Record?
The Virginia Department of Motor Vehicles keeps track of the driving histories of everyone who has a driver license in the state. The Virginia DMV notes a DUI pretrial license suspension on your driving record. The DMV will also put the DUI conviction on your record, if the case ended with a guilty plea or guilty verdict.
A DUI stays on your driving record for 11 years in Virginia. Additionally, the DMV adds six points to your license. The added points could result in an additional suspension, depending on your driving record. Your insurance rates will increase substantially with a DUI on your record as well.
DUI Lookback Periods in Virginia
Each state has a lookback or "washout" period. However you refer to them, having a DUI conviction on your record means that you are in danger of facing stiffer punishment if you get another DUI charge.
The lookback period in Virginia is 10 years. If you go 10 years without a DUI charge, then the Commonwealth cannot charge you with a more serious crime based on your prior DUI offense. However, the charge remains on your record.
Some states have lifetime lookback laws. That means the law allows the prosecution to file a subsequent DUI offense no matter how old the charge. The lifetime lookback applies to out-of-state crimes in those jurisdictions. So you could face a subsequent offense DUI charge in another state even if Virginia law "washed out" your conviction.
Can I Remove a DUI from My Record in Virginia?
People often ask how long until a DUI is off your record. Unfortunately, a criminal conviction for DUI is a permanent entry on your criminal record in Virginia. A court cannot seal or expunge the charge after a conviction.
Virginia law allows people to expunge an arrest from their records if the prosecution dropped the charges, a court dismissed the charges, or you beat the charges.
Should I Get Help from an Attorney?
You should speak with an experienced Virginia DUI lawyer before going to court. Talking with me about your case could help you avoid mistakes that could have a massive impact on your life.
Call me, Attorney Andrew Flusche, today at (540) 318-5824to speak with me about how you could avoid a DUI conviction in Virginia. I will use my years of experience to help you fight a DUI conviction to avoid devastating consequences that could follow.