Rules & FAQs for High Occupancy Vehicle (HOV) Lanes in Virginia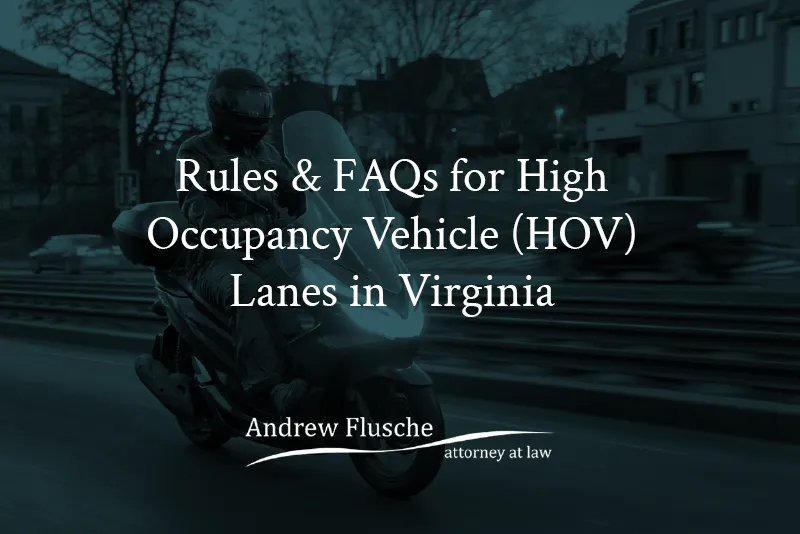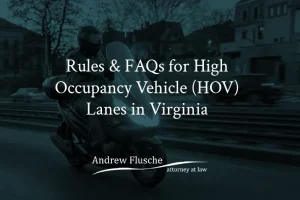 If you are a Virginia driver or frequently pass through the state, you may have noticed "HOV lanes" lining the sides of the major highways.
These lanes—designated for high occupancy vehicles only—always seem to allow traffic to move speedily along, while solo drivers tend to stand still in traffic.
Today we'll discuss the importance of respecting the rules of HOV lanes and what could happen if you violate them.
If you do find yourself in trouble for giving in to temptation and cruising in the HOV lanes when you're driving alone, we can help.
At Andrew Flusche, Attorney at Law, PLC, we specialize in resolving motor vehicle violations just like yours. Read on to learn more about Virginia's HOV lanes and how we can help you if you get into a jam.
HOV Lane Rules in Virginia
HOV lane rules vary depending on what part of Virginia you're driving through.
For example, during HOV-restricted periods, HOV-2 lanes require at least two people per passenger vehicle. HOV-3 lanes require three people in the car to use those lanes.
Other HOV lanes, like express lanes, can require not only a certain number of passengers in your car but also toll payment by EZ Pass. And some vehicles, like hybrids, have exemptions and can use almost any lane at any time.
Look for the HOV symbols above the HOV lanes. These signs will tell you the hours the lanes are HOV-restricted and how many passengers must be in your car for you to use the lane.
During non-HOV hours, HOV lanes are generally open to all passenger vehicles, except when the reversible lanes are closed.
Each major highway in Northern Virginia, Hampton Roads, and other major population centers in Virginia have different rules regarding their HOV or express lanes. Some are HOV-2, some are HOV-3, and some are a mix of these types of lanes.
nd while some major highways also have express and reversible lanes, each has different rules for use. These rules frequently change, especially with different seasons and construction projects.
Both the VADOT and commuter advocacy pages provide good information about how to navigate the changing landscape.
HOV Lane Rules on Holidays
You may be tempted to think that HOV lane rules and requirements are not valid on weekends or national holidays. Throughout Virginia, the law suspends HOV lane rules on major holidays. The list of holidays where HOV lane rules do not apply includes:
Martin Luther King Jr. Day,

Presidents' Day,

Memorial Day,

Juneteenth,

Independence Day,

Labor Day,

Columbus Day,

Veterans Day,

Thanksgiving Day, and

Christmas Day.
Be sure to consult the calendar and the Virginia Department of Transportation (VADOT) to confirm the dates on which these holidays are observed.
Frequently Asked Questions About Virginia HOV Lanes
How Do I Get Virginia Clean Special Fuel License Plates for My Hybrid Car, so I Can Drive in the HOV Lanes Even If I'm Driving Alone?
All hybrids can qualify for the Clean Special Fuel plates. These plates cost $25 annually, and you must apply for them through DMV.
Can I Use My Out-of-State Hybrid Vehicle and Clean Fuel Plates in the Virginia HOV lanes?
No, you must have the special Virginia plates. Virginia does not currently have any reciprocal agreements with any other states regarding HOV lanes and hybrid cars. Therefore, if you drive in the HOV lanes in your out-of-state hybrid car, you can be subject to serious fines.
Does a Pregnant Person Count as One or Two People?
For HOV purposes, everyone has to have their own seat. A baby in a car seat counts as a separate person. A baby in your belly stupidly does not.
I Entered the HOV Lanes Before the HOV Restrictions Went into Effect and Got a Ticket. Can they do that?
You need to have the minimum required number of people in your car once HOV hours begin if you want to use the HOV lanes. It does not matter if you were already traveling in those lanes once HOV hours begin. Officers can and will ticket you for an HOV violation.
It is frustrating to drivers who play by the rules when they see solo drivers cruising by them in the HOV lanes. However, even during inclement weather, HOV restrictions stay in place.
VADOT takes enforcement of HOV lane rules seriously. Rest assured that following the rules can save you a bundle in fines, fees, and court costs!
Penalties for Violating HOV Lane Rules
The penalties for violating HOV lane rules can be steep, with higher penalties assessed in the Northern Virginia area than in the rest of the state. In the Hampton Roads area, fines are $100 for each offense.
In Northern Virginia, fines are as follows:
First offense: $125;

Second offense: $250 plus three points on your driver's license;

Third offense: $500 plus three points on your driver's license; and

Fourth offense: $1,000 plus three points on your driver's license.
As you can see, violating HOV lane rules can get expensive fast. But a good traffic ticket attorney can help you navigate these issues. Don't try to handle them on your own. Andrew Flusche, Attorney at Law, is here to help.
The Andrew Flusche, Attorney At Law Difference
My name is Andrew Flusche, and I am a reckless driving criminal defense lawyer in Virginia. I exclusively represent individuals facing traffic and misdemeanor charges.
I have an in-depth knowledge of reckless driving charges—so much so that I have written a book on the subject.
When the government charges you with a traffic crime, I work closely with you to help achieve the desired outcome.
When your freedom and driving privileges are in jeopardy, you want a reckless driving criminal defense attorney who has defended similar cases before and secured favorable outcomes for his clients. I can help you advocate to get your charges reduced or dismissed altogether, depending on the facts of the situation.
Contact my office today to set up a case review.