Failure to Obey Stop Sign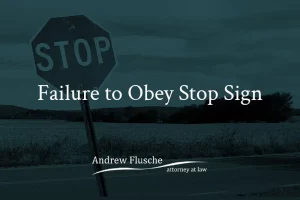 Law enforcement officers frequently pull people over for the failure to obey a stop sign.
Engaging an experienced attorney to investigate your rights and potential defenses for a charge of failure to obey a stop sign in Virginia could have a significant positive impact on your future.
You might have legal defenses that help you avoid fines, demerit points on your license, and a sullied driving record.
Depending upon the nature of your offense, it could be simply a traffic infraction, or it might be a misdemeanor charge.
Asking any lawyer for help with your traffic ticket may not get the job done right. Instead, contact my firm, Andrew Flusche, Attorney at Law, PLC.
My law partner (Ryan Fitzgerald) and I focus our practice on representing people who face traffic offenses. We can use our experience and extensive knowledge of Virginia law to get the best possible result for you.
Failure to Obey a Stop Sign
All vehicles entering a highway shall stop or yield the right-of-way when a stop sign or yield sign controls the traffic flow.
Drivers must stop before the stop line, crosswalk, or before entering the intersection.
Then, the driver has to yield to cars approaching from either direction before proceeding into the intersection. This violation is a simple traffic infraction, punishable by a fine of up to $250.
Failure to Stop or Yield the Right of Way
If you are entering the main road from a side road or parking lot, failing to yield the right-of-way is a reckless driving offense and a Class 1 misdemeanor.
You face up to one year in jail, up to a $2,500 fine, and you could lose your license for six months.
In some circumstances, your lawyer could argue that you should not face a criminal charge for your failure to stop.
If the evidence of reckless driving is weak, prosecutors or judges have discretion. If prosecutors see that the evidence is weak before trial, they can reduce the charge to improper driving.
If a judge sits through a trial and sees that the evidence is weak, they can do the same. Improper driving is a traffic offense, and the maximum penalty is a $500 fine.
Vehicle operators must obey traffic lights as well. A police officer can stop or arrest you for violating this law, even though the punishment for this traffic infraction is a maximum fine of $350.
The Virginia DMV determines the number of failing to obey stop sign demerit points that get added to your driving record.
Reckless driving generally is a 6-point offense, and the conviction stays on your driving record for 11 years.
Failing to stop for a simple stop sign is a 4-point violation that stays on your driving record for 11 years. The DMV can suspend your license if you accumulate too many demerit points in a short period of time.
Defenses for Failure to Obey a Stop Sign
Virginia traffic laws require every driver to obey traffic signs, as long as the signs comply with the law. The last part of that sentence is critical.
The law says that law enforcement officers cannot cite someone for disobeying traffic signals if the traffic control device is not in the proper place where the ordinary observant person could see it.
Additionally, the law requires the sign to be legible. You could have your ticket dismissed if the traffic signal the police accuse you of disobeying does not meet these requirements.
You do not get the chance to fight back if you pre-pay your ticket.
A skilled traffic lawyer can review the circumstances surrounding the alleged traffic infraction and develop a defense strategy for you.
Help When You Need It Most
Don't wait to see what happens when you go to court, and don't pre-pay your ticket without talking to us first.
Our office at Andrew Flusche, Attorney at Law, is available all hours of the day or night to take your call. So don't hesitate to call us at 540-318-5824.
We offer free consultations and will get to work immediately to protect your future.