Driving Too Fast for Traffic Conditions in Virginia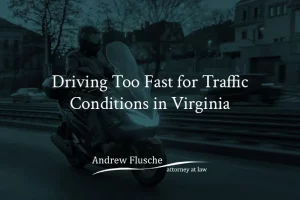 Rain, snow, and even road construction can drastically change road conditions on Virginia highways and streets.
Drivers need to understand that safety depends upon both the posted speed limit and the best speed for the road conditions at the time.
If a driver decides to zoom down the Beltway at the posted speed limit during a blizzard, they may be driving too fast for conditions on the road at the time.
If you are pulled over for driving too fast for conditions on Virginia roads, speak with a traffic ticket attorney right away.
Andrew Flusche, Attorney at Law, can help. I offer free consultations to help you understand your rights and protect your driving record.
Driving Under the Speed Limit Can Still Be Illegal in VA
If conditions on the roads are bad, an officer can consider driving at or under the speed limit to be reckless driving. Virginia police officers and highway patrol know that drivers need to pay attention to weather conditions and alter their driving accordingly.
Law enforcement has a great deal of experience identifying drivers who are driving too fast for road conditions.
[Video] Reckless Driving Charges You Can Get in the Rain
Reckless Driving for Going Too Fast in the Snow
Virginia gets its fair share of winter weather but it does seem to catch us by surprise every year, and every year I get calls for people who got reckless driving tickets during the winter storms.
One common ticket that we hear about quite frequently is a reckless driving charge for going too fast for road conditions when it's snowing or there's other winter weather. What can you do about this kind of a case?
A ticket for going too fast for road conditions is definitely a subjective situation. There's no objective standard such as a reckless driving by speed cases where the officer simply has to testify that his radar or speedometer read a certain number.
The good news also is that even if the judge finds that you were going too fast, he doesn't have to find you guilty of reckless driving. This is a situation where a charge like improper driving may be appropriate in order to avoid the reckless driving conviction.
If you have ended up with a ticket for driving too fast for road conditions, either in the snow or any other conditions in Virginia, definitely contact us to discuss your case.
What Does Driving Too Fast for Road Conditions in VA Mean?
The State of Virginia considers exceeding the reasonable speed for road conditions, regardless of the posted speed limit, to be reckless driving. Again, driving too fast for conditions is fact specific.
If you are charged with driving too fast for conditions, it is important to consult with a reckless driving attorney.
Andrew Flusche, Attorney at Law, and his legal team are here to help you maintain your driving privileges and save you money in the process.
What Are the Penalties for Driving Too Fast For Road Conditions in Virginia?
Driving too fast for road conditions means you can be charged for reckless driving. If you violate other traffic laws as well, such as following too closely or passing someone illegally, you could even be charged with aggressive driving.
These charges can be divided into penalties for misdemeanors or felonies—depending on how the State charged you.
Misdemeanor Penalties
If you are caught driving recklessly or aggressively in snow, ice, or through road construction zones, you can be punished.
Penalties can include jail, fines, license suspension, license demerit points, and even enrollment in the Virginia Alcohol Safety Action Program (ASAP) if the court determines that alcohol was a factor.
For misdemeanor charges of driving too fast for road conditions in Virginia, you can face jail time of up to 12 months. You can also be punished with a fine of up to $2,500, and you will need to pay court costs.
The court may also order you into an aggressive driving diversion program, depending on the nature of your charges.
Additionally, anyone convicted of driving too fast for road conditions can face losing their driver's license for up to six months.
You can also have your license restricted, which would permit you to drive to only specific locations like work or school during certain hours of the day.
Regardless of how fast you were going, if you're convicted of driving too fast for road conditions, you will automatically receive six points on your license.
This conviction will also stay on your driving record for 11 years! And since driving too fast in poor road conditions is a criminal charge, this will go on your criminal record.
Don't suffer major penalties for a minor mistake. Contact a Virginia traffic ticket lawyer as soon as possible after your citation, so we can help you navigate this process.
Felony Penalties
Virginia drivers need to know that citations for driving too fast for road conditions can sometimes be felony charges.
While most aggressive or reckless driving charges are considered misdemeanors, there are circumstances where driving too fast for road conditions can be a felony.
For instance, if a driver is driving too fast for road conditions without a valid driver's license, and they cause the death of another person, they will be charged with a Class 6 felony.
Felony reckless driving carries a variety of penalties depending upon the severity of the crime but includes a fine of at least $2,500 and license suspension or revocation for one year.
If you are concerned you may be facing felony charges for driving too fast for road conditions, contact the law offices of Andrew Flusche, Attorney at law, today.
We've helped thousands of people protect themselves and their freedom.
How an Experienced Reckless Driving Lawyer Can Help
In some counties in Virginia, a traffic ticket lawyer can appear in court on your behalf, sparing you the hassle and potential embarrassment of having to go to court yourself. A lawyer can also help you handle the process from the start.
In Virginia, defendants do not get a chance to expunge criminal convictions from their records. You only get one shot at handling your case correctly.
Having a great lawyer by your side can mean the difference between high fines and jail time or walking away unscathed.
We Can Help!
My name is Andrew Flusche, and I am a reckless driving criminal defense lawyer in Virginia.
I limit my practice to representing individuals facing traffic charges—so I can say that I know the law in this area very well, and I am especially qualified to help you!
I have years of experience representing clients in similar situations. Through these years of experience, I have developed an in-depth knowledge of reckless driving charges—so much so that I have written a book on the subject.
When your freedom and driving privileges are in jeopardy, you want a reckless driving criminal defense attorney who has a tremendous amount of experience defending similar cases and securing favorable outcomes. I am that lawyer.
Contact my office today, so I can review your case.