3rd DUI Offense in Virginia (VA)
The information contained here is provided by experienced Virginia DUI lawyer Andrew Flusche and was last updated in December of 2019.
What are the Penalties for a Third DUI in Virginia?
If you already have two DUI convictions on your record, you are facing severe penalties for your 3rd DUI in Virginia. Although you might not have hired an attorney for your previous case, you need one now. Virginia is known for being very tough on drunk drivers, and there is no reason to assume the state will show you leniency.
Below, we detail some of the most serious penalties you are facing for a third DUI in Virginia. Remember, the timeline matters—the more recent your second DUI, the stiffer the penalties.
Jump to: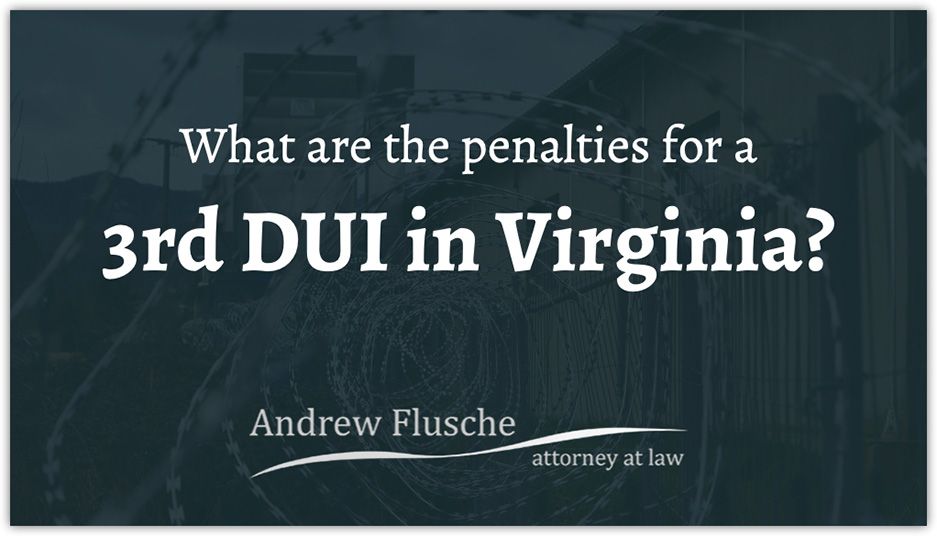 If All 3 DUIs Occurred Within 5 Years
You are looking at a Class 6 felony, which carries the following penalties:
Mandatory minimum of 6 months in jail
Up to 5 years in prison
Mandatory $1,000 fine
Loss of driving privileges for at least three years ( Code § 46.2-391(C)(2))
Payment of court costs
---
If Your 3 DUIs Occurred within 10 Years
You will likewise be charged with a Class 6 felony, which carries the following:
Mandatory minimum of 90 days in jail
Up to 5 years in prison
Mandatory $1,000 fine
Loss of driving privileges for at least three years
Payment of court costs
---
A 3rd Virginia DUI May Trigger a Habitual Offender Status
Virginia is committed to getting habitual offenders off the road. Anyone who has all 3 DUI convictions within a 10-year period could be deemed a habitual offender, which means you can permanently lose your driving privileges.
In many cases, however, you can request a restricted driving license after 3 years and full privileges after 5 years, but you must undergo an evaluation.
You will also need to install an ignition interlock device.
---
A 3rd DUI Offense in VA May Strip You of Civil Rights
Virginia strips its citizens of many civil rights if they are convicted of a felony.
These rights are necessary for people to fully participate in civil life and include:
The right to vote
The right to sit on a jury
The right to run for elective office
The right to own a firearm
It can be very difficult to get your civil rights restored once you lose them, and you often need to involve the Governor, which is not easy. If you want to own a firearm, for example, then you will need to move through additional hoops.
This loss of your civil rights is in addition to having your criminal record show up whenever you apply for a job or rent an apartment.
---
It is essential that you hire a lawyer for a 3rd DUI
If you are staring down the barrel of a 3rd DUI in Virginia, you should contact my office as soon as possible. I limit my practice to misdemeanor defense, but we can refer you to a top-notch lawyer who can help you.
I can be reached over the phone or online. Contact my law office by calling or by completing my online contact form.
Charged with a 3rd DUI in VA? Contact my office now to begin your defense:
Note on service areas: I defend clients in these counties and cities: Fredericksburg, Spotsylvania, Stafford, King George, and Caroline. If the court where your case is being prosecuted is not in one of these areas I can still help you. Contact my office and I'll be happy to refer you to an experienced DUI lawyer who is local to the area where you need help.