3rd DUI Offense in Virginia (VA)
The information contained here is provided by experienced Virginia DUI lawyer Andrew Flusche and was last updated in January of 2021.
What are the Penalties for a 3rd DUI in VA?
If you already have two DUI convictions on your record, you are facing severe penalties for your 3rd DUI in Virginia. Although you might not have hired an attorney for your previous case, you need one now. Virginia is known for being very tough on drunk drivers, and there is no reason to assume the state will show you leniency.
Below, we detail some of the most serious penalties you are facing for a third DUI in Virginia. Remember, the timeline matters—the more recent your second DUI, the stiffer the penalties.
Jump to: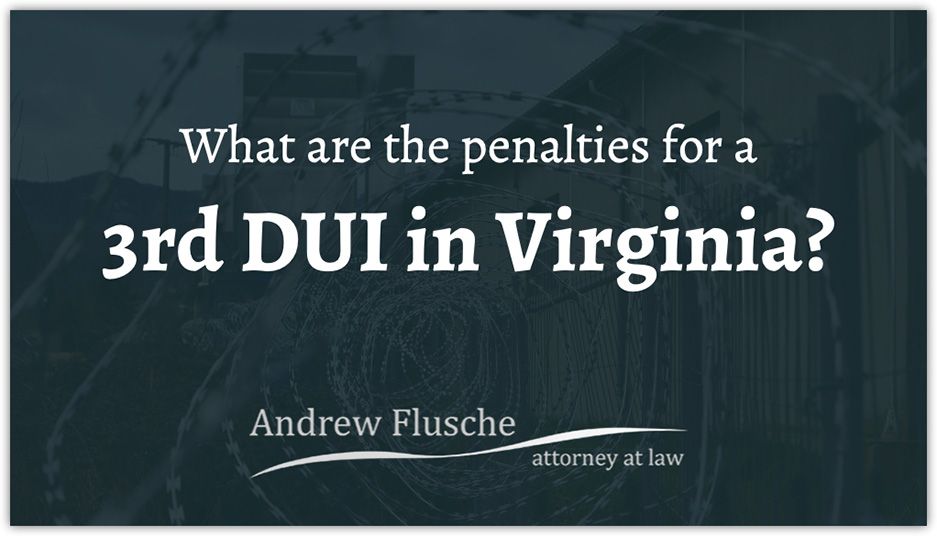 If All 3 DUIs Occurred Within 5 Years
You are looking at a Class 6 felony, which carries the following penalties:
Mandatory minimum of 6 months in jail
Up to 5 years in prison
Mandatory $1,000 fine
Loss of driving privileges for at least three years ( Code § 46.2-391(C)(2))
Payment of court costs
---
If Your 3 DUIs Occurred within 10 Years
You will likewise be charged with a Class 6 felony, which carries the following:
Mandatory minimum of 90 days in jail
Up to 5 years in prison
Mandatory $1,000 fine
Loss of driving privileges for at least three years
Payment of court costs
---
A 3rd Virginia DUI May Trigger a Habitual Offender Status
Virginia commits itself to getting habitual offenders off the road. Anyone who has all 3 DUI convictions within a 10-year period could be deemed a habitual offender, which means you can permanently lose your driving privileges.
In many cases, however, you can request a restricted driving license after 3 years and full privileges after 5 years, but you must undergo an evaluation.
You will also need to install an ignition interlock device.
---
A 3rd DUI Offense in VA May Strip You of Civil Rights
Virginia strips its citizens of many civil rights if they are convicted of a felony.
These rights are necessary for people to fully participate in civil life and include:
The right to vote
The right to sit on a jury
The right to run for elective office
The right to own a firearm
It can be very difficult to restore your civil rights once you lose them, and you often need to involve the Governor, which is not easy. If you want to own a firearm, for example, then you will need to move through additional hoops.
This loss of your civil rights is in addition to having your criminal record show up whenever you apply for a job or rent an apartment.
---
Defending Charges of 3rd DUI in Virginia
Defending a 3rd DUI in Virginia requires a solid understanding of Virginia law. You should keep in mind that the prosecution always has the burden of proof in a criminal trial. They have to prove each and every element, or critical component, of the charge beyond a reasonable doubt. The jury must acquit you if the prosecutor fails to meet its burden of proof.
What Does the Prosecution Have to Prove?
The Virginia DUI laws for a third offense in Virginia indicate that the prosecution must prove that you either:
Drove or operated a motor vehicle under the influence of alcohol, drugs, or both; or
Drove or operated a motor vehicle with a blood-alcohol concentration (BAC) of 0.08 or greater.
Additionally, the prosecutor must prove you have two prior convictions on your record to convict you of a 3rd DUI in Virginia.
What Evidence Will the Prosecution Use to Try to Get a Third DUI Conviction?
The prosecutor will use all available evidence to try to convict you. Evidence of a 3rd DUI in Virginia will often consist of the police officer's observations of your driving, testimony from eyewitnesses, if any, and test results.
An experienced DUI defense lawyer knows how to challenge this evidence to minimize its impact on your case. Your lawyer will try to poke holes in the prosecution's case by challenging the witness's testimony as well as the test results. They will try to show the jury that they cannot rely on the test results, the officer rushed to judgment, or the officer did not correctly administer the field sobriety test to you.
Your lawyer can challenge the evidence before trial as well. You can mount a legal defense to a 3rd DUI in Virginia by attacking the constitutionality of the police officer's actions. You could file a pleading called a motion to suppress to challenge the legality of your car stop. The trial judge must exclude all damning evidence against you if the police violated your constitutional rights.
Therefore, you could win your case by having the judge throw the chemical tests, field sobriety tests, and officer observations out of court.
You and your experienced Virginia DUI attorney can also negotiate your charges down. Some prosecutors would rather accept a plea to lesser charges than lose the case outright. This is especially true if the prosecutor knows that they have weaknesses in their case.
Using the Law to Your Advantage
Another successful defense tactic is to use the law to your advantage. You and your lawyer could argue that some evidence should come in at trial but that the court must exclude other evidence.
The judge applies strict rules of evidence in a case like this because of the harsh 3rd DUI consequences if you stand convicted. Not only will the judge scrutinize the evidence as it comes in, but the judge must instruct the jury as to what the evidence means.
The judge will tell the jurors that they cannot hold it against you if you refused a breathalyzer or chemical test. If you did take a chemical test, the judge would put those results into proper context. The judge must instruct the jury that it can, but need not, draw an inference that you were under the influence if you gave a chemical test result of 0.08 or greater. Alternatively, the jury can draw no inference if the test result fell between 0.05 and 0.08. Finally, the judge must inform the jury that they have to infer that you were not intoxicated if your test result was under 0.05. You should know that the prosecutor can use other evidence to win a 3rd DUI conviction.
---
Frequently Asked Questions About 3rd DUIs in Virginia
My clients often have very thoughtful questions about their cases. Here are a few, along with my responses.
Can I Get My License Back After a 3rd DUI Conviction in Virginia?
A conviction for a 3rd DUI in 10 years means the Commonwealth will revoke your license indefinitely. If that happens, you have to wait three years before asking the court for a restricted license. The court may allow you to travel to work, alcohol safety programming, child care, school, or medical appointments.
How Long Could I Spend in Jail for a 3rd DUI Conviction in Virginia?
The sentence varies depending on the timing of your prior convictions. If all three of your convictions are within the last five years, then you face a prison term from one to six years, and six months of that time is mandatory. You also face a $1,000 fine.
If your convictions occurred between five and 10 years previous, you face prison from one to five years, with at least 90 days mandatory. You could have a $1,000 fine in that case as well.
How Much Time Do I Have Before I Need a Lawyer for My 3rd DUI?
DUI cases move quickly. You have limited time to hire an attorney. In most cases, you need to contact a lawyer within five business days if you want to appeal the officer's decision to suspend your license administratively.
Also, DUI trial dates come up quickly. You could go from arraignment, which is the beginning of the case, to jury trial within three months. That is very, very fast. Therefore, you need to act swiftly to get the best possible outcome for you and your family.
---
It is Essential That You Hire a Lawyer For a 3rd DUI
If you are staring down the barrel of a 3rd DUI in Virginia, you should contact my office as soon as possible. I limit my practice to misdemeanor defense, but we can refer you to a top-notch lawyer who can help you.
I can be reached over the phone or online. Contact my law office by calling or by completing my online contact form.
Charged with a 3rd DUI in VA? Contact my office now to begin your defense:
Note on service areas: I defend clients in these counties and cities: Fredericksburg, Spotsylvania, Stafford, King George, and Caroline. If the court where your case is being prosecuted is not in one of these areas I can still help you. Contact my office and I'll be happy to refer you to an experienced DUI lawyer who is local to the area where you need help.