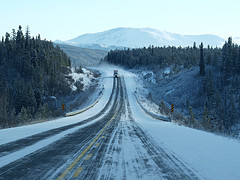 Northern Virginia got a little snow this morning. An inch.
That single inch of snow caused a 52-car pileup on I-95 in Prince William County.
It all started when a truck and a semi collided. I suppose the other 50 cars simply weren't able to stop in time. A massive domino effect ensued.
I'll bet at least some of those drivers went home with reckless driving tickets. Hopefully the judges will be understanding and give them breaks in court.
The roads get crazy when winter weather hits. Your safest choice is to stay home.
Photo by Yellow Snow Photography
Free consultation. Call me: 540.318.5824.
I provide free consultations for traffic tickets and misdemeanors in my area. If I can't help, I'll do my best to connect you with someone who can.