Spotsylvania Hit-and-Run Lawyer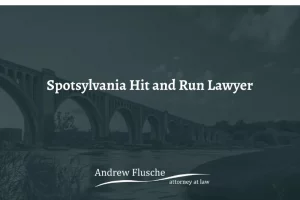 Car accidents are frightening. The adrenaline rush and instant fear often engage our "fight or flight" responses.
Some people flee from car accidents simply because of an overwhelming sense of fear and panic.
If you're searching for a Spotsylvania hit-and-run lawyer, you've come to the right place.
We represent people accused of hit and run in Spotsylvania, Fredericksburg, Stafford, and the surrounding areas.
Contact our office today to begin planning the best defense strategy for your case.
Can You Be Arrested for a Hit and Run?
The short answer is: it depends. Not every criminal offense is arrestable in Virginia. Most misdemeanor offenses do not give a police officer the right to arrest you without a warrant.
However, law enforcement officers can arrest you if a misdemeanor offense occurs in their presence, within three hours of a DUI stop, or at the scene of an accident based upon the officer's investigation.
Otherwise, the police can ask the court for a summons. A summons is a court order directing you to appear in court on a specific date and time.
Otherwise, the police can ask for a warrant if they believe you will not appear in court unless the police apprehend you.
Virginia law allows the police to arrest you without a warrant for a crime not committed in an officer's presence if the officer has probable cause you committed a felony.
So, the next logical question is, When is a hit and run a misdemeanor?
According to the Code of Virginia § 46.2-894, a hit and run involving attended property is a Class 1 misdemeanor if the accident causes $1,000 or less of property damage.
The sentence for a Class 1 misdemeanor is a jail sentence of no longer than one year, a fine of not more than $2,500, or both.
Hit-and-run charges become a Class 5 felony if a person suffers an injury or dies in the crash or the property damage exceeds $1,000.
A person convicted of a Class 5 felony faces between one and 10 years in prison or incarceration in the county jail for not more than 12 months. The court could also assess a $2,500 fine.
Should I Get a Lawyer for a Hit and Run?
Yes. A knowledgeable and experienced lawyer can analyze your case and figure out the best way to defend against the charges.
Of course, no lawyer can guarantee a specific outcome. However, there are many reasons why a skilled defense attorney who knows the law, the court, and the players involved can give you a distinct advantage over representing yourself.
As a firm who has worked in Spotsylvania County court for years, we will work to help you secure a reduced sentence, avoid jail, get the charge dismissed, or beat the case altogether at trial.
Charged With a Hit-and-Run in Spotsylvania? Contact My Office Now For a Free Case Review
How Much Does a Hit-and-Run Lawyer Cost?
Car accidents can turn out to be very expensive. Even if you have a good insurance policy and a clean driving record, you may spend hundreds or many thousands of dollars repairing damage and paying deductibles.
Trying to save money by going to court alone on a criminal charge is an extremely risky proposition.
The Cost of Not Getting a Lawyer
Can you imagine what it would cost if you went to court and simply admitted to the allegations? You could lose your freedom, your job, your reputation, and even your relationships.
You could lose your license. Additionally, the court could make you pay restitution for any uninsured expenses.
And after all that, now you have to live with a permanent criminal record. Any time you apply for a job or housing, you must admit you have a criminal record. Your record will appear in public records background searches as well.
What if you admitted to a felony? Now you've forfeited your right to vote and to legally possess a handgun. Your current employer might find out and relieve you of your duties.
Professional licensees like lawyers, doctors, nurses, electricians, plumbers, etc., may also have to notify their licensing board of the conviction.
Hiring the right person for the job is your best chance of avoiding much of this trouble.
Hit-and-Run Defense Lawyer, Andrew Flusche
As an experienced traffic defense lawyer, I have represented many clients stuck in bad situations. Most people accused of fleeing the scene of an accident are not bad people—they've just made a bad mistake.
Keep in mind the police only accuse you of committing a crime. A criminal complaint is only an allegation and not proof of the crime. Moreover, you are not automatically guilty just because the police brought charges against you.
When we sit down to go over your defense strategy, we might be able to find ways to help you avoid the serious implications that follow a hit-and-run conviction.
No two cases are alike, but there are certain things I look for when reviewing a hit-and-run complaint. One of the first things I look for is evidence that you drove the vehicle in question at the time of the accident.
The fact that your car was involved in a crash does not mean that you were driving when the incident occurred. The prosecutor has to put you behind the wheel to convict you. We might be able to beat your charges at trial if their identification evidence is weak.
We could also look at the issue of whether you even knew you were involved in a crash that caused an injury or property damage. The prosecutor might have a hard time proving this element if there was very minor damage.
Additionally, we could look at the police investigation for weaknesses and to be sure they did not violate your rights. We can negotiate with the prosecutor for a lighter sentence if all else fails.
Call My Office Today for a Free Case Review
As a Spotsylvania hit-and-run lawyer, I've helped many people who are mired in difficult situations.
Contact my office online or call today at 540-318-5824 to set up a strategy meeting. We will be with you every step of the way to help you get past this difficult time in your life.