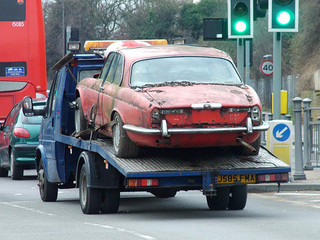 A simple vehicle repossession turned into a vigilante-style car chase at 11 AM on Monday, November 26, in La Plata County, Colorado. Charles Buckland, the tow truck driver for PNR Services, was sent to repossess a gray Chevrolet Trailblazer belonging to Paulita Manzanares, but towed the wrong car because there were two gray Trailblazers with similar license plates on the same street.
The towing prompted Manzanares to call two of her friends who then pursued Buckland on US Highway 550. During the chase, two cars were hit. The first was one of the pursuers who had managed to pull in front of the tow truck; the car was rear-ended but the pursuer remained in the chase. The other car was hit by the passing tow truck, and the driver then joined the two already in pursuit. Manznares's car also sustained damage when Buckland made a U-turn across a median.
The car chase came to an end when police got involved. Though Buckland had called 911, a Colorado state trooper and the deputy of the La Plata County Sheriff's Office had to corner the tow truck.
Buckland was then arrested and charged with both reckless driving and motor-vehicular theft. Two of the three pursers are also cited with reckless driving.
photo credit: kenjonbro via photopin cc
Free consultation. Call me: 540.318.5824.
I provide free consultations for traffic tickets and misdemeanors in my area. If I can't help, I'll do my best to connect you with someone who can.
Free book for you
If you want more answers about your reckless driving ticket, grab a free copy of my book. We'll send it right over for free.
My book covers everything from the law to defenses to how to appeal if things go South. And I wrote it all myself, unlike some people who just slap their name on someone else's book.
More about reckless driving...