Read Andrew's Reviews
If you're considering hiring a lawyer, you should do your homework on his / her background and what past clients have experienced. To help you review my past work and client satisfaction, I've compiled this list of places where you can see actual reviews from past clients.
Required state regulator notice, which you already know: PAST CASES DO NOT PREDICT FUTURE RESULTS. EVERY CASE DEPENDS UPON THE SPECIFIC FACTS.
First of all, I have loads of testimonials on my website, including some that are video and audio.

Google – Check out over 400 5-star reviews from my past clients.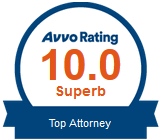 Avvo – This is a lawyer rating site. You can view my 10.0 perfect rating, and you can also read over 350 reviews from actual past clients.
I recommend looking up any attorney on at least these websites. If you have any questions about my experience, education, or past work, please contact me.