Hanover Reckless Driving Lawyer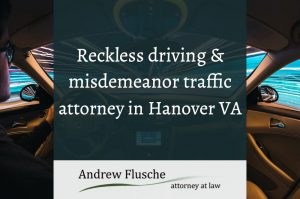 If you have a Hanover County reckless driving ticket, give me a call. I focus on defending clients who are charged with all kinds of traffic violations (from speeding and reckless driving, all the way to DUI).
The first thing we'll do together is look at the specifics of your reckless driving charge. Together we'll mount a vigorous defense and obtain the best result possible.
Charged with reckless driving in Hanover? Contact my office now for free answers
Understanding Reckless Driving Charges in Hanover VA
A lot of folks get nabbed for reckless driving in Hanover County while cruising down Interstate 95. Unfortunately, reckless driving is a class 1 misdemeanor.
Virginia has several different variations of reckless driving. The most common charge is for going over 80 miles per hour or 20+ over the speed limit. On I-95 in Hanover County (where the speed limit is 70), you could be charged with reckless driving for going only 11 mph over the limit. And sadly, tickets like that do happen.
The good news is that many reckless driving defenses are available, depending upon the facts of your case. This is why you need to speak with a Hanover reckless driving lawyer.
The Hanover County General District Court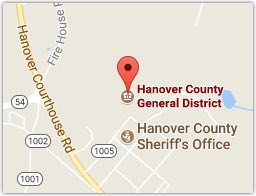 Traffic and misdemeanor violations in Hanover are tried in the Hanover General District Court. The courthouse is located at 7530 County Complex Rd, Hanover, VA 23069.
The usual sitting judges in Hanover are Judges Caddell and Campbell.
The prosecutor in Hanover (the Commonwealth's Attorney) is Trip Chalkley. The Commonwealth's Attorney doesn't get involved in all traffic cases in Hanover, but they do handle charges such as DWI and serious reckless driving offenses.
Talk to a Reckless Driving Lawyer in Hanover
If you've been charged with reckless driving in Hanover County, you should speak with an attorney. There are lots of issues to discuss and potential defenses to examine.
I'd love to speak with you. I provide a free initial consultation for all traffic and misdemeanor offenses. It doesn't cost you anything to hear what may be possible in your case and get a precise fee quote.