Fredericksburg Reckless Driving Defense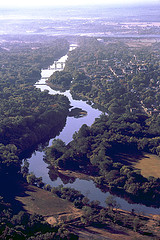 Are you charged with reckless driving in the City of Fredericksburg, Virginia? We'd love to talk with you about your case. Fredericksburg is one of our main jurisdictions, since our office is located in adjacent Spotsylvania County.
The Offense
We have to start at the beginning. What law are you charged with violating?
Virginia actually has many different kinds of reckless driving offenses. Thus, we have to look at your Virginia Uniform Summons to see what you're facing. The charge should be listed underneath the section that tells you to appear in the Fredericksburg General District Court. It's right above your signature.
The main reckless driving offense is reckless driving by speed, under 46.2-862. This statute criminalizes driving more than 80 mph or 20 mph or more over the speed limit.
Another common reckless driving charge comes from 46.2-852. This statute prohibits driving at any speed or in any manner that endangers people or property.
Once we know the exact type of reckless driving you're facing, we can then look at the specifics of the court.
Charged with reckless driving in Spotsylvania? Contact my office now for free answers
The Fredericksburg Court
Adult traffic cases in Fredericksburg usually get heard in the Fredericksburg General District Court. The court is located at 701 Princess Anne Street in downtown Fredericksburg. Leave your cell in your car, since you can't bring it into the courthouse.
The usual judge in the General District Court is John R. Stevens.
The Fredericksburg Commonwealth's Attorney (Elizabeth Humphries) typically lets the officers handle reckless driving cases themselves. The prosecutor's office does sometimes get involved in higher speed cases and cases with particularly bad facts. However, the Commonwealth's Attorney certainly can get involved in any case if they see fit.
Defenses
Fredericksburg is a fairly solid court for reckless driving defenses. We can definitely present the main defenses such as a calibration of your speedometer or problems with the officer's calibration.
There are certainly lots of other defenses that we can talk about to see what might fit for your case.
If the officer has all his evidence in order, we can still try to get the judge to amend, reduce, or dismiss your reckless driving charge.
The Fredericksburg judge sends people to driving school under fairly strict parameters, primarily based on the defendant's age and driving record. If you're not eligible for driving school, the judge still might reduce the charge to a lesser offense such as improper driving.
Give me a call to talk about the specifics of your case and what I might be able to do to help.
Photo by richpix