Culpeper Reckless Driving Defense
If you received a ticket in Culpeper County for reckless driving, we need to talk. Did you know that Virginia reckless driving is a misdemeanor offense? Fortunately, you have some options.
Charged with reckless driving in Culpeper? Contact my office now for free answers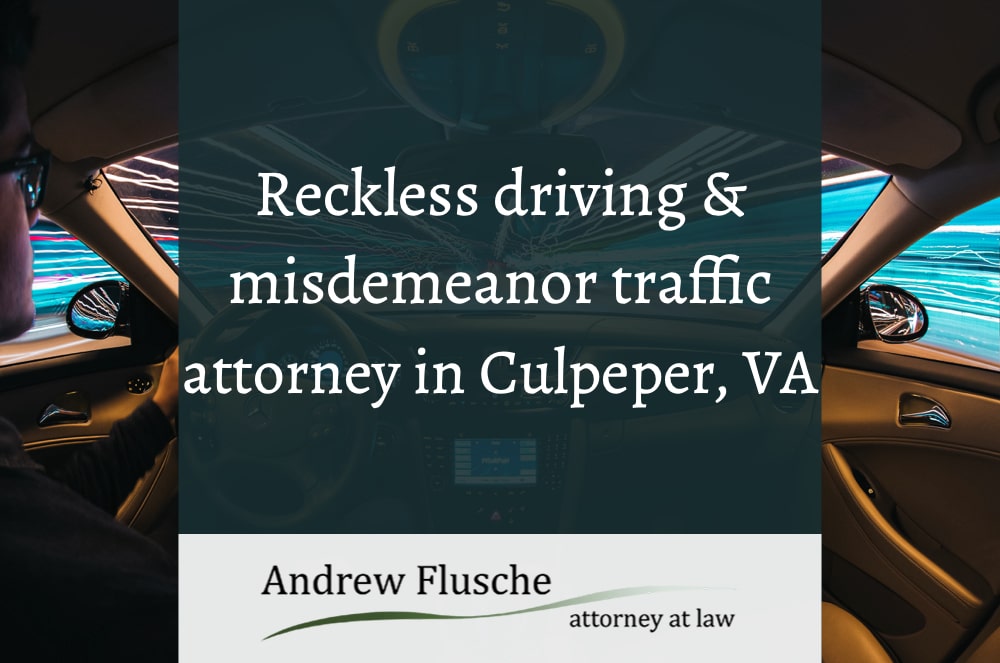 Specific Reckless Driving Charges
The first step for any ticket is to analyze the precise code section you're charge with. We have to determine which type of reckless driving you're facing. That will determine what our possible options are.
The most common type of reckless driving charge in Culpeper County is reckless driving by speed, under 46.2-862. This statute makes it reckless driving if you are driving at any speed over 85 mph or 20 or more mph over the limit.
Another common type of Culpeper reckless driving comes from accidents under 46.2-853. Even if you're involved in just a single-vehicle accident, you could still be charged with the misdemeanor of reckless driving.
There are about a dozen different types of reckless driving in Virginia. Once we know the specifics of your charge, we can look at the Culpeper court system where your charge is pending.
The Culpeper Courts
Adult reckless driving cases are first heard in the Culpeper General District Court. The court is located at 135 West Cameron Street, Culpeper, Virginia.
Culpeper County is part of Virginia's 10th Judicial District, and the current presiding judge is Judge Roger L. Morton.
The Commonwealth's Attorney (prosecutor) starting in January 2013 will be Megan Revis Frederick, who was elected on November 6, 2012.
Culpeper Reckless Driving Defenses
My main reckless driving page covers many possible defenses and alternatives for reckless driving charges. We have a wide array of possibilities for Culpeper reckless driving.
In some cases, it makes sense to have your speedometer calibrated. And sometimes we can argue that the officer's calibration isn't done correctly or he doesn't have the proper documentation.
Even if the Commonwealth can prove the case against you, we can try to negotiate the case to a lesser offense with the officer and the judge.