Senator Crapo is Charged with Virginia DWI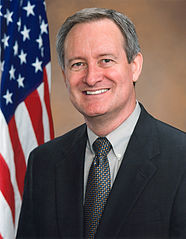 Yes, Mike Crapo, the Senator who publicly claims to abstain from alcohol, is facing a Virginia DWI.
The offense occurred early Sunday morning, when an Alexandria police officer saw a vehicle run a red light. The officer initiated a traffic stop and administered field sobriety tests on Senator Crapo.
Unfortunately for the Senator, the tests allegedly indicated alcohol impairment and was arrested. Police are saying that his breath alcohol reading was a .11, but it's unclear if that's the preliminary breath test or the Intoxlizyer (the preliminary test cannot be used to prove guilt).
Crapo was released on a personal recognizance bond, and his initial court appearance is set for January 4th. That should just be his arraignment, where the judge will advise him of his right to an attorney and set a trial date.
If convicted of Virginia DWI, Crapo is facing a series of punishments.
First, his privilege to drive in Virginia has to be suspended for 12 months; he would be eligible for a restricted privilege to drive here, but only for specific purposes and only with an ignition interlock device installed in his car.
Second, he'd be required to attend the Virginia Alcohol Safety Action Program (VASAP). That requirement could be met by actually doing the classes at a local equivalent back home in Idaho.
Third, he would have some combination of a fine and jail time. The maximums are $2,500 and 1 year in jail; however, for a first offense it's likely Crapo would get a fine around $500 and all suspended jail time.