Abogado defensor por posesión de marihuana en Virginia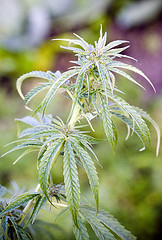 Luchar contra su acusación por posesión de marihuana
Si se le ha acusado de posesión de marihuana bajo el Virginia Code 18.2-250.1, tiene que hablar con un abogado defensor lo antes posible. Quizá pueda rebatir la acusación o al menos tener derecho a que se desestime a cambio de servicios comunitarios.
Hay varios ángulos que podemos examinar en cualquier caso de posesión de marihuana:
There are several angles for us to examine in any possession of marijuana case:
Marihuana
En primer lugar, la Commonwealth tiene que probar que usted tenía marihuana. En muchos casos esto es rudimentario.
Normalmente, se prueba que la sustancia es marihuana con una prueba de campo realizada por el agente que le arresta. Pero para utilizar los resultados de la prueba de campo ante un tribunal, la Commonwealth tiene que avisarle de que usted tiene el derecho de pedir una prueba de laboratorio de la sustancia.
Si usted pide que se realiza una prueba de laboratorio y esta dice que la sustancia no es marihuana, ¡buenas noticias para nosotros!
Una cuestión que podría estar pensando es por qué se le acusa de posesión de marihuana cuando usted solamente tenía parafernalia. Normalmente, la Commonwealth afirmará que había residuos de marihuana en el objeto. Puesto que la ley no requiere ninguna cantidad específica de marihuana para ser condenado, el residuo puede ser suficiente.
Posesión
Si la Commonwealth puede probar que había marihuana, ¿pueden probar que usted la poseía?
La forma más fácil para que la Commonwealth pruebe es que usted tuviera realmente la sustancia en su posesión. Si el policía encontró una bolsita en sus bolsillos, no tenemos muchos más argumentos para decir que usted no la poseía. La otra forma en que nos atrapen por posesión es si usted admite que tiene la sustancia. En otras palabras, ¡mantenga la boca cerrada!
Los casos que tenemos que examinar atentamente son cuando la sustancia se encuentra en algún lugar cercano. Por ejemplo, la policía podría haber encontrado algo en un coche en el que usted está circulando. La Commonwealth intentará vincularle con la marihuana con "posesión constructiva". Esta es una doctrina legal que significa esencialmente que usted conocía la presencia y naturaleza de la sustancia y ejercía control sobre ella.
La posesión constructiva puede ser difícil de probar para la Commonwealth si usted no hizo ninguna declaración sobre la sustancia. Ellos intentarán probarlo con cosas como: propiedad del vehículo en cuestión, proximidad a la sustancia, comportamiento sospechoso, etc.
Las normas aquí dependen muy específicamente de los hechos, así que es algo sobre lo que tenemos que hablar. E incluso así, el resultado puede depender del juez concreto que consigamos.
Registro e incautación
Las situaciones de registro e incautación presentan una línea de ataque completamente diferentes en los casos de posesión de marihuana. Cualquier evidencia que se encuentre como resultado de un registro o incautación ilegal se puede sacar del caso. No es necesario decir que tenemos que analizar cuidadosamente cualquier registro e incautación de su caso.
Primera infracción
Si la Commonwealth puede probar que usted poseía marihuana, todavía hay esperanza. Bajo el 18.2-251 del Código de Virginia, si esta es su primera infracción, usted podría tener derecho a que se desestime su acusación.
Para lograr ese resultado, el juez le dará seis meses para hacer varias cosas:
1. No tener nuevas infracciones.
2. Realizar 24 horas de servicio comunitario.
3. Someterse a una evaluación de abuso de sustancias y a cualquier tratamiento requerido.
4. Que su licencia sea suspendida durante los seis meses.
5. Pagar los costos del tribunal.
Si usted hace todo eso correctamente, el juez desestimaría la acusación por completo. Es una gran opción para una segunda oportunidad.
---
Testimonios de clientes
Por favor, tenga en cuenta:
¡Andrew hizo un trabajo estupendo! Ha trabajado con toda la gente involucrada en mi multa y el resultado fue mejor de lo que yo esperaba. Un amigo me lo recomendó.
Reseña de: Greg M.
Comentando: Los servicios legales de Andrew Flusche
Fecha de publicación: 21/Nov/2012
Calificación: 5 / 5 estrellas
---
Llame hoy
Este artículo solamente repasa la defensa de una acusación por posesión de marihuana. Hay muchos asuntos que analizar y ángulos que examinar. Es esencial que llame hoy para una consulta gratuita.
Foto de Dey