FreshBooks Vista Sidebar Gadget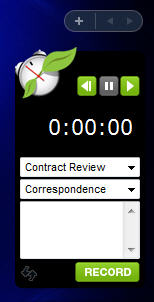 Version 2 Released! – Check out the changelog below, and download version 2.
About the Gadget
I use FreshBooks for my billing. It's a great system that I recommend for everyone.
To help keep time easier, I created this Vista Sidebar Gadget. It's based on FreshBooks' Time Tracking Widget for OS X. It lets you input your FreshBooks time directly from your Windows Vista Sidebar.
One of FreshBooks' web designers, Jaco Joubert, created the beautiful skin for the gadget. Thanks Jaco!
Download the FreshBooks Vista Sidebar Gadget
If you have any questions or comments about this gadget, please send me a note via the contact form to the right. Update: Unfortunately, I no longer have time to support this gadget. If you have a question or problem, you can try talking to the FreshBooks folks directly or post it in their forums.
Changelog
Version 2 – 7-6-2008
Redesigned skin – thanks to Jaco from FreshBooks
Shorter, so less Sidebar space is required
Shadow displayed when you undock the gadget
Reset button – start the timer over
Edit time by clicking on the counter
Settings panel clarified, so you know to input only the first part of your FreshBooks address
Fixed a bug – click the clock icon to go to your FreshBooks page
Update notification – the gadget will detect when a new version is available and ask you to upgrade
Version 1 – 6-11-2008
Initial version
Basic timer without a reset button or edit functionality
Ugly design done by a lawyer (me)
Gadget Press
People are taking notice of the gadget. Check it out!
Taavi posted a great article on the FreshBooks API Blog.