Virginia Marijuana Laws: An Updated Guide for 2019
UPDATE: Virginia decriminalized simple possession of marijuana on July 1, 2020. Click here for details.
The information contained here was written by experienced Virginia misdemeanor attorney Andrew Flusche and was last updated in November of 2019.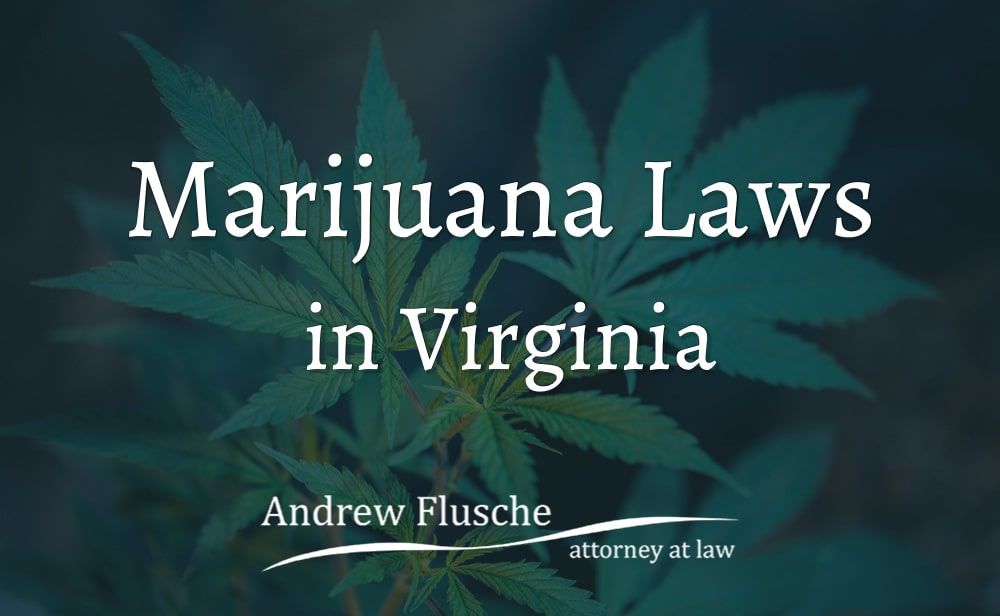 Marijuana is still considered illegal under federal law, but some states do allow the use of marijuana for medicinal or recreational use.
Every state is different, so it is important to understand the intricacies of the marijuana laws for your state.
Virginia is one of twenty states that bans marijuana and its derivatives for medicinal or recreational use, with some small limited exceptions (see Virginia Code § 18.2-250.1. Possession of marijuana unlawful.)
The law also treats marijuana crimes differently than other controlled substances.
As a misdemeanor attorney, I stay up to date on all of the latest changes in the marijuana laws for Virginia in order to provide the best possible representation for my clients at Andrew Flusche, Attorney at Law.
Virginia Marijuana Laws
Jump-to the information you need:
Penalties for Possession of Marijuana in Virginia (2019)
Virginia marijuana laws in 2019 have evolved slightly from prior years, but the state remains one of the stricter states when it comes to marijuana use, either medically or recreationally.
For the crime of possession of marijuana, it does not matter how much of the drug is in a person's possession when charged with the offense. However, the penalties for possession of marijuana are not as severe as the possession of other controlled substances.
The possession of marijuana is considered a misdemeanor offense in Virginia. For a first offense, the maximum punishment is a $500 fine and up to thirty days in jail.
The second and subsequent convictions for marijuana possession include a Class 1 misdemeanor on your criminal record, a $2,500 fine, and up to one year in jail.
For possession of the marijuana derivative hashish oil and other liquid marijuana options, Virginia law considers them Schedule 1 controlled substances.
The penalties for possession of these drugs are very serious and can include an immediate suspension of your driver's license, fine up to $2,500, and a prison term between one and ten years.
---
Penalties for Growing or Distribution of Marijuana in Virginia
Because the amount of marijuana does not matter when it comes to the crime of possession, it takes more than simply having a large quantity of marijuana in Virginia to prove the intent to distribute.
Prosecutors must prove with additional evidence, such as packaging, money, scales, and other paraphernalia that the intent is to distribute the drug. The penalties for growing and distributing marijuana depend on the amount found at the time of the arrest.
One half ounce or less: Class 1 misdemeanor, fine up to $2,500, driver's license suspension, and/or up to one year in jail
More than one half ounce up to five pounds: Class 5 felony, fine up to $2,500, driver's license suspension, and/or one to ten years in prison
Five pounds or more: Felony offense, driver's license suspension, and a prison term between five and thirty years
Growing marijuana or manufacturing its derivatives like hashish oil is also a serious offense. It is a felony to grow or cultivate these substances, and the penalties include a fine up to $10,000, driver's license suspension, and a prison term between five and thirty years.
Virginia law operates under a "three strikes" rule for growing marijuana, developing its derivatives, and its distribution. After the third strike, the penalties for these crimes can be life in prison.
---
Medical Exemption to Virginia Marijuana Laws
One exemption to Virginia's marijuana laws is the possession of cannabidiol or THC-A oil.
These marijuana derivatives do not possess any of the psychoactive properties of marijuana and are recognized for their medical use.
If you have a legal prescription for one of these substances for a recognized illness or injury it is not against the law to possess these items under a narrow exemption in the law.
If you are arrested for the possession of cannabidiol or THC-A and you have a valid prescription, an experienced attorney can hopefully use that as a defense to your charge.
---
Virginia's First Offender Program for Marijuana Charges
For first time offenders of Virginia's marijuana laws, the court offers a special first offender program. Under this program, a person charged with a marijuana offense pleads guilty in court and undergoes the program requirements in exchange for no jail time and a possible deferment of the charge.
The first offender program in Virginia can include probation, random drug tests, and sometimes therapy.
Typically, the judge will order that the offender complete a treatment or education program, remain drug and alcohol free, make reasonable efforts to secure employment, complete either 24 hours of community service for a misdemeanor or 100 hours for a felony offense, and potentially another fifty hours of community service in exchange for not suspending or revoking a driver's license.
This program is only available for first-time offenders in Virginia and applies not only to marijuana but almost every other type of controlled substance. However, if the program is completed successfully, the offense would not be a conviction on your record for the purposes of employment, housing, and criminal background checks.
---
What to Do If You are Arrested on Marijuana-Related Charges in Virginia
If you are arrested for the possession, growth, or distribution of marijuana the most important thing you can do to protect your freedom has contacted an experienced defense attorney right away.
Do not speak with a police officer or make any statements until your lawyer is present. A lawyer can review the evidence and how it was acquired, talk with police and prosecutors, and depending on the circumstances may be able to get the charges dropped.
If not, a lawyer will be there to advocate for you in court and present the best possible defense to the charges of violations of the state's marijuana laws.
If you choose to participate in the first offender program, a lawyer can work with you to make sure that you fulfill all of the requirements to defer or expunge the charges.
---
Talk to defense attorney Andrew Flusche about your case
If you have questions regarding the marijuana laws in Virginia, my office in Fredericksburg is able to help.
Call or contact Andrew Flusche, Attorney at Law today to schedule a consultation of your legal questions or case involving marijuana in Virginia.