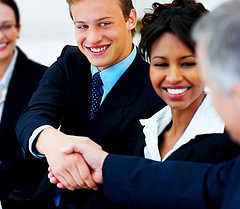 The Fredericksburg Business Forum is a group of business owners in the Fredericksburg area who want to take their business from good to spectacular. Its purpose is to give business owners the opportunity to network with their peers in order to form relationships and gain knowledge that will allow them to grow their businesses. Each month, this forum will be offering events that allow these business owners to host roundtable discussions that focus on a variety of business topics from marketing to hiring to business management.
First Event: "Don't Throw Your Money Away Any More: Advertising that Works"
Come join us for a round table discussion about how to create an effective ad. What works, and what doesn't? We've got some ideas to share, and we're curious what you think too. Consider bringing a couple ads for discussion, maybe one you think is really bad and one that's great. Light refreshments and beverages will be provided.
Date & Time: March 18th, 2014 at 4PM
RSVP by: March 13th, 2014
Located at our Main Office
10691 Spotsylvania Ave
Fredericksburg, VA 22408
540.318.5824
Free consultation. Call me: 540.318.5824.
I provide free consultations for traffic tickets and misdemeanors in my area. If I can't help, I'll do my best to connect you with someone who can.