Virginia Expungement Lawyers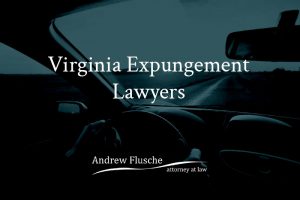 Having a criminal record can severely impede your progress in life.
When applying to rent an apartment, buy a home, find a job, join the military, get a professional license, or further your education—you will be asked certain questions.
Have you ever been arrested? Were you ever detained by police but not charged?
Answering "yes" to any question like that could prevent you from living life on your terms.
So after an arrest, you may wonder what you need to do to get past having an arrest on your record.
Contacting experienced and knowledgeable Virginia expungement lawyers is one of the first steps toward improving your future.
Our law firm, Andrew Flusche, Attorney at Law, PLC, is where people turn for help protecting their futures.
Why Is It Important to Hire Experienced Virginia Expungement Attorneys?
Expunging your criminal record in Virginia is a complicated process involving filing legal documents and appearing in court before a judge.
If you represent yourself in this procedure, you have to be sure every step you take is the right one. Otherwise, your petition could be dismissed and your record could remain blemished.

What You Need to Know
For instance, if the prosecutor objects to your request, you will need to persuade the judge that expunging your record is the right thing to do under the law.
Even though you are confident and intelligent, do you understand how to convince the judge that the continued existence and possible dissemination of your arrest records cause or could cause you manifest injustice?
Do you know what the most persuasive legal arguments are? Do you know what the judge needs to hear to grant your request?
Unless you have extensive legal training and experience, you likely won't know what arguments will win.
There is a big difference between what most people think would be a persuasive argument and what judges actually need to hear.
And you need to remember that neither court personnel nor the judge can give you legal advice.
They can tell you the procedure to follow and give you the correct forms to file, but they cannot tell you what to write, what you should argue to a judge, or whether you qualify for expungement in the first place.
Why Hire Us?
That's why having my partner or I represent you when you want to file a petition to expunge your criminal history can make an enormous difference in the outcome of your request.
Because we are experienced expungement lawyers, we understand Virginia's complex expungement laws.
Additionally, we are very familiar with the paperwork that needs to be filed, how to get the documentation the law requires, and how to persuade the court to allow your petition to expunge your record.
Our firm handles all aspects of Virginia's expungement procedure, including forcefully arguing on your behalf.
Who Is Eligible to Expunge Criminal Records According to Knowledgeable Expungement Attorneys?
Virginia law takes a narrow view of eligibility. You can only request an order to expunge a charge if:
Won an acquittal after trial;

Received a nolle prosequi from the prosecutor (this means that the State has decided not to go forward with the case against you);

Convinced the prosecutor to dismiss the charges;

Prove you are a victim of identity fraud; or

Receive an accord and satisfaction agreement from an assault victim
If the charge you seek to expunge is a misdemeanor, then your chances that the judge will agree to expunge your record are fairly good.
However, having a felony or multiple charges on your record can make it harder to convince the judge that you're suffering a manifest injustice because your arrest documents remain open for public inspection.
Additionally, if you have marijuana charges, we have good news. Recent changes in Virginia law make expunging marijuana crimes easier than under the previous law and may be automatic in some circumstances.
However, talking with Virginia expungement lawyers could help you understand how the changes in the law benefit you.
Expunging Your Records Can Help You Regain Control of Your Life
Expunging your criminal arrest history can help get your life back on track.
At the offices of Andrew Flusche, Attorney at Law, PLC, we believe in you and want you to get this episode behind you.
Call us at 540-318-5824 to request our help getting your future back on track.