Spotsylvania DUI Maiming Lawyer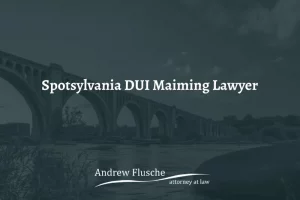 Have police in Spotsylvania charged you or someone you love with DUI maiming? This is a serious charge that requires immediate attention.
When people wait too long to hire a reputable and experienced lawyer to protect their interests, their case can suffer greatly.
Do not wait to see what happens before hiring an experienced Spotsylvania DUI maiming lawyer to protect your freedom.
Instead, call Andrew Flusche, Attorney at Law, PLC, right away to schedule a defense strategy session. We can work together to come up with the best way to protect your rights, your way of life, and your future.
What Does Maiming Mean?
The Code of Virginia § 18.2-51.4 is the DUI maiming statute.
This law says that anyone who drives while intoxicated in a manner that is gross, wanton, or shows a reckless disregard for human life and causes serious bodily injury faces a Class 6 felony.
The charge increases in severity to a Class 4 felony if a person besides the driver accused of DUI sustains permanent and significant physical impairment.
Serious bodily injury is more severe than whiplash or a few bumps and bruises. However, the legislature left the language in the statute broad for a reason.
The law says that serious bodily injury means an injury involving any of the following:
A substantial risk of death,

Extreme physical pain,

Protracted and obvious disfigurement,

Protracted loss or impairment of the function of a bodily member or organ, or

Protracted loss or impairment of mental ability.
Unfortunately, many types of injuries fall under this definition.
Why Do I Need an Experienced Felony DUI Lawyer?
First of all, the potential punishment you face is extremely harsh. A Class 6 felony conviction carries the possibility of one year in jail or between one and five years in state prison. You could also pay a $2,500 fine.
Class 4 felonies carry a possible prison sentence of between two and 10 years with a fine of up to $100,000. Additionally, you could be on parole for up to three years.
Losing the case also means that your vehicle is subject to seizure and forfeiture. The Code of Virginia § 46.2-391 also states that if the State convicts you of DUI maiming, you will lose your license indefinitely.
However, you can petition the court to restore your license after the first five years of your suspension.
The court, at its discretion, can choose to restore your driving privileges in whole or in part if you install an ignition interlocking device on your primary car.
If the judge chooses not to fully restore your license, they could issue a restricted license that is valid for up to five years. After you serve three years of your suspension, you can also ask the court to give you a restricted license so you can drive to and from work.
Finally, the Virginia DMV will add six demerit points to your driving history, and the event itself will stay on your record for at least 11 years.
Facing a DUI Maiming Charge in Spotsylvania? Contact My Office Now For a Free Case Review
How Much Do DUI Lawyers Cost?
This is an important question. You most likely did not plan your financial future with an allowance for legal fees. Moreover, I'm sure you didn't plan on facing a DUI maiming charge.
But when you consider the cost of a lawyer, you must also factor in the cost of losing your case because you tried to represent yourself or you went with an inexperienced lawyer.
The expenses associated with a DUI charge might surprise you. Fines and court fees in DUI cases pile up quickly, even if you don't hire a lawyer.
The expenses associated with a DUI maiming charge could include the following:
Fines,

Court fees,

Probation fees,

DUI school fees,

Substance abuse screening and treatment fees,

License reinstatement fees,

Increased insurance premiums,

Costs to install and maintain an ignition interlock device, and

Insurance deductibles from the accident.
You may even need to pay other charges and costs too. You might have medical bills, have to repair or replace your car, and might be out of work for some time.
A good lawyer can give you your best shot at avoiding as many of these costs as possible—not to mention giving you the best chance to remain out of jail. You need a lawyer who strives to provide exceptional service at an affordable rate.
Affordable DUI Lawyer
Given the possibility of having to pay some, if not all, of these expenses, you might think going with a lawyer who charges the lowest fee is the best option for you.
You might even try to save yourself some money by representing yourself. But allowing money problems to pressure you into doing the wrong thing can make a bad situation far worse.
We work with our clients to ensure they receive the best possible representation. We have worked in Spotsylvania courts for years.
Not only do we bring years of experience as a traffic defense lawyer to the table, but we bring an excellent reputation to court as well.
Most prosecutors and judges know us as lawyers they can trust. We negotiate fairly and treat others with dignity and respect. Our clients get the same treatment in return.
Don't shortchange yourself. We strive to provide the best representation for a reasonable and affordable rate. So allow us to put my reputation and experience to work for you and give you the best chance of winning your case.
Are You Charged with DUI Maiming In Virginia? Call Us Today.
Sometimes DUI accidents are just accidents, and your accident should not define you. Getting charged with a crime does not mean you will be found guilty.
You need legal counsel on your side who knows how to find the holes in the State's case and get you the best outcome possible.
Call Andrew Flusche, Attorney at Law, PLC, today at 540-318-5824 for a free case review. Someone is available 24/7 to take your call. We are here to help you when you need it most.