Fairfax Reckless Driving – Free Help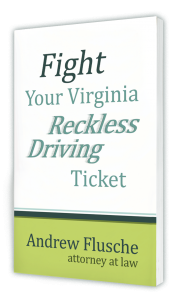 If you're charged with Fairfax reckless driving, you probably have lots of questions.
Let me give you some answers.
I wrote the book on reckless driving defense: "Fight Your Virginia Reckless Driving Ticket." And I'm giving it away for free. It's over 70 pages full of solid answers about your Fairfax reckless driving case.
If you want to download the book right now, just click here and fill out the form. You'll get the book in your email within minutes.
I'm giving away the book for FREE, but I don't provide free consultations for Fairfax cases. If you call about your case, my Case Manager will gladly connect you with a close friend of mine who does top notch work in Fairfax.
What is Fairfax reckless driving?
In Chapter 1 of my book, you'll learn all about the basics of reckless driving. Did you know there are over a dozen different kinds of reckless driving? Figuring out exactly which version you're charged with can be confusing, but I'll help you through it.
No matter what type you're facing, reckless driving is a class 1 misdemeanor. You're facing the possibility of a fine up to $2,500, jail time up to 12 months, and/or license suspension up to six months.
But will you get that severe of a punishment? That's a great question for an experienced Fairfax reckless driving lawyer to answer.
What defenses might work in Fairfax?
With every defense that can work, there are several defenses that rarely work for reckless driving cases. Chapters 3 and 4 of my book cover both categories. You'll learn about defenses such as the hidden gem of arguing that the road you were on isn't a legal "highway."
One of the most common defenses that arise concerns the officer's calibration certificates. Page 16 of the book explains what to look for on the certificates to make sure they are valid.
Are there other possible outcomes in Fairfax?
Even if you don't have a solid defense to your reckless driving charge, there may be other outcomes available. My book goes through those possible outcomes in Chapter 5.
For example, if the judge finds you responsible for the charge but thinks that the culpability is minimal, he can reduce the charge to "improper driving," which is just a traffic ticket. In some cases, that's a huge win!
Do I need a Fairfax reckless driving lawyer?
Read my book first. Then you'll have a great overview of reckless driving cases, so you can answer that question.
At a minimum, you'll probably want to talk to a couple experienced Fairfax traffic defense lawyers about your case to see what might happen in court.