Who Is Not Eligible for an Expungement?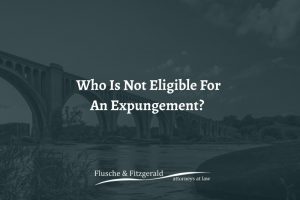 When you are charged or arrested for a criminal offense, this information stays on your criminal record permanently. In limited circumstances,
Virginia allows individuals to file a petition to seal the records of their arrest or charges to prevent members of the public from seeing them when they run a background check.
When someone's criminal history affects their livelihood or other circumstances, they typically want to know:
Am I eligible for expungement in Virginia?

What crimes can be expunged?

What crimes cannot be expunged?
Generally, individuals with a criminal conviction are not eligible for expungement in Virginia. You can only obtain an expungement if you were not convicted.
Several circumstances may make someone eligible for expungement in Virginia. Contact Flusche & Fitzgerald, Attorneys at Law, PLC, today to discuss whether you qualify for an expungement.
If you do qualify for an expungement, an attorney can walk you through the process of filing your expungement petition.
Am I Eligible for Expungement?
You may qualify to have your criminal record expunged if you were arrested or charged for a criminal offense and one of the following occurs:
You proceed to trial and are acquitted,

The Commonwealth's attorney decides not to prosecute you,

The Commonwealth dismisses the charge(s) against you without a finding of guilt,

Another person committed the crime after stealing your identity, or

The injured party receives satisfaction for their injury through a civil claim.
You are not eligible for expungement if you entered a guilty plea, a plea of no contest, or otherwise received a conviction. And if your criminal charge was dismissed pursuant to a first-time offender program, you do not qualify for an expungement.
Obtaining an Expungement
To begin the expungement process, you should start by hiring a lawyer who knows the specifics of Virginia law.
Your attorney will draft a petition for expungement and file it in the circuit court where charges were filed against you, along with a certified copy of your arrest warrant or indictment.
The expungement petition is only a request for the judge to expunge your record. The judge will review the circumstances of your arrest or criminal charges and determine whether to grant the expungement.
The Commonwealth's attorney will have the opportunity to present evidence as to why the judge should not grant your expungement.
For example, if you were arrested a single time more than 10 years ago and the prosecutor dropped the charges against you, the judge will typically grant the expungement unless the Commonwealth can show good cause why the expungement should not be granted.
However, if you have several felony and misdemeanor convictions between the expungement petition and the dismissed charges, the judge will typically refuse to grant the expungement unless you show that the continued existence of the criminal record would constitute a manifest injustice.
A qualified criminal defense lawyer can walk you through the process and explain your rights. Contact Flusche & Fitzgerald today to talk to a member of our team.
How Can a Lawyer Help in an Expungement Hearing?
Certain factors can influence a judge to grant or deny your expungement petition. A qualified attorney who knows what the judge is looking for can bolster information that makes you a prime candidate for expunging your record, such as:
An extended period between your charges and expungement petition,

The lack of additional criminal charges against you, and

Reference or character letters from members of your community.
Remember, clearing your criminal record can help you qualify for higher-paying jobs and better housing opportunities. Contact a member of our team today to see if you qualify for an expungement in Virginia.
Contact Flusche & Fitzgerald to Discuss Your Eligibility for Expungement in Virginia
Andrew and Fitz have represented hundreds of clients throughout Virginia in their expungement hearings. We understand how much your criminal record can affect you when you are looking for a new job or place to live.
That is why we strive to help our clients secure an expungement and move forward without the shadow of their criminal record hanging over them.
A member of our team will meet with you one-on-one to learn the details of your situation and determine if you are eligible to have your record expunged.
We tackle all of our cases with a result-oriented approach, looking for ways to expunge your criminal record if possible. Due to the volume of our practice and the nature of expungement petitions, we cannot accept all expungement clients.
Contact Flusche & Fitzgerald today to discuss expunging your criminal record with a member of our team.