What can I wear to jail?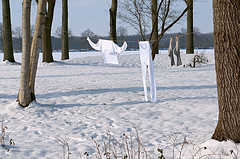 When an occasional client has to go to Rappahannock Regional Jail for a few days, they sometimes wonder what clothes they can wear.
If you wear white undergarments underneath your street clothes when you go to jail, the jail will let you keep those white undergarments. That's all you can keep.
The jail can be quite cold, especially in the winter, so we usually recommend that you wear a couple layers of white undergarments. Think about some white underwear, some white long johns, maybe a white T-shirt, and some white socks. You might even want to double up on some socks and underwear if you're going to be there more than a day or two. You'll be allowed to keep those items, but you do have to be wearing them when you go into jail.
Photo by: Birgit Speulman