Understanding the Virginia Shoplifting Laws and Penalties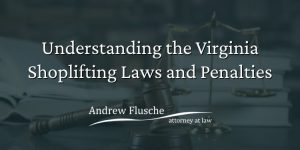 Shoplifting laws in Virginia describe the conduct necessary to be charged with shoplifting.
Shoplifting can take many forms, from blatantly removing an item from a store without paying for it to switching the price tags on two items in an attempt to pay the lower price.
If you think shoplifting charges aren't serious, think again.
Depending on the value of the items taken, violating Virginia shoplifting laws could result in a felony charge.
If you received shoplifting charges in Virginia, you should contact an experienced criminal defense attorney right away.
Shoplifting Laws in Virginia: An Overview
Shoplifting is a form of theft. Virginia law defines shoplifting as having the intent of converting the merchandise to your own use without having paid the full purchase price by:
Willfully concealing or taking possession of goods;

Altering the price tag or another price marking;

Transferring goods from one container to another; or

Assisting another with the acts described above.
The severity of shoplifting charges in Virginia depends on the value of the goods or merchandise allegedly taken. For items valued below $1,000, you'll face the charge of petit larceny. For items valued above $1,000, you'll face the charge of grand larceny.
If a store owner or employee has probable cause to believe you were shoplifting, they can detain you for up to an hour until law enforcement arrives at the scene.
What Is the Penalty for Shoplifting in Virginia?
The potential penalties available for shoplifting depend on whether you received a charge for petit larceny or grand larceny.
Grand larceny carries the potential penalty of one to 20 years in a state correctional facility. However, Virginia is one of the few states where the jury has a say in sentencing after trial.
If they find mitigating circumstances, the jury may recommend that the court reduce this to confinement in county jail for a maximum of 12 months and/or a fine of $2,500. The judge has the discretion to accept or reject the jury's recommendation.
Virginia treats petit larceny as a Class 1 misdemeanor. A Class 1 misdemeanor in Virginia carries the potential of up to a year in jail and a fine of up to $2,500.
A criminal conviction can affect more areas of your life than you might realize. While most people expect the criminal penalties associated with a conviction, other consequences exist as well, such as:
Difficulty finding a job;

Trouble receiving approval for a loan;

Inability to rent an apartment; and

Difficulty obtaining security clearance for government employment.
Along with these consequences, the victim of your shoplifting can sue you in civil court to recover the monetary damages they suffered as a result of your theft.
In a majority of cases, the state prosecutor lets the defendant enter a guilty plea in exchange for avoiding the maximum potential penalties.
A criminal defense lawyer can negotiate with the prosecutor on your behalf and help you determine if accepting a plea bargain is the right course of action for you.
Charges Associated with Shoplifting Laws in Virginia
If you buy or receive stolen goods knowing that the goods are stolen, Virginia authorizes the prosecutor to charge you with larceny just as if you had stolen the goods yourself. This also applies when you help conceal stolen goods. Like shoplifting, the value of the stolen items dictates whether petit larceny or grand larceny charges are appropriate.
If you genuinely did not know the items were stolen, you can present your lack of knowledge as a defense to the charges.
Additionally, Virginia law criminalizes taking a shopping cart away from a store's premises without consent. Doing so amounts to a Class 3 misdemeanor. Those convicted of a Class 3 misdemeanor in Virginia could face a fine of up to $500.
Are There Legal Defenses to Shoplifting Laws in Virginia?
If a valid legal defense applies to your case, a qualified criminal defense attorney could negotiate with the prosecutor to have your shoplifting charges reduced or dismissed entirely. Valid legal defenses to Virginia's shoplifting laws include:
You removed items from a store by mistake, rather than intentionally;

The value of the item you're accused of stealing is incorrect; or

The merchant gave you consent to take the items.
Wondering if a legal defense applies to your charges? Contact Attorney Andrew Flusche to discuss the options available in your case.
Facing Shoplifting Charges in Virginia? Contact a Qualified Criminal Defense Lawyer Today
When your freedom is at stake, consulting with an attorney who has extensive professional relationships with local law enforcement and prosecutors is an invaluable asset.
I have represented thousands of clients throughout Virginia with a wide array of criminal issues, including shoplifting charges.
I know that you need an ally and advocate to help you understand the charges you're facing. I tackle all of my cases with a result-oriented approach looking to have your case dismissed or your charges reduced.
Contact my office today to set up your initial consultation today.