How Much Jail Time Will I Get for Shoplifting in Virginia?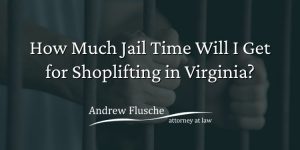 If you're facing criminal charges in Virginia for shoplifting, jail time can result.
Any criminal charge can inflict unexpected negative consequences on many areas of your life.
If you're new to the criminal justice system, being charged can feel overwhelming and confusing.
You might want to just plead guilty and get it over with.
However, consulting with an attorney can help you gain a more thorough understanding of the situation.
Hiring a qualified criminal defense lawyer can give you the best opportunity of having your shoplifting charges dismissed or reduced.
Attorney Andrew Flusche can assist you in determining what steps to take moving forward to ensure you avoid jail time for shoplifting.
Reach out to our office today, so I can get started on your case.
What Is Shoplifting in Virginia?
The criminal offense of shoplifting falls into the property crimes category of violations. According to the Virginia Code Section 18.2-103, an individual violates the shoplifting law by committing any of the following acts:
Willfully concealing or taking possession of the goods or merchandise of any store or mercantile establishment;

Alters the price tag or other price marking on goods or merchandise;

Transfers the goods from one container to another; or

Counsels, assists, aids, or abets another in the performance of any of the above acts.
The offender must commit the act without the merchant's consent and with the intent of permanently depriving the merchant of the goods or their full value. If the value of the goods or merchandise is less than $1,000, you could face charges for petit larceny.
If the value of the goods or merchandise is more than $1,000, you could face charges for grand larceny.
Virginia Code Section 18.2-102.1 criminalizes the theft of shopping carts from merchant stores as well. Violation of this section constitutes a Class 3 misdemeanor and results in a fine.
How Much Jail Time for Shoplifting?
Many clients facing shoplifting charges ask, Will I go to jail for first-time shoplifting? Every criminal case is unique, so it's impossible to predict what penalties you'll receive. Virginia considers petit larceny a Class 1 misdemeanor.
Class 1 misdemeanors carry the potential of up to a year in jail and a fine not to exceed $2,500. Grand larceny carries the following potential penalties:
Not less than one nor more than 20 years in a state correctional facility;

At the discretion of the fact finder, jail for up to 12 months;

At the discretion of the fact finder, a fine not to exceed $2,500; or

A combination of the two previously mentioned penalties.
Thus, facing jail time for shoplifting occurs fairly frequently. The court can impose stiffer penalties and longer sentences for offenders convicted of shoplifting multiple times.
In addition to criminal penalties, a store owner can sue a shoplifter in civil court for the retail value of the goods or merchandise stolen.
Virginia uses other criminal offenses to deter attempts at shoplifting. Virginia Code Section 18.2-105.2 prohibits the manufacture, sale, distribution, or possession of devices that are designed and intended to assist shoplifters with avoiding detection.
Violation of this section constitutes a Class 1 misdemeanor, even if you don't get away with any merchandise.
Beyond these consequences, a criminal conviction can negatively impact your life in other ways. For example, you could experience difficulty finding gainful employment or getting approval for a loan with a shoplifting conviction on your record.
Alternatively, you could have trouble finding suitable rental housing or obtaining security clearance with a criminal record.
Defenses to Shoplifting
To establish guilt, the prosecutor must prove every element of the offense beyond a reasonable doubt. If you can disprove any of the elements, you could negotiate with the prosecutor to have your charges lowered or dismissed altogether.
Potential defenses that can help you avoid jail time for shoplifting include:
The concealment or possession of the goods/merchandise wasn't willful;

You were wrongfully identified by the merchant or store employee;

The merchant gave you consent to remove the items from the store; or

The value of the items you're accused of taking was miscalculated.
An experienced Virginia criminal defense attorney can help you determine whether one of these defenses applies in your case.
Facing Jail Time for Shoplifting in Virginia? Contact a Qualified Criminal Defense Lawyer
I have represented many clients facing shoplifting charges in Virginia and understand what it takes to obtain a favorable result for my clients. Additionally, I possess extensive professional relationships with local law enforcement and prosecutors.
This is an invaluable asset when negotiating for the best possible plea bargain. I tackle all of my cases with a result-oriented approach looking to have your case dismissed or your charges reduced.
I handle all of my cases personally and represent my clients aggressively. Contact my office today to discuss your case. Your initial consultation is always free.